Going into the family business was never part of Bill Mignucci Jr.'s plan.
That was until a wink from his grandmother at a family dinner changed everything. With less than a week until his college graduation, he decided to change his plans and take over his grandfather Danny Di Bruno's 700-square-foot cheese shop in Philadelphia's Italian Market.
Now over 25 years later, that humble cheese shop opened in 1939 by two Italian immigrants has grown to include five stores, more than 350 employees, a wholesale food product line and catering division serving 30,000-plus customers each week. Through that growth, Mignucci is most proud that the Di Bruno Bros. brand developed over the previous 50 years has never been diluted.
Danny and Joe Di Bruno came to the United States like many Italian immigrants in the 1930s — via Ellis Island in search of the "American dream." With just a third-grade education, they opened the Di Bruno Bros. Grocery Store in the Italian Market in 1939, and it became a neighborhood staple.
In 1965, as chain grocery stores began to grow in popularity, they reinvented their neighborhood grocery store into a gourmet cheese shop. Di Bruno Bros. "House of Cheese" was born out of a trip to Switzerland that exposed them to some of the best cheeses in the world, and Di Bruno Bros. became a Philadelphia destination for great cheese. Their name became synonymous with quality imported cheese — a distinction of the brand to this day.
"Danny and Joe believed in themselves and their name — Di Bruno," says Mignucci. "They were never going to disappoint people."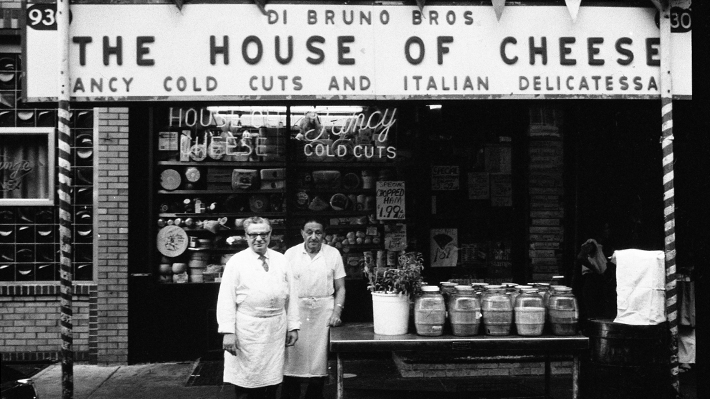 Danny and Joe Di Bruno at the original "House of Cheese" in the Italian Market (Di Bruno Bros. Legacy Photo)
Bill Mignucci Jr. was born in South Philadelphia and grew up in New Jersey. When it came time for him to go off to college, it was Drexel's urban location that initially drew him in, but it was co-ops with General Electric and Cigna that developed his future plans.
"Drexel helped me grow up quite a bit in my perspective of business because of the co-op," he said. "Drexel helped me understand the difference between being an entrepreneur and being in the corporate world by putting me in it. I realized that maybe the corporate world wasn't for me. It inspired me to look for other avenues."
Mignucci enjoyed his time at Drexel, splitting his days between Matheson Hall, taking classes in finance and marketing, and the Tau Kappa Epsilon fraternity house where he lived for four years. He has many great memories on campus, but it was specifically an elective on restaurant and bar design that stands out the most – and not just because it involved barhopping around the city. It was hearing from Philadelphia entrepreneurs like the owner of Fourth Street Deli that inspired him.
"At the time I didn't know I would be taking over Di Bruno Bros. But I guess I always had a bit of a calling to the food and hospitality business. I had an entrepreneurial spirit."
On the weekends during college, Mignucci worked at his grandfather's cheese shop with other members of his family, but he had no intention of making the family business a full-time venture.
"It was never really an option," he said. "My grandfather and uncles never really talked about succession planning."
In fact, he was planning to move to California with some friends after graduation in 1990 — "to go find ourselves." It was during a final visit to his grandparents' home when his grandmother asked why he was moving to California. It was clear she did not want him to leave, but he never expected what his grandfather said next.
"Why don't you take over Di Bruno's?" The room went silent. "He would never say that to anyone. I was shocked. He would never trust anyone with his business," Mignucci says.
Then his grandmother turned around, said, "I think you would be great at it. I think you're a natural," and winked at him. He knew his grandfather's health was getting worse, but the support from his grandmother was even more shocking.
"My grandmother, who has been the most inspirational person in my life, was always troubled with Di Bruno Bros. She would always say, 'your grandfather works so much. Go to college and get a job where you don't have to work so much.'"
Mignucci called his cousin Emilio Mignucci, who was in culinary school at the time. The following Tuesday he got the whole family together for a meeting. They announced they had decided to buy the store from their grandfathers.
"I knew if I took the time to think about this, I was going to talk myself out of it. I liked the impulsiveness of this life decision. I think it was my grandmother's wink."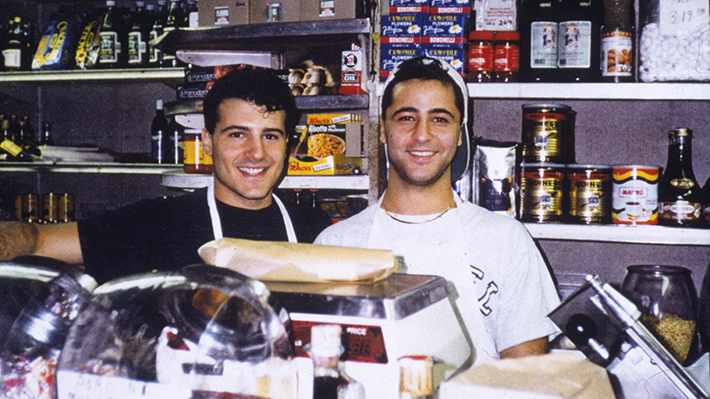 Emilio and Bill MIgnucci Jr. behind the counter of Di Bruno Bros. in 1990 (Di Bruno Bros. Legacy Photo)
Mignucci had no idea what he was doing, but looking back he says he's proud that he trusted his instincts.
"We had this gem of a store, and were really scared about screwing it up. We were driven but cautious," he says. "Initial instincts and commitment to the company were not sustainable as a business strategy. For many years, we were kind of naïve. We were so careful of the brand and avoiding mistakes. When we did something, failure wasn't an option."
After just a one-month transition, the older Di Brunos passed the baton to the new generation. They took quite a risk leaving the store in the hands of two 21 year olds fresh out of college.
"I didn't see the significance of it at the time, but it probably meant everything to my uncle and grandfather. We would be side-by-side behind the counter. What I wouldn't do for another picture like that."
Change came slowly at first, with price increases that were decades overdue and the addition of a wider variety of products, fueled by his cousin's culinary curiosity. They saw that Philadelphia was changing with the development of the Pennsylvania Convention Center and specialty food stores like Dean & DeLuca expanding in New York.
"The city was growing, and we needed to be a part of it. We said if we don't expand, someone else is going to," says Mignucci. "Now it looks like a no brainer, but at the time there were many risks."
The idea for expansion didn't come without opposition. Di Bruno Bros. was a part of the fabric of Philadelphia and the historic Italian Market, and customers did not want them to lose the charm of their little shop on Ninth Street. After hosting focus groups, Mignucci and his cousins decided to go against the advice of their customers who adamantly told them not to expand.
On May 4, 2005, they opened a 10,000-square-foot flagship store at 18th and Chestnut streets in the Rittenhouse neighborhood. The project came in $2 million over budget, and there was not much going on in the area at the time. The night before the grand opening, Mignucci feared they were wrong to expand.
"I didn't think it was going to work — it was too big, too cold. I was almost in tears thinking I made the biggest mistake."
But the next day for the grand opening, thousands arrived to watch them cut the pepperonis and break champagne on the provolone. Mignucci realized what was missing the night before — people.
"As soon as the employees and customers were in the store, it came to life," he said. "We never looked back for one minute after that."
In the 10 years since, the company has continued to grow, opening locations in the Comcast Center (2008), Ardmore Farmers Market (2011) and the historic Ben Franklin Building (2013), which recently added a bottle shop to bring craft beer and wine into the Di Bruno Bros. experience. There are more opportunities on the horizon, but they are approaching them cautiously. Don't expect to see a Di Bruno Bros. store franchised in a strip mall or commercial real estate center.
"As you grow, the most important things are scalability and sustainability. How do you scale and sustain yourself with not just operations but with service and quality? It's easy to expand to a new store, but not if it doesn't have the same experience."
As the company continues to grow, they have had to formalize the corporate structure in ways his grandfather would never have expected, adding marketing, finance and senior management teams along with a human resources department, known internally as the "people department." They approach the business strategically, using best practices, measuring goals weekly and tracking data. While they have come a long way, Mignucci insists they always have room to improve and grow.
"I've learned more from the biggest setbacks than I have from the biggest successes along this journey," he says.
How often do you take a 75-year-old brand, make it relevant and continue to evolve? We can't just say we are Italian deli guys, and we're going to sell nothing but Italian meats and cheeses. Our boundaries have expanded, but our roots will always be there.
Mignucci insists Di Bruno Bros. has always been and continues to be more than just a retail store. They are not just in the food business; they are in the hospitality business. He sees servant leadership as central to that.
"Di Bruno Bros. is not about getting, but giving," said Mignucci. "It's not just about selling great products; we have to make people feel really good, even for a split second. We want to make people feel better when they leave than when they came in."
He notes that people don't have to shop at Di Bruno Bros. like they do grocery stores, and that is part of what makes them special. People are not just coming to buy cheese, they are coming for an experience.
"We celebrate great food and also great people. That keeps our customers coming back," he says. "We are absolutely going to be more expensive sometimes, and we're not going to apologize for that. It's our business model, but along with that comes a hospitality like you would get in Europe, storytelling and absolute quality. People are not going to pay more unless it's the very best products."
Quality starts with the hiring process and building a culture of hospitality within the team. Mignucci sees his main role as the cultural ambassador for the company, which is why he is a part of all new employee orientations to share the culture of Di Bruno Bros. and its core values that trace back to Mignucci's grandfather: Be hungry, be a culinary pioneer, wow the customers and each other, serve others first, contribute to the bottom line and be a part of their legacy.
His grandfather was known to say, "A smile doesn't cost you anything." It is evident Mignucci has embraced this mindset and his values, as he greets employees by name, hails cabs for older customers and eagerly offers samples from the hundreds of cheeses available. He even handwrites anniversary cards for every employee. Mignucci wants customers to leave with a story. Whether it's about the shopping experience itself or the history and source of the food they are buying.
Walking through counters piled high with cheese from around the world, customers are transported to another time. Di Bruno Bros. strikes a delicate balance between innovative culinary experiences that appeal to changing tastes of food enthusiasts and holding true to tradition by retaining the hospitality and familiarity of the local family shop down the street. For example, their annual Cheese Crawl appeals to younger, forward-thinking "foodies" but ties back to tradition by coinciding with the Italian Market Festival first organized by his grandfather in 1976.
"How often do you take a 75-year-old brand, make it relevant and continue to evolve? It's a tug of war — you have this great brand that has a loyal following, and you don't want to mess it up. But if you don't allow it to evolve and look at the trends, you get stuck. We can't just say we are Italian deli guys, and we're going to sell nothing but Italian meats and cheeses. Our boundaries have expanded, but our roots will always be there."
Photography by Andrew Kahl