Paul Jensen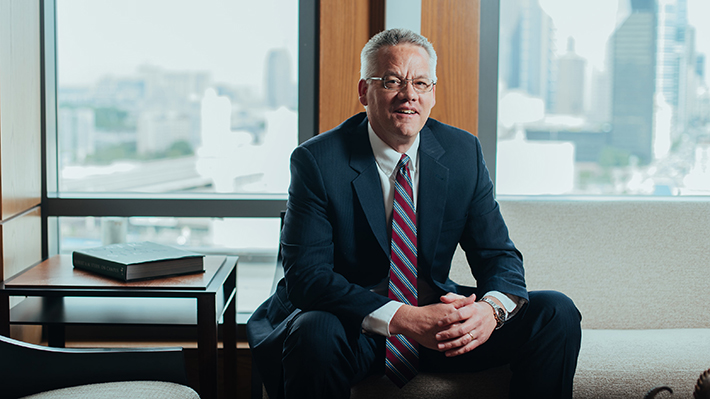 Dr. Jensen is the interim dean of the LeBow College of Business and associate professor of economics. His primary research areas are international trade and applied microeconomics. Dr. Jensen has served at LeBow for 20 years and has held several roles in administration and leadership within Drexel University. He previously served as associate dean for LeBow's graduate and undergraduate programs and office for experiential learning, director of LeBow's PhD program and interim director for the Center for Hospitality and Sport Management. Prior to his appointment to LeBow's economics faculty in 1997, Dr. Jensen began his career as an engineer at General Electric. He received his PhD from Penn State University.
Areas of Expertise
International Trade
Patterns of Trade
Trade Policy
Selected Works
Articles
Jensen, Paul, Trade, Entry Barriers, and Home Market Effects. Review of International Economics 14 (Feb 2006): 104-18.
Jensen, Paul, and Madan, Vibhas, Preferential Trade Agreements, Market Power, and Product Differentiation. Journal of Economic Integration 19 (Mar 2004): 162-181.
DeSchriver, Timothy, and Jensen, Paul, Whats In a Name?: Price Variation In Sport Facility Naming Rights. Eastern Economic Journal 29 (Summer 2003): 359-76.
DeSchriver, Timothy, and Jensen, Paul, Determinants of Spectator Attendance at NCAA Division II Football Contests. Journal of Sport Management 16 (Oct 2002): 311-330.
Jensen, Paul, Analysis of Bilateral Trade Patterns With Panel Data. Review of International Economics 8 (Sep 2000): 86-99.
Jensen, Paul, and Krishna, Kala, Entry Policy in an Open Economy. Indian Economic Review 31 (Sep 1996): 41-56.
Chapters
Jensen, Paul, Krishna, Kala, Tann, L., and Watt, E., "Patterns of Quota Transfer In Indonesia." Rags and Riches, (1998): 17.
Grants
Agricultural Policy, Gravity, and Welfare (International Growth Centre (IGC), directed by the London School of Economics and the University of Oxford) $9,300 Jul 2010.
Presented Research
Jensen, Paul, United States Agricultural Trade and Production Policies and World Food Trade, Global Interdependence Center, Global Conference Series Part II: Bank of France, Paris, France, (Mar 2009):
Education
BA Economics - Syracuse University 1988
BS Mechanical Engineering - Syracuse University 1988
MS International Economics, Industrial Organization and Econometrics - Penn State University 1995
PhD Economics (In'l Economics, Industrial Organization and Econometrics) - Penn State University 1996

College News
Leaders from SEI, Pfizer and Mars Drinks addressed Drexel alumni at an event focused on leveraging Drexel's research and innovation capabilities to solve business challenges.
Undergraduate students from Drexel LeBow and other Drexel colleges spent their summer tackling business challenges during their international consulting residency course.
The Dornsife Office of Experiential Learning is currently enrolling clients for spring term and will hold an info session on what Drexel LeBow consulting can do for area employers on Jan. 29.