You will then see an orange notification bar appear at the top of the page that lets you know that you are currently viewing the course in Student Preview Mode. In this mode, instructors can take quizzes, submit assignments, and interact in the course as if their account is associated with the "Student" role, rather than "Instructor."
When you finish, click "Exit Preview" on the orange notification bar. You will then be prompted to choose one of the options that appears in the pop-up window. This window is asking what LEARN should do with the data you generated now that you are leaving Student Preview Mode.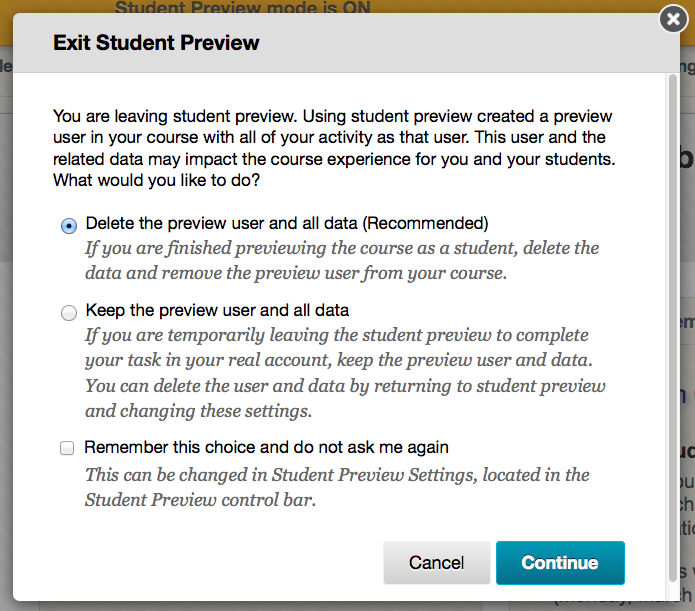 Option 1 is the most frequently used option. It allows you to remove the student preview user from the course and all the data associated with it. For example, if you posted in a discussion, took a quiz, and submitted an assignment as the Preview User, all that information would be removed when you leave Student Preview Mode and go back to viewing your course as an instructor. You will still be able to return to Student Preview Mode at any time – you will just start with a clean slate each time you switch to this mode.
Option 2 can be useful in some cases. This option allows you to maintain the Preview User profile and all associated submissions, posts, quiz submissions, etc. for your review when you transition back into instructor mode. However, your Preview User profile will be counted as another student in your course. For example, Your Preview User will appear in the Grade Center as "Test Student" with your Drexel username followed by an underscore and the letter s (e.g. abc123_s). I But leaving grades in for this preview user can skew overall course averages. If you choose this option to retain the preview user data, you can always go back into the Student Preview Mode later and delete the information when you exit Student Preview Mode.
The third option is asking if you would like LEARN to remember your choice about retaining the user data for the next time you enter Student Preview Mode. Even if you choose for LEARN to repeat your selection every time, you can change the settings by clicking the "Settings" button in the orange notification bar the next time you enter Student Preview Mode.