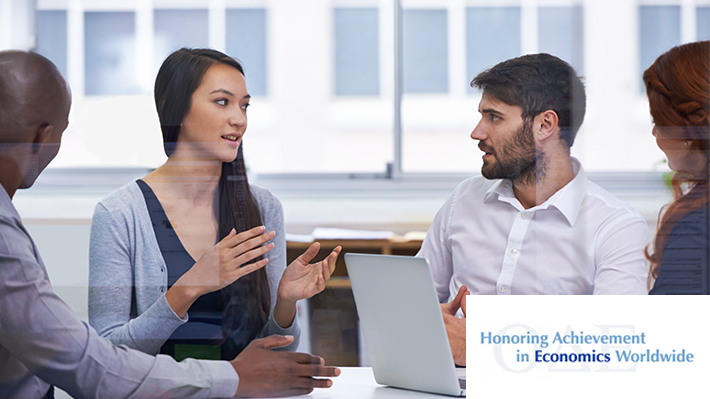 Omicron Delta Epsilon is one of the world's largest academic honor societies. The objectives of Omicron Delta Epsilon are recognition of scholastic attainment and the honoring of outstanding achievements in economics; the establishment of closer ties between students and faculty in economics within colleges and universities, and among colleges and universities; the publication of its official journal, The American Economist, and sponsoring of panels at professional meetings as well as the Irving Fisher and Frank W. Taussig competitions.
Currently, Omicron Delta Epsilon has 678 chapters located in the United States, Canada, Australia, the United Kingdom, Mexico, Puerto Rico, South Africa, Egypt, France, Kazakhstan, and United Arab Emirates. With such a broad, international base, chapter activities vary widely, ranging from invited speakers, group discussions, dinners, meetings, etc., to special projects such as review sessions and tutoring for students in economics. At the LeBow College of Business, ODE works very closely with the Drexel Economics Society (DES).
Benefits of ODE membership
International recognition of scholastic achievement in economics.
A publication outlet for promising undergraduate and graduate student papers in The American Economist, the journal of Omicron Delta Epsilon.
Closer academic and professional relationships with the faculty at your university.
Closer professional and social relationships with fellow ODE members at your university.
Closer professional and social relationships with ODE members at other universities with Omicron Delta Epsilon chapters.
ODE sponsored meetings at the annual conventions of regional, national and international associations.
Eligibility to compete for the Frank Taussig and Irving Fisher Awards (both cash prizes and publication of essays).
Eligibility to compete for the Outstanding Student Leader Award.
One-year subscription to The American Economist.
Criteria for induction at Drexel
Must be in one of the following programs: BS in Economics, BA in Economics or BS in Business Administration with a concentration in Economics.
Must have taken at least 32 credits in economics courses (including all ECON courses, INTB 334 and INTB 336)
Must have a GPA greater or equal to a 3.4
Must have a GPA in ECON courses (including INTB 334 and INTB 336) greater or equal 3.7
How to Join
During the spring term, the School of Economics collects the data on grades and earned credit hours in ECON courses (including winter term grades) and finds the students who meet the eligibility requirements. Then, it applies to ODE on behalf of the students and pays the lifetime membership fee. We get the certificates from ODE and induct that year's members at an annual ODE luncheon held in the first or second week of June.
Related Links