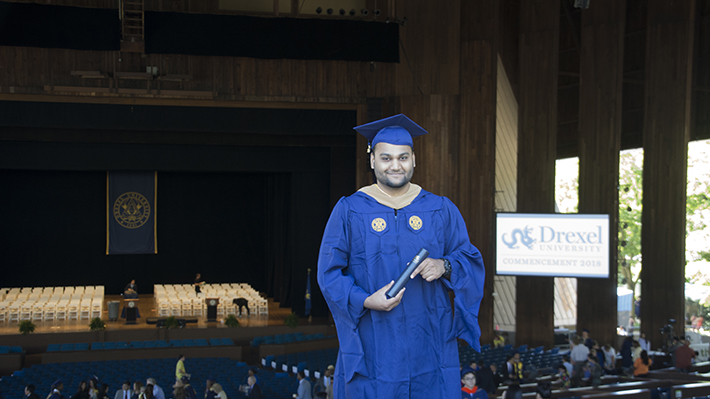 Rishabh Singawne, '18
MS in Supply Chain Management
When Rishabh Singawne felt he had hit a wall at his company, he turned to Drexel LeBow's MS in Supply Chain program to give him the training he needed to reach new levels in his career.
After completing his undergraduate degree in electronics and communications engineering, Singawne got his first introduction to the world of supply chain as an inside sales associate at Circutronix. "From the very start of my career I started learning about supply chain management and I found it very intriguing," says Singawne.
Singawne's curiosity led him to pursue another position at Pulse Secure, where he served as an order management specialist for roughly a year and a half before realizing that he needed more.
"I knew I needed some skills or courses to add to my profile," says Singawne. "To me, Drexel was one of the more recognized names in supply chain studies. After researching the customized program options and seeing how experienced the professors were, it became a top choice for me."
Leaving India to enroll in Drexel full-time, Singawne says that he had some difficulty adjusting to the program but overcame it by focusing on his curiosity. "At the very start when you make this transition from another country to the United States, everything feels very new and you're still exploring it," says Singawne. "When I was in that exploring phase, I tried to find all the things that made Drexel great and found Professor [Matthew] Schneider."
It was through Schneider that Singawne found the Supply Chain Management Association and found a group of students with similar interests. Singawne's involvement in the group developed quickly and he rose from member to the president of the organization, increasing membership to 300 students in his first year.
"I really enjoyed my time as president," says Singawne. "Through that organization, I was able to participate in many networking opportunities, gain connections in the professional world, and work with professors I hadn't known."
Singawne did so well as president, building connections throughout the university and the city chapter of the Institute for Supply Management, that he was awarded the state-level Harvey P. Sommerer Memorial Scholarship scholarship for $5,000 during his first year in the role.
Singawne connections throughout the city weren't the only thing that was strengthened through the program. When it was time to apply for his internship, he reached out to Pulse Secure and was able to land a position at their San Francisco office. "I really enjoyed working with the company so I returned. It was great working with the team while I did my internship and I joined the company after completing my program," says Singawne.
Returning as a supply chain analyst, Singawne says his focus is now on exploring the company and developing his skills. "I'm still focused on learning and building on the knowledge Drexel gave me," he says.
What's next for Singawne? He says he's been eyeing a management position and hopes to eventually start a business of his own.