Merck Drexel Advanced Leadership Program for Diverse Suppliers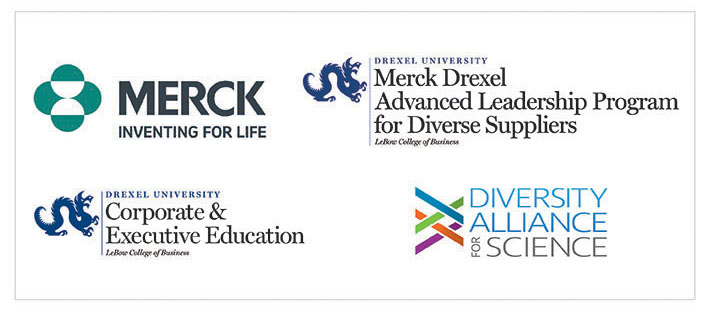 High-performing businesses are able to not only build a diverse workforce, but they are able to effectively leverage talent to fully realize diverse perspectives. Part of leveraging diverse talent involves partnering with suppliers that understand how to lead and motivate others to achieve common goals, communicate strategies effectively, and make sound financial decisions. Merck Drexel Advanced Leadership Program for Diverse Suppliers (ALP) provided an executive development opportunity for diverse business owners to enhance their leadership and business acumen to strengthen and grow their business.
Designed with Merck in collaboration with Diversity Alliance for Science (DA4S), this experiential development program focused on application and was supported by evidenced-based research and practitioner-industry experience. Participants had an opportunity to engage with faculty, their peers and Merck organizational leaders in thought-provoking, facilitated discussion that enhanced self-reflection and personal development while building relationships across the broader community network.
Merck Drexel ALP Topic Areas:
The ALP integrated program modules supported an overarching theme of growing and scaling small and/or diverse businesses by building the leadership abilities and business acumen of diverse business owners. Lead by an interdisciplinary faculty/SME team, each module provided an experiential and applied approach to executive development. Topic areas include:
Leadership, Communication and Teams
Building Personal Brand and Storytelling
Strategic Networking
Digital Presence and Strategy
Customer Digital Journey
Digital Media Metrics and Measurement
Financial Reporting, Planning and Budgeting
Short-term and Long-term Business Decisions
Intersecting Finance and Operations
Operations and Production Planning
Purchasing and Contract Management
Drexel and Merck Request for Proposal Culminating Capstone Challenge
Participants also completed a customized Drexel LeBow leadership assessment, which provided them with an individualized report used to guide their leadership and development plan.
The ALP concluded with a Request for Proposal (RFP) Capstone Challenge. Participants used the RFP portfolio elements they had been building throughout the program to prepare and present their company to the challenge panel. The RFP challenge offered an invaluable experience through the coaching and feedback participants received on their response and overall company performance.
Highlights of the Leadership Program
19 Participants from 13 States across the US completed the Merck Drexel Advanced Leadership Program for Diverse Suppliers
7 Diverse Classifications Represented
Graduate Testimonials
View the videos below to see the graduates of the Merck Drexel Advanced Leadership Program for Diverse Suppliers program, and hear from them how the program helped them to accelerate their careers.
> Graduate Testimonials Part One
> Graduate Testimonials Part Two