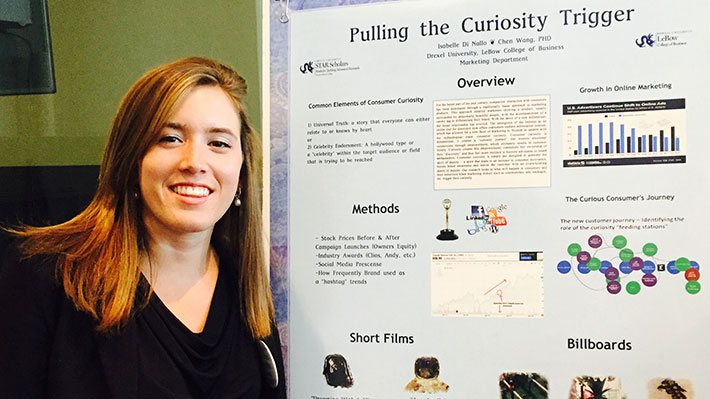 Drexel LeBow freshman Isabelle Di Nallo spent her summer digging into the field of marketing by researching what happens to consumers when marketing stimuli trigger curiosity.
"My job was to research examples of product marketing that pertained to consumer curiosity. This research project was especially interesting because there is not a lot of research on this subject in existence yet. It's really a recent trend."
Di Nallo says she learned a lot about the field of marketing while doing this research. "For example, I learned that there are two general approaches to how you might market a product. The first one is the traditional, linear approach. The consumer is told, 'this is the product you want to buy, and this is how you get it.' And they go out and buy it, and then buy it again.
"But nowadays, there is also the curious consumer's journey: It's a whole other world, with the Internet, social media, Amazon reviews, etc., available for researching products. There's this whole discovery process that leads people to think, 'this is good, other people like this product, so I'll go buy it.'"
She says that consumers who take the curious consumer's journey may form strong connections to these products, comparing the experience to someone who discovers a band that is not yet considered "mainstream." This discovery leads to a feeling of "emotional stock" in the brand – people begin to associate themselves with brands they feel they discovered before many others did, which can lead to brand loyalty.
In her research, Di Nallo found some several ad campaigns that attempted to pique consumers' curiosity, including a video created by Chipotle that drearily depicts a factory farm run by scarecrows, which she found especially interesting. The video didn't directly advertise Chipotle, which considers responsible farming to be one of its brand attributes, but rather a Chipotle game app called Chipotle Scarecrow. It challenges players to "Protect fresh veggies from Crowbots" and rewards players with free burritos. She also learned that games created to encourage engagement with a product or service are referred to as gamification.
The next step in her project was analyzing the success of the campaigns she found through the study of industry awards, social media presence and companies' market share before and after the launch of these campaigns. For example, she found that the Chipotle campaign won several industry awards and had a measurably positive effect on the company's stock price.
Di Nallo says she thinks ad campaigns that invoke consumer curiosity is where the future of marketing is headed. She also thinks she might want to pursue a career in market research, based on her great experience.
"My faculty advisor, Chen Wang, was a great mentor. I'd like to thank her and LeBow's Office of Undergraduate Studies for this incredible opportunity," Di Nallo says. "This was definitely one of the highlights of my freshman experience. My friends who are at other great universities didn't have an opportunity like this. I'm so glad I chose Drexel!"