Part 1: Sharing Files
After expanding the Collaborate Panel, click on the arrow-shaped Share icon, located along the bottom-right tool bar

From the options that appear, click Share Files:


Click Add Files to load files into Collaborate. This process should bring up your device's documents folder, where you can either drag-and-drop or select a file to open in Collaborate. Once you drop the file onto the Collaborate panel, or click Open, the files will populate in the course room:


You can share a file with your students by selecting it from the documents in the right-hand navigation bar and clicking Share Now:


To scroll through multi-page documents, select a page from the navigation bar, then use the arrows below the document to move to the previous or subsequent page

To stop sharing, click on the circular, white Stop Sharing button at the top-right of the screen


Part 2: Screen-Sharing
From the Collaborate Panel, click on the arrow-shaped Share icon along the bottom-right tool bar
Select Share Application/Screen:


A prompt should appear, asking whether you want to share the entire screen of your device or just an application. Click on one of the options to make your selection.
In the window that appears, click on the application or screen you would like to share, then click Share to confirm
You should then see your screen or selected application displayed within the session room. You may use the tools along the top of the screen to adjust the zoom and size of the image:


To stop sharing, click on the circular white Stop Sharing button at the top-right of the screen


Part 3: Whiteboard
From the Collaborate Panel, click on the arrow-shaped Share icon along the bottom-right tool bar
Select Share Blank Whiteboard:


A white screen should appear to both you and your students, accompanied by a tool bar across the top of the screen. Select from the available pointer, drawing, shape, text box, and eraser tools to illustrate concepts to your students on the virtual whiteboard.
To stop sharing, click on the circular white Stop Sharing button at the top-right of the screen


Part 4: Student Controls
By default, your students may only view the content that you present in Collaborate. However, you have the option to allow specific students to share documents and content—follow the steps below to learn how.
1. From the Collaborate Panel, click on the Attendees icon—indicated by the silhouette of two people
2. Locate the name of the student who will be permitted to share content. Click on the […] icon to the right of the participant's name.
3. From the drop-down menu that appears, select Make Presenter. This setting will allow the student to use the file-sharing, white board, and screen sharing tools for as long as it is enabled: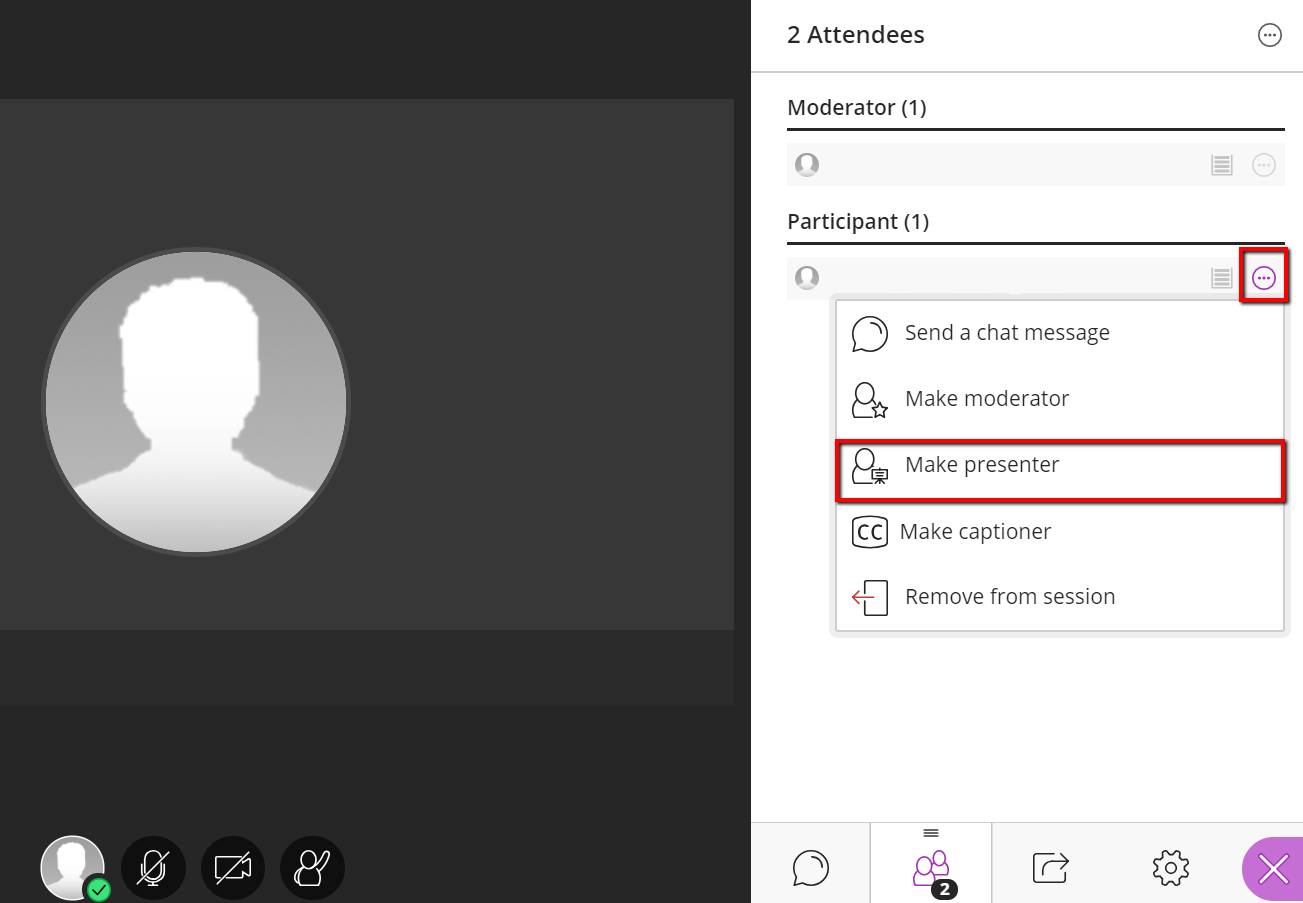 4. If you would no longer like for the student to have presenter privileges, click on the Attendees icon, locate the student's name, and click on the […] icon once again. Choose Make Participant from the drop-down menu of options that appears.


For more information on presenting with Blackboard Collaborate Ultra, please reach out to the LeBow Instructional Tech Services team.