Directors Dialogue Dinner
The annual Directors Dialogue Dinner, directly following the Directors Dialogue program, brings together over 200 of the area's business leaders and features a keynote address by a thought leader in corporate governance.
2017 Directors Dialogue Dinner
April 4, 5:30 p.m.
For information on how to invest in a table at the dinner, please contact Alyssa Abbott, Program Manager (aa976@drexel.edu).
Dinner Keynote Speaker
We are delighted to announce that Jack Brennan, Lead Independent Director of General Electric Co; Director of LPL Financial Holdings Inc and Guardian Life Insurance Co and Chairman Emeritus of The Vanguard Group as the 2017 Directors Dialogue Dinner keynote speaker. Jack will engage in a fireside chat discussion facilitated by Bill McNabb, Chairman and CEO of The Vanguard Group.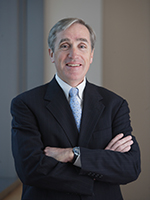 John J. Brennan is chairman emeritus and senior advisor of Vanguard. Mr. Brennan joined Vanguard in July 1982. He was elected president in 1989, served as chief executive officer from 1996 to 2008 and chairman of the board from 1998 to 2009.
Brennan is a director of General Electric Company; a director of LPL Financial; a director of Guardian Life Insurance Company of America; lead governor of the Financial Industry Regulatory Authority (FINRA); a trustee and fellow of the University of Notre Dame; a founding trustee of King Abdullah University of Science and Technology (KAUST); chairman of Vanguard Charitable; a member of the Pennsylvania Early Learning Investment Commission; chairman of Catholic Investment Services; a past chairman of the Investment Company Institute; and a past governor of United Way of America.
Brennan graduated from Dartmouth College and earned a master's degree in business administration from the Harvard Business School. He has received honorary degrees from Curry College and Drexel University.