Dana D'Angelo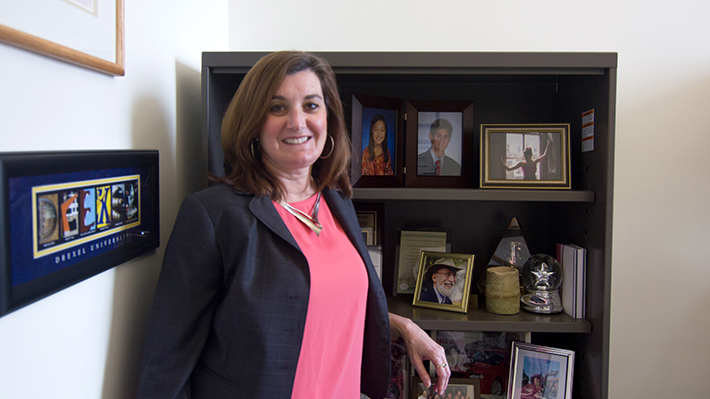 Areas of Expertise
Accounting and Business History
Business Communication
Business Education
Capital Budgeting
Corporate Finance
Experiential Learning
General Business
Global Classrooms
Leadership Development
Service Learning
Selected Works
Articles
D'Angelo, Dana C., and Epstein, Susan, Developing University Peer Mentors as Second Chair Leaders. Academy of Business Journal 2014 (Year 2014):
D'Angelo, Dana C., Finnin, Christoper, and Wright, Jennifer, The Impact of ePortfolios on Students' Learning. International Journal of Business and Social Resea 2 (Aug 2012): 25-34.
Chapters
D'Angelo, Dana C., Cataline, Jodi, and Simmons, Emilee, "Global Classrooms: Creating International Collaborative Initiatives." Unplugging From the Classroom, Ed. Pixy Ferris and Hilary Wilder. United States: Elsevier, (Forthcoming) 31.
Manuals & Guides
D'Angelo, Dana C., 2010 Southern NJ Small Business Report, Marleton, NJ: Janney-Montgomery Scott, LLC, (Aug 2010):
Presented Research
D'Angelo, Dana C., The Drexel Leeds Global Classroom, AACU: New Orleans, LA, (Feb 2016):
D'Angelo, Dana C., Adjunct Initiatives on a University Campus: a BOF Discussion, POD: San Francisco, CA, (Nov 2015):
D'Angelo, Dana C., Beyond Engagement: The Use of Backchannel in Smaller University Classes (A Study Across Disciplines, Lilly International Teaching Conference: Bethesda, MD, (May 2015):
D'Angelo, Dana C., Global Classrooms: Creating Collaborative Initiatives, Lilly International Teaching Conference: Bethesda, MD, (May 2015):
D'Angelo, Dana C., Wright, Jennifer, and Selvaggi, Tina, Discovering the Impact of a Backchannel Chat within Courses in Multiple Disciplines, Lilly National: Newport Beach, CA, (Feb 2015):
D'Angelo, Dana C., Consulting-based Action Learning as an Experiential Education Alternative, SoTL: Savannah, GA, (Mar 2014):
D'Angelo, Dana C., Peer Mentors as Second Chair Leaders, ABR: San Antonio, PA, (Sep 2013):
D'Angelo, Dana C., Consulting-based Action Learning as an Experiential Education Alternative, ABR: San Antonio, TX, (Sep 2013):
D'Angelo, Dana C., Finnin, Christoper, Wright, Jennifer, and Zubizarett, John, Electronic Portfolios Across and Through a Curr…, Lilly: Washington DC, DC, (Jan 2012):
D'Angelo, Dana C., Finnin, Christoper, and Wright, Jennifer, Electronic Portfolios Across and Through a Curr…, Lilly NC: Charlotte, NC, (Feb 2011):
D'Angelo, Dana C., UNIV101 - Not just for Freshmen Anymore, TASS 2010: Ft. Lauderdale, FL, (Mar 2010):
D'Angelo, Dana C., The Engagement - Getting Students to Say YES, TASS 2010: Ft. Lauderdale, FL, (Mar 2010):
D'Angelo, Dana C., Peer Leaders in First Year Programs, (Mar 2009):
D'Angelo, Dana C., Tips for Students Centered Learning, (Apr 2008):
D'Angelo, Dana C., Women in Leadership, (Apr 2007):
D'Angelo, Dana C., Service Learning in Freshmen programs, (Apr 1999):
Education
BS Accounting and MIS - St. Joseph's University Philadelphia, PA USA 1988
MBA Finance - Drexel University Philadelphia, PA USA 1992

Professional Experience
Corporate-Smith Barney Broker's Assistant Sep 1987 - Sep 1988
Corporate-Arthur Andersen Business Consultant Sep 1988 - Sep 1993
Memberships/Board-Pennsylvania State Board of Accountancy CPA May 1990 - May 1993
Academic-Drexel University Head Teaching Assistant Sep 1990 - Sep 1992
Academic-Drexel University Instructor Jun 1992 - Jun 1995
Other -Axsys, Inc. Seminar Leader Apr 1994 - Apr 1995
Memberships/Board-1260 Housing Corp. Board Member Apr 1994 - Apr 1997
Memberships/Board-Istitute of Management Accountants CMA May 1994 - May 1996
Academic-Eastern University Adjunct Instructor Sep 1994 - May 2001
Academic-Drexel University Course Coordinator Jun 1995 - Jun 2001
Other -ESF Camps Course Development and Instruction Apr 1997 - Sep 1997
Academic-Drexel University Director of General Business Studies Jun 2001 - Jun 2008
Memberships/Board-Avalon Players, Inc. Treasurer Jun 2004 - Aug 2010
Memberships/Board-Wolf Performing Arts Center Board Member Jul 2007 - Jul 2014
Academic-Cabrini College Adjunct Instructor Jan 2008 - Jun 2008

Awards
2014 BPTS Fellow (LeBow College of Business Center for Teaching Excellence)
2013 US Professor of the Year, Nominee 2013 (CASE)
2013 Scholastic Achievement Award Second Place - MAZDA Competition (EdVenture Partners)
2012 Scholastic Achievement Award for zaahah.com (EdVenture Partners)
2012 Scholastic Achievement Award First Place - ANGA Competition (EdVenture Partners)
2012 Fellow (LeBow College of Business Center for Teaching Excellence)
2011 Barbara Hornum Award for Teaching Excellence (Drexel University)
2008 Fellow (LeBow College of Business Center for Teaching Excellence)
2004 Academic Leadership Award, LeBow College of Business (Drexel University)
2001 The Provost's Award for Innovation (Drexel University)
1997 Big Sister of the Year (Big Brothers/Big Sisters, Philadelphia)
1994 COBA Teaching and Service Award (Drexel University)
1994 Graduate Business Assoc. Distinguished Professor Award (Drexel University)

WWW Resources