Turnitin is a third-party tool that is built into Blackboard LEARN. With Turnitin, instructors can check student papers to see sources for quoted or paraphrased content and to verify that sources are cited properly. This tool is used in place of a traditional Blackboard LEARN Assignment dropbox and integrates with the LEARN Grade Center. The tutorial below demonstrates how to create a Turnitin Assignment in Blackboard.
Step-By-Step
Log into the Blackboard LEARN course where you would like to add the Turnitin assignment
Navigate to the folder or area within the course where the Turnitin dropbox should appear
Click on Build Content > Turnitin Assignment: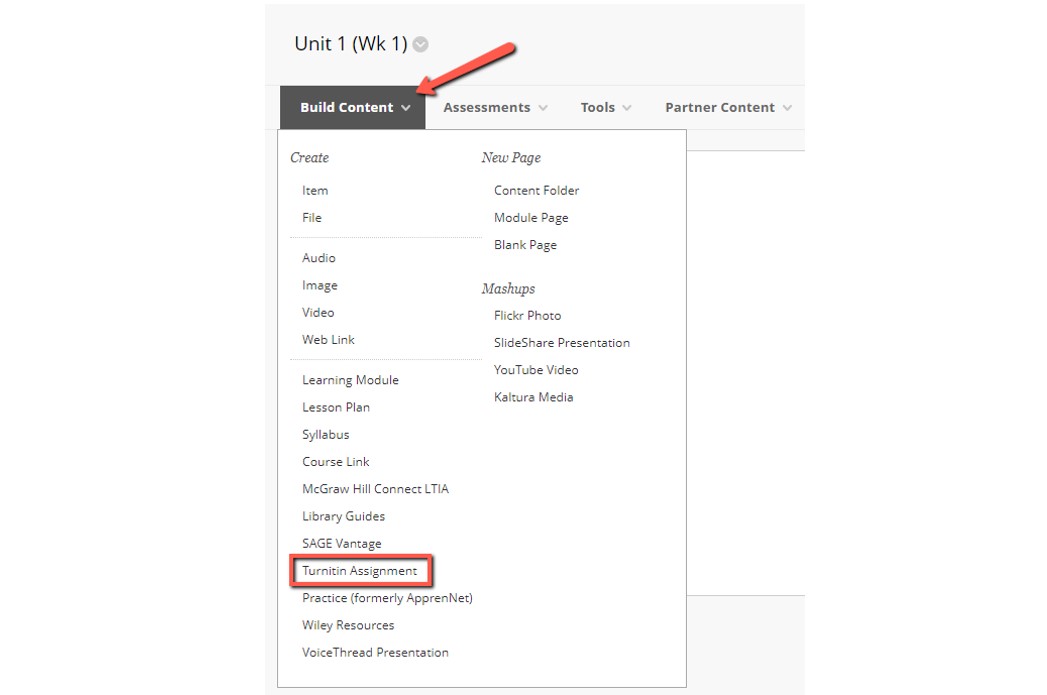 Fill in the details associated with your new Turnitin Assignment. Be sure to give the assignment a title and a point value, and select a start date, due date, and feedback release date. For more information on each of these fields, hover over the question mark symbol next to each.

Choose whether PeerMark should be enabled. PeerMark is a peer review tool that allows students to read, review, and evaluate one or more papers submitted by their classmates. Usually, PeerMark is not enabled for standard assignments.

Review and select any Optional Settings which should be applied to the assignment.
Submission Settings: Modify and restrict how students can submit their assignments. Identify whether papers will be submitted to Turnitin's repository, which file types will be accepted, and whether late submissions will be accepted. Instructors can also choose to have assignments presented anonymously for grading, enable a grammar check feature, and apply a rubric to the assignment.
Compare Against: The default settings compare student assignments against Turnitin's repository of student papers, current and archived web site content, and periodicals, journals, and publications.
Similarity Report: Adjust the number of times students can submit an assignment and if/when they can view their score. The similarity score reflects the percentage of a paper's content that matches sources in Turnitin's databases; it is not an assessment of whether the paper includes plagiarized material. Instructors have the option of excluding bibliographic materials, quotations, and matches below a certain word count or percentage threshold.
Once you are satisfied with the selected settings, click Submit.
For more information on Turnitin, please contact the Instructional Technology department at 215-895-2314 or lebowintech@drexel.edu.
Have Questions?