Classmates today. Network for life.
Today's world doesn't wait for change and neither does Drexel. The University's tradition is built on innovation with an eye to the future. Drexel LeBow's Executive MBA is designed to equip driven and determined executives, entrepreneurs and professionals to be leaders and changemakers focused on real-world solutions.
Drexel's strong industry connections are rooted in the University's foundation and culture, and these connections aid in providing students with a leading edge on experiential learning that will allow them to compete and thrive in a time when companies and communities across the country and the world need leaders to be and do more than ever before.
Executive MBA Experience
Our accelerated — not abbreviated — 16-month program begins with a five-day residency, providing an immersive opportunity for the cohort to get to know each other and our expert faculty. Throughout the hybrid program, EMBA students typically meet for live sessions twice per term, creating a classroom structure that allows them to fully engage in the course while reducing time away from their work and personal lives. This structure also provides opportunities to build a network with fellow EMBAs and interact with Drexel's Executive Doctorate in Business Administration (DBA participants on the same schedule.
Cohort and Network
Through our cohorted program, EMBA students establish a lifetime network with professionals from varying industries and geographies — in addition to the tens of thousands of Drexel and LeBow alumni in the larger Dragon Network. Best of all, the coursework, projects, immersions and networking combine to provide real-world pathways for students to take what they learn in the classroom on a Saturday and apply it in their organization's Monday morning meeting.
EMBA Curriculum
The Drexel LeBow EMBA addresses the changing needs of industry and our executive students through our newly enhanced program and format.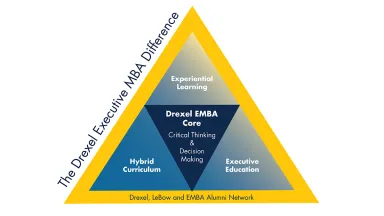 The Drexel EMBA program's hybrid curriculum amplifies LeBow's rigorous and relevant courses through immersive experiential residencies in an executive education format. Designed to leverage executives' industry experience and previous learning, each EMBA term has a theme to enhance connection to the integrated content across disciplines while fostering critical thinking and evidence-based decision-making. Integrated term themes include:
Strategic Value and Financial Impact
Analytical Leadership and Data-driven Decisions
Global Impact
Managing the Value Chain
Tech Innovation and Competitive Advantage
Strategy, Implementation and Leading Change
Electives, offered in terms three and four, emphasize strategic leadership and explore emerging business trends — from blockchain and investment business decisions to sustainability and analytical storytelling — with faculty and subject matter experts from the business world sharing practical applications and real-world experience.
EMBA Completion Time
Our 16-month program is delivered over three calendar years so students can make the most of their organization's PTO and tuition reimbursement programs.
Specifically designed to maximize the executive learning experience while streamlining the time expected on campus, the Drexel LeBow EMBA curriculum incorporates targeted campus residencies, online asynchronous courses, reading and prep time into the schedule, providing a seamless way to balance studies with work and life.
Experiential Learning for EMBA Students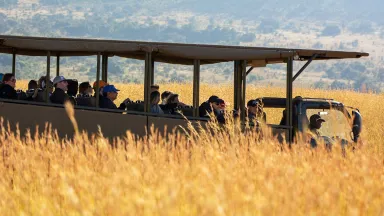 Drexel LeBow EMBA students on a game drive in South Africa during an international residency.
Immersive Residencies
The program offers two experiential residencies per term (six terms), including:
Eight on-campus immersive residencies (one of which is Electives Week)
One global residency
Three virtual remote sessions.
Each residency serves as a milestone in the EMBA experience. A five-day, multidisciplinary Strategic Value and Financial Impact immersion kicks off the program, focusing on value creation across the enterprise and integrating critical thinking and decision-making across finance, strategy, marketing and the supply chain — all while building a connection and community among cohorted classmates.
The program's midpoint is an international residency, which adds a global perspective to coursework and workplace experiences. It concludes with an executive capstone, the culmination of efforts in critical thinking and decision-making, in which EMBAs use the knowledge they've gained from the variety of courses and combine it with their professional experiences to tackle executive-level scenarios from faculty and subject matter experts.
Throughout the program, a practical, hands-on approach is embedded into the program, integrating experiential learning across all components of the EMBA experience.
Electives Week
The annual Executive Electives Week allows students to expand their business horizons and pursue their unique goals — all while taking classes with peers outside of their conventional network. Recent elective topics have included leading strategic change, analytical storytelling, sustainability, executive communication and more.
For more information on Drexel's Executive MBA schedule, view the 2023-2025 EMBA calendar.
EMBA Faculty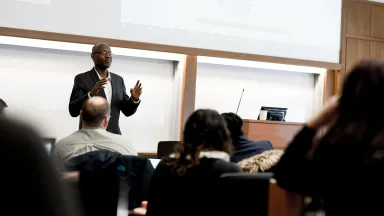 Our research-active faculty, who are experts in their respective fields, go beyond theory. They bring evidence-based perspectives and practical, hands-on approaches to business in topics as wide-ranging as strategic change and innovation, aligning business and IT, and diversity in the workplace.
With Drexel's designation as an R1 research university, our faculty are not only here to teach; they bring their expertise to ongoing research projects, publications and more, working side by side with students who are ready to excel and be part of industry-leading research.
Career Coaching
In and out of the classroom, the Drexel EMBA program prepares leaders to thrive in all aspects of their professional and personal lives. Through one-on-one executive career coaching, expert discussions, executive teamwork training and more, our executive education takes a detailed approach to ensure our students are prepared to tackle all challenges.
Campus and Facilities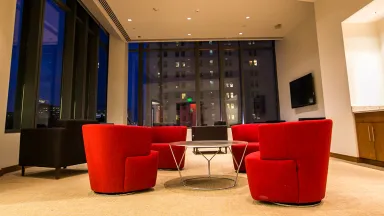 Drexel LeBow Executive MBA Lounge
Our 12-story, 177,500-square-foot home, Gerri C. LeBow Hall, is located at the heart of Drexel's University City campus — at the intersection of Woodland Walk and Market Street — where it forms a gateway to Drexel and serves as a backdrop to the historic statue of A.J. Drexel.
Drexel's University City campus is located in Philadelphia's vibrant technology and research corridor and is just steps to hotels, museums, world-renowned restaurants and more — in the city where our nation literally began (not to mention a UNESCO-designated World Heritage City, one of only two in the United States).