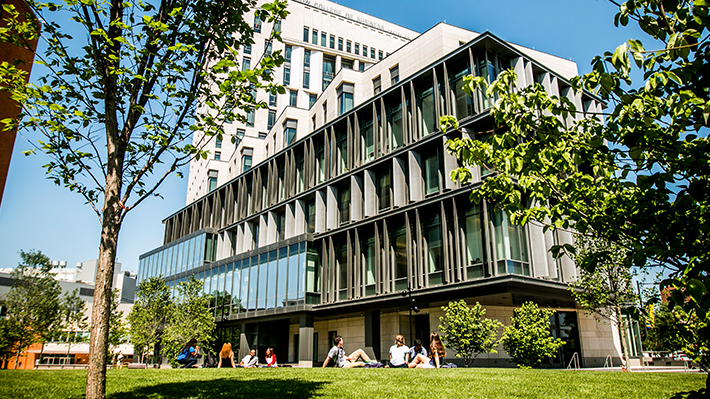 Gerri C. LeBow Hall
The 12-story, 177,500-square-foot home of the LeBow College of Business, Gerri C. LeBow Hall, is located at the heart of the Drexel University campus, at the intersection of Woodland Walk and Market Street, where it forms a gateway to Drexel and a backdrop to the historic statue of A. J. Drexel (Moses Ezekiel, 1904). The diagonal massing of the lower floors follows Woodland Walk and combines with the Papadakis Integrated Sciences Building (Diamond & Schmitt, 2011) to energize the University's central quadrangle. The building's tower marks the LeBow College and Drexel campus from all directions while the open, glassy Market Street façade showcases the College's student activities to passersby.
The building's organization unites the school's various constituencies around a five-story-high atrium ringed by classrooms, student lounges, events spaces and offices. The atrium is immediately accessible from main entrances at the three corners of the building. An open stair within the atrium leads to a 300-seat auditorium and 100-seat lecture hall one floor below and to a divisible multipurpose room and additional classrooms above. The building's upper floors contain faculty and staff offices interspersed with seminar rooms and group study rooms. The top floor houses the Dean's suite, a boardroom and a conference suite that opens to east- and west-facing terraces.
The building's warm masonry and glass exterior reflects the emerging vocabulary of the next generation of Drexel buildings. Sophisticated solar shading devices allow maximum transparency between the inside and outside while supporting the building's high environmental aspirations.
Key Building Features
Five-story atrium
Finance trading lab with Bloomberg Terminal Room
300-seat auditorium
160-seat event space
100-seat lecture hall
45-seat seminar rooms
44-seat computer classrooms
60-seat classrooms
Executive MBA classroom
24-seat classrooms
Special areas for experiential learning simulations and business consulting
Videoconferencing capabilities
Integrated teaching technology in all classrooms
Recording studio to support LeBow College's online programs
Extensive areas for students to gather socially and for collaborative study, including student collaboration rooms, two quiet study areas and 3,500 square feet of student social space
EMBA Alumni Lounge for the exclusive use of EMBA alumni
Behavioral Studies Lab
Starbucks
Green Globe certifiable, meeting worldwide sustainability standards
Events at LeBow
Interested in reserving a space in Gerri C. LeBow Hall for your next Drexel event? We have many different types of rooms and spaces to fit Drexel events of any kind. If you are interested, please fill out an event request form (PDF), and someone will connect with you soon.
About the Architects
Robert A.M. Stern Architects LLP
New York, New York
A 220-person firm of architects, interior designers and supporting staff. Over its 41-year history, the firm has established an international reputation as a leading design firm with wide experience in residential, commercial and institutional work. As the firm's practice has diversified, its geographical scope has widened to include projects in Europe, Asia, South America and throughout the United States. The firm maintains an attention to detail and commitment to design quality which has earned international recognition, numerous awards and citations for design excellence, including National Honor Awards of the American Institute of Architects, and a lengthening list of repeat clients.
Voith & Mactavish Architects LLP
Philadelphia, Pennsylvania
Voith & Mactavish Architects, founded in 1988 and with a staff of 25 talented and dedicated professionals, is an architecture, preservation, planning, landscape and interiors firm licensed to provide design services throughout the New England and Mid-Atlantic regions. The firm is committed to the highest quality design and service, believing that great architecture comes from innovation within the context of tradition. With a national reputation for an ability to work within significant architectural contexts in a knowledgeable and sympathetic manner, the firm offers the flexibility to provide expert services in renovation, restoration, additions, new construction and site development.