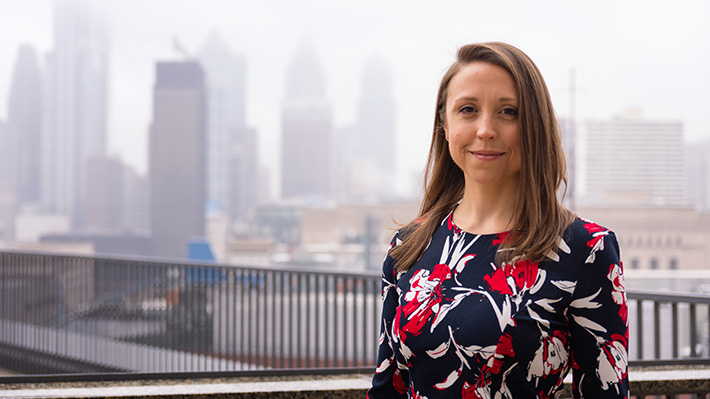 Alexandra Burt, '18
MS in Accounting
Alexandra Burt's path to the MS in Accounting program was unconventional. A graduate of Smith College, Burt found her way to her pursuit of the corner office through her work in the nonprofit sector.
Accounting had always been more of a curiosity for Burt than something she thought she should fully pursue. A former Women and Gender Studies major, Burt thought that she'd originally work in nonprofit development and research, but eventually realized it was not for her.
After making the move to Philadelphia in 2007, she landed a position as a grant writer at the Delaware Valley Association for the Education of Young Children (DVAEYC), her first job in the non-profit world. "I was kind of a 'jack of all trades.' I did a little bit of marketing, social media, general development and donor relations in addition to grants management."
But after working with the organization for five years, Burt decided to pursue something she found far more interesting — accounting. At that time, Burt decided to research local MS in Accounting programs.
With her humanities undergraduate degree and no business courses, Burt says she felt as if she was starting from square one. "For every master of accounting program, you need those prerequisites to catch you up with the other students who got their undergraduate degree in business, accounting, and programs like that," says Burt. "With the programs in the area, they all had prerequisite requirements, so I really liked the fact that Drexel has a two-year accounting option for students who don't already have that background."
After choosing the program that worked best for her, Burt said, "I really hit the ground running, and I don't think I stopped to think about what I was doing until the summer of my first year."
Just as Burt thought she had left the nonprofit realm, her internship took her right back to where she got her start. After her first year, Burt volunteered with the Campaign for Working Families where she provided income tax preparation services to low-income individuals. But despite her experience and connections, Burt says she doesn't want to limit herself. "Looking at all of the things that one can do with accounting, I do want to continue to remain open to possibilities. I never want to shoehorn myself into the nonprofit world before I even get out of the gate."
As Burt's career has taken quite a few turns, she advises other students remain open as well. "Stay open to opportunities and let yourself be surprised by where life can take you," she says. "If you had told me at 19 that I would be going to graduate school for accounting, I would have laughed. But I love a spreadsheet!"
While Burt has already received an offer from a public accounting firm, her next goal before joining the workforce is passing the CPA exam.