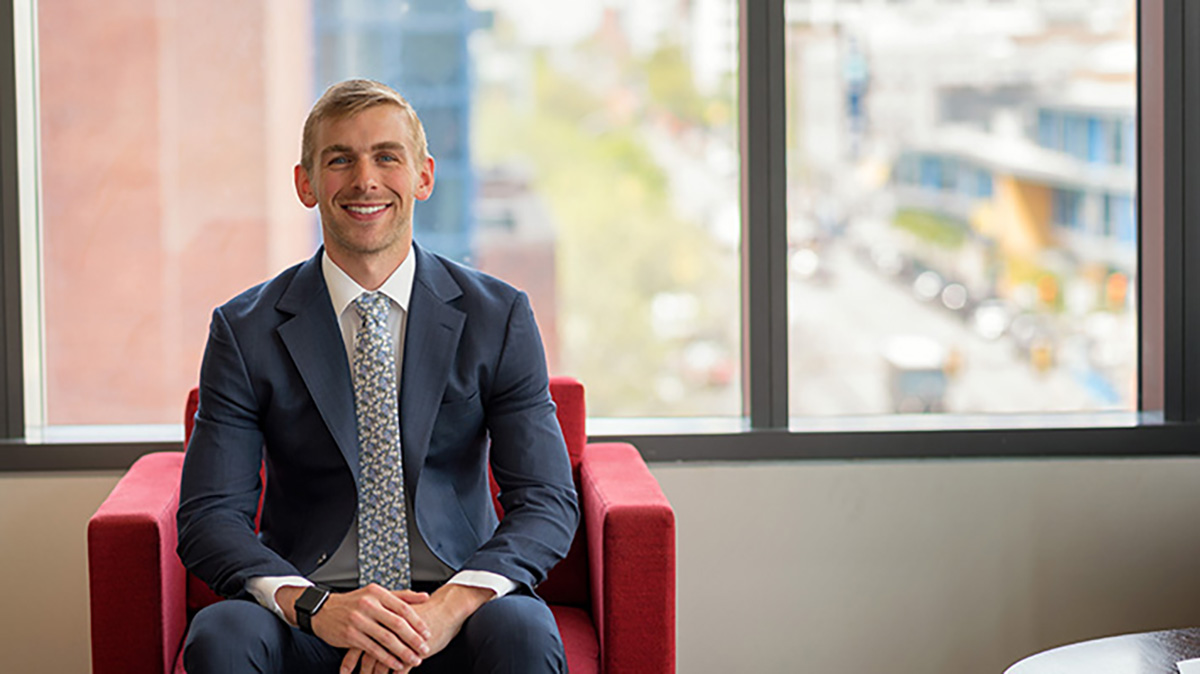 Christopher Stroup, '19
MBA
When Chris Stroup entered the MBA program, he was determined to approach the program as an "18-month experiment." Taking the opportunity to use the program to explore his interests and pursue a variety of career opportunities, Stroup was determined to approach the program with an open mind.
"One of the most important things when you're coming into the MBA program is being open to all possibilities and not limiting yourself to what events you go to," says Stroup. "Early on I made an effort to really expose myself to a lot because I knew you don't know what you don't know. There's something you can learn and take from everyone."
Having previously worked at Chevron, Stroup entered the program expecting to complete a concentration in supply chain management and return to the company. But as Stroup completed the foundation courses in finance and supply chain, he learned that he was more interested in finance and decided to switch his concentration and take more courses in that area.
Expanding on his determination to learn everything he could during this 18-month experiment, Stroup attended several professional development workshops, panels, and discussions offered at LeBow to learn as much as he could and get the most out of the program.
He was also determined to bring every aspect of himself to the program stating, "Being a member of the LGBTQ community has allowed me to bring an additional element to the MBA class. I have zero qualms about carrying that torch if it means barriers will be broken down so that current and future LGBTQ students can succeed in the business world."
Looking to challenge himself even further and share his perspective in new ways, Stroup discovered the Lawrie Advanced Global Leadership scholarship. The scholarship was awarded to two MBA students open to exploring the private equity industry while thinking strategically and working in diverse teams.
"The Lawrie program was a true pivot for me," says Stroup. "When I heard about the Lawrie program, I thought, this is the challenge I've been seeking. It's helped me push into a new area and truly find what I want to do with my life."
Without any experience in private equity, but a true desire to learn, Stroup fully immersed himself into the program. Beginning the program with a consulting course that allowed him to work on projects for Hamilton Lane, Stroup learned about the challenges of private equity early in the program.
"The leadership team we worked with was open to helping us learn and shared their knowledge and experiences," says Stroup. "A lot of what they learned took them the better part of 20 to 30 years to learn. The fact that they were trying to share that wisdom in a way that we could apply it sooner was great. Some of the connections I made there will last far beyond my time here at Drexel."
The program also featured an intro to hedge funds course, a course on business valuations , residency opportunities, and led Stroup to his graduate internship with the Drexel University Endowment.
Stroup's next endeavor is to enter the Associate Advisor program at Abacus Wealth Partners in Santa Monica, California. The Associate Advisor program is a two-year apprenticeship that allows employees to gain work experience while completing the requirements for the Certified Financial Planner (CFP®) designation. Abacus Wealth Partners encourages its employees to complete the Personal Financial Planning certificate at UCLA as means to meet the educational component for CFP® designation, which Stroup intends to complete over the next 15 months. UCLA's PFP certificate is designed to address the particular needs of the Los Angeles market.