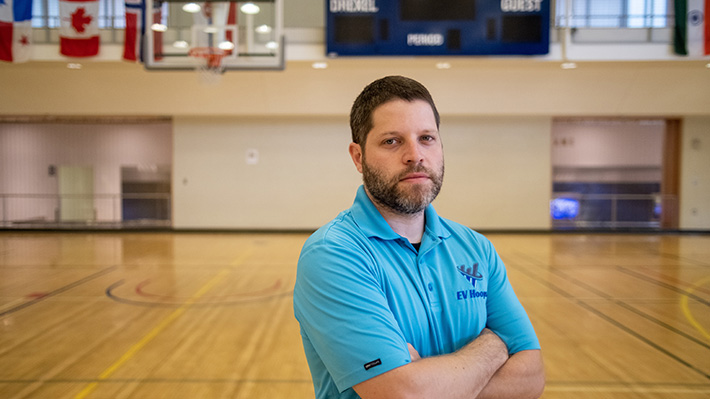 Elan Vinokurov, '10
BS in Sport Management
Elan Vinokurov started his career knowing he had a passion for business and sport.
Vinokurov began his undergraduate studies at the University of Maryland in hopes of studying business, but transferred to the sport management program at Drexel to unify his passions. "For me, I've always been a sports fan. At that time the two major sports for me were basketball and football, so I knew I wanted to work in that," says Vionkurov. "I decided that I wanted job experience and Drexel's program already had that built in."
When it was time for Vinokurov to find his co-op placement, he had already decided that he wanted to further explore a career in scouting and coaching. Through a connection at Drexel, Vinokurov discovered ClibHoops, a basketball consulting company run by Jim Clibanoff.
Vinokurov hoped a co-op at ClibHoops would be his introduction to the world of scouting, but he quickly encountered some resistance. Clibanoff didn't feel the need need for a student worker, having run the company by himself for such a long time. "Jim didn't want the help and said, 'No,' but I persisted," says Vinokurov.
For weeks following the initial rejection, Vinokurov sent Clibanoff opinions on players, strategies and draft decisions in hopes he would see his eye for talent and understanding of the game. Clibanoff relented and gave Vinokurov a position and Vinokurov hasn't stopped working since.
"At that point it was the perfect storm of opportunity," says Vinokurov. "I was the right age and mature enough to handle something like that. I think it was also clicking for me that I was in a position where I knew exactly what I wanted to do and I was able to cultivate that interest."
When Clibanoff took a position as the director of recruiting for the Denver Nuggets and subsequently closed ClibHoops, Vinokurov had to decide what he wanted to do next. Confident he knew the business and ready to venture on his own, he started his own consulting company, EVHoops in 2013. Vinokurov says of the closing of ClibHoops, "It gave me the opportunity to take a lot of what I learned and put my own flavor on it and see what I could do."
Though he can't name the teams he works with due to privacy agreements, he says his work has allowed him to build a company he's especially proud of. "We pride ourselves on being the best draft evaluators and the best evaluating team, really on the planet, that's not working in an NBA front office."
Vinokurov's passion for basketball and love of scouting has lead him to give back by passing those skills to the next generation. In 2017, Vinokuov started ScoutU, a program that teaches scouting and game analysis skills to high school and college students as a way to help train the basketball scouts and analysts of the future.