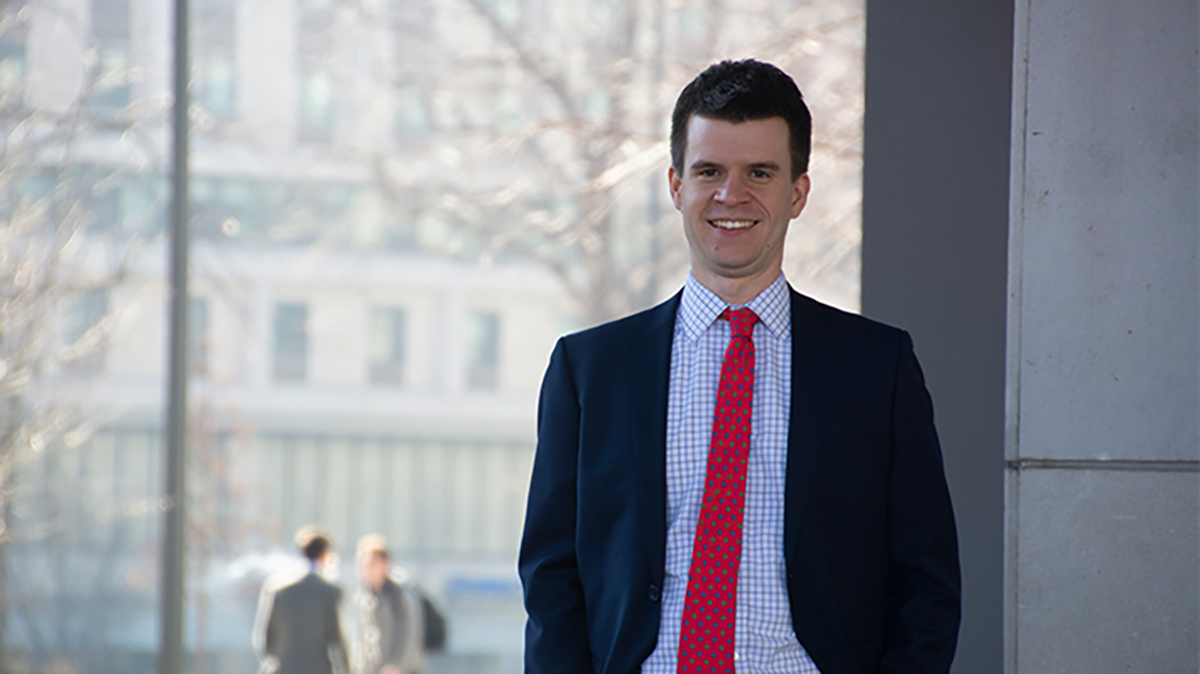 Jim Wolters, '19
MBA
For Philadelphia native Jim Wolters, the allure of his hometown was strong after four years working in consulting in Washington DC.
"I thought I would go work in government and be a huge politico," he says, and he ended up working at a trade association management firm in a role that encompassed marketing, financial management, event planning and other areas, later adding government affairs and board facilitation as the job evolved.
After four years, though, he sought greater fulfillment in his work and "did a total 180" by coming to LeBow for his MBA and pursuing a longstanding interest in health care, an industry he calls "a huge piece" of Philadelphia's economy.
"I tell people: my grandfather was a doctor and I wanted to be a doctor when I was a kid, but I hit the wall in high school biology," he says.
Wolters was attracted to the flexibility of an MBA, as opposed to other healthcare-oriented degree programs like an MHA or MPH. "I like the way it was very customizable, and how you can really forge your own path with classes."
"If you go to the Dornsife School of Public Health, you're getting a totally different perspective, and having class with students with healthcare backgrounds." Combining classes from the School of Public Health with his MBA curriculum, he says, "has worked out really well."
During his visit, Wolters met clinical professor of marketing Michael Howley, a former physician's assistant and surgical practice manager whose research focuses on healthcare marketing. "We had a long chat about the program, his experience and where he thought the industry was going," Wolters says.
Howley ended up becoming a mentor during Wolters' studies, both in the required marketing courses and outside of class. "Everyone in my cohort agreed that's one of the best classes we've had here. You learn so much about business and the world in general in that class," he says.
Wolters cites other outstanding classes from his time at LeBow: an organizational behavior course with Associate Professor of Management Christian Resick, and a class with Murugan Anandarajan on aligning analytics and strategy. "It's about how to communicate with analytical people and tell a story with data," he says. "The boss from my internship asked me, 'Can you do a presentation for us on that?'"
That internship at Jefferson Health came about through a healthcare administration careers panel at the School of Public Health. "There was someone on the panel I recognized – he and I graduated from college together," Wolters says. "He mentioned an internship in the panel, I said I was really interested to learn more and he told me, 'I think it'd be a good fit for you.'"
Wolters ended up interning in the department of Strategy and Business Development, which provides the information for strategic initiatives and high-level corporate decisions, including some of Jefferon's recent mergers and acquisitions. "Those decisions were supported by the data and recommendations that our department provides," he says. "It's looking at market share, demographics, what competitors are doing and how an initiative will boost business for Jefferson."
"At Jefferson, they train you to do projects you can really sink your teeth into and give you the independence to do them. They really open their doors to let you learn about other departments, as well. Everyone is eager to talk, they love their jobs and they want to help any way they can."
Wolters was so encouraged by the working environment at Jefferson that he added a second internship in hospital operations at Jefferson Methodist Hospital, the health system's South Philadelphia campus. He says he viewed the second internship as "a good way to keep my foot in the door," and it has led to his supervisors in both position looking for a full-time position for him.
"A few years ago, I think I wouldn't have been able to do it but I think I've really grown and matured," he says.