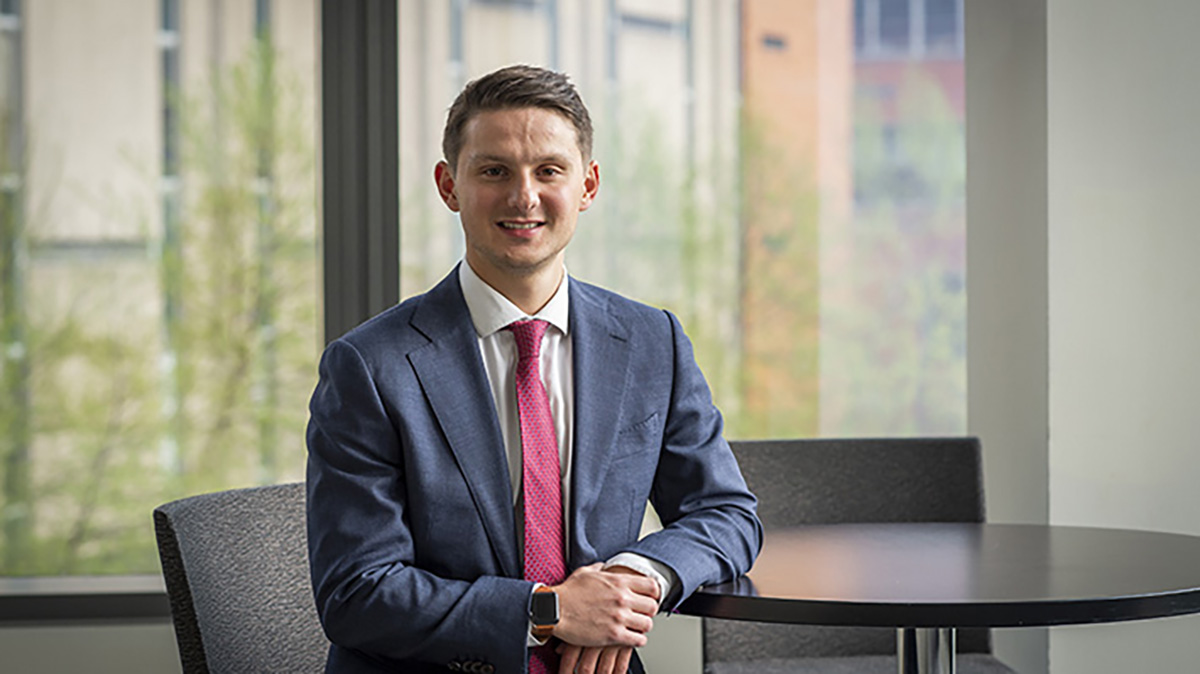 Joseph Dipre, '19
MBA
Joe Dipre's ambition and clear vision for his future are what led him to Drexel LeBow. With a strong competitive drive and a deep desire to make an impact, Dipre enrolled in the Drexel LeBow MBA program determined to take his career in finance to the next level.
Having studied finance as an undergraduate, Dipre knew his interests were in the realm of finance but had difficulty finding work that he felt was both challenging and meaningful. "In the position I was in with the resume I had at the time, I didn't think my current path was optimal to reach the kind of ambitious goals I had," says Dipre. "I looked to get my MBA at Drexel, knowing that not just the credentials but the experience and the networking that comes with it would lead me to a more prosperous career."
After joining the MBA program, Dipre decided to maximize every opportunity by attending as many talks, networking events, and career development programs as possible. It was through one of these events that Dipre discovered the Lawrie Scholarship consulting course, a competitive consulting course in private equity that provides select MBA students with the opportunity to explore the industry through focused course work.
"Being a part of the Lawrie program was definitely a highlight of my experience," says Dipre. "The class that served as the application for the Lawrie Scholarship was one of the most valuable classes I took during my time at Drexel. It was a lot of research into the private equity industry and it gave a very good overview of the industry and all of the theories and concepts that go behind private equity."
Dipre was not only able to take the course, he ended up landing the scholarship and starting on a path that would help him find a new love for finance through the private equity industry. As a part of the experiential component of the Lawrie Scholarship program, Dipre joined Graham Partners. The fast-paced and slightly competitive nature of the role energized him and allowed him to use a variety of skills and talents he was unable to tap into at previous positions, but not without a few adjustments.
"It was definitely a balancing act between keeping my focus on my studies and maintaining my GPA as well as the phenomenal experience with being at Graham Partners," he says. "There was a period of time that I didn't have much of a social life, but I feel like I reaped a lot of benefits from that time of hard work."
Through his hard work and the help of his Drexel network, Dipre was able to move on from his internship with Graham Partners and eventually land a full-time position. "I'm thankful Drexel taught me the importance of networking. The Graham Partners experiential learning opportunity wasn't a part of the Lawrie scholarship, but a Drexel alumni made the connection that allowed the experience at Graham Partners," he says.
Dipre's experience at Graham Partners not only provided him with the work experience he was looking for, it also helped him find his niche in finance. "The fast-paced environment of the industry is something that I very much enjoy," says Dipre. "It's not just about enjoying working with numbers and enjoying coming up with creative investment theses. The competitive nature energizes me and that's something that you wouldn't experience in the classroom when you're just learning about the concepts."