Associate Clinical Professor
Marketing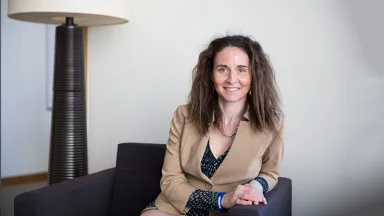 Biography
Dr. Boryana V. Dimitrova is an Associate Clinical Professor of Marketing.
Dr. Dimitrova's research is focused on global marketing in general and global distribution channels in particular. Global distribution channels entail relationships and interactions between manufacturers and channel intermediaries such as wholesalers and retailers in a given foreign market, interactions between importers and exporters as well as interactions between retailers and final consumers in foreign markets. The intricacies of the relationships at all of these levels makes global distribution strategy development very challenging and a particularly interesting topic to study. Dr. Dimitrova's research has been published in academic journals such as Journal of International Marketing, International Marketing Review, Journal of Marketing Channels, Journal of Historical Research in Marketing, Journal of Euromarketing, and International Review of Retail, Distribution, and Consumer Research.
Dr. Dimitrova teaches Master's, MBA's, and undergraduates. She has published several distribution channels case studies in one of the leading Marketing channels textbooks.
Dr. Dimitrova often consults local small businesses. She also presents her research at academic conferences.
Areas of Expertise
Global Marketing
Inter-Organizational
Marketing Strategy
Marketing channels
Marketing
Selected Works
Articles
Cases
Proceedings
Education
PhD Marketing-Drexel University 2013
BS Marketing, International Business and Trade-Saint Peter's University 2008
Awards
2013 Nominated for the Outstanding PhD Promise Award (Drexel University)
2012 AMA-Sheth Foundation Doctoral Consortium Fellow, University of Washington, Seattle, WA (Drexel University)
2012 Outstanding Behavioral Stream Research Paper, LeBow College of Business (Drexel University)
2012 Outstanding PhD Teaching Award, LeBow College of Business (Drexel University)
2012 Excellence in Teaching Award, Marketing Department (Drexel University)
2011 Excellence in Research Award, Marketing Department (Drexel University)
2011 Highly Commended Teaching Award (Drexel University)
2011 Outstanding Behavioral Stream Research Paper (Drexel University)
2010 Excellence in Research Award, Marketing Department (Drexel University)
2008 The Wall Street Journal Student Achievement Award (Saint Peter's University)
Service
European Marketing Academy Conference – Member (2017)
Journal of International Marketing – Member (2017)