Kate Sonstein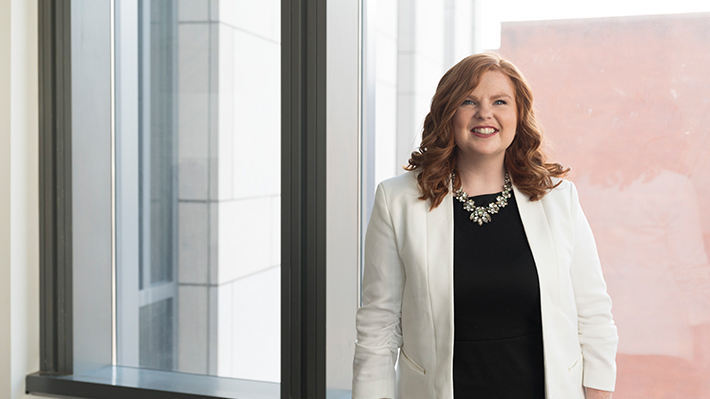 Kate joined the LeBow College of Business in 2017, where she serves as the lead for admissions and recruitment for a variety of graduate programs, including MBA programs and credit-bearing certificates. Her current role includes responsibility for recruitment initiatives, strategic planning and evaluation as related to recruitment, managing the admissions process, and yield opportunities. Kate is also responsible for dual and accelerated degree recruitment, and launching new credentials in the LeBow graduate portfolio.
Kate's career in higher education includes experience with student support and advising in addition to her experience with MBA and MS recruitment and admissions. Throughout her career, Kate has worked with a variety of student populations including recent graduates, experienced professionals, and international students. Prior to her time in higher education, Kate's experience was in recruiting and staffing.
Kate received her BA in Public Communications from American University in Washington, DC in 2010, and her MBA in Business Analytics from Saint Joseph's University in Philadelphia, PA in 2016.
Job Responsibilities
•Serve as admissions lead for on-campus MBA programs, credit-bearing certificates, dual degrees, accelerated degrees, and the new MS Business Information Technology program.
•Organize and execute recruitment programming for program portfolio, both on and off campus. Lead admissions presentations and provide direction to prospective students and applicants.
•Develop partnerships with organizations that will enhance the student pipeline through collaboration with internal and external stakeholders.
•Compile key admissions data; analyze trends in lead source, health of funnel and outcomes. Recommend new approaches to recruitment and enrollment strategy.
•Collaborate with Communications & Marketing and Web Teams to develop and continually update marketing collateral, program websites, and advertising in support of recruiting cycle and events.
•Act as subject matter expert in graduate business enrollment management in college discussions and committees.
College News
From contributing to key projects to finding support from mentors, Aishwarya Reddy Toom '21 and Yue (Alex) Fu '21 reflect on their full-time, virtual summer internships.