Rolph Anderson, PhD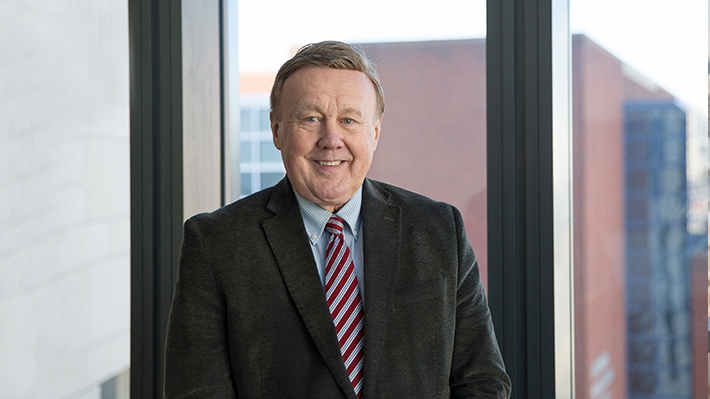 Rolph Anderson is the Royal H. Gibson, Sr. Chair Professor Emeritus of Marketing and former Head (1975-1997) of the Department of Marketing at Drexel University. He earned his Ph.D. from the University of Florida, and his MBA and BA degrees from Michigan State University where he was a member of the varsity basketball team after being selected First Team All-State in high school. His primary research and publication areas are personal selling and sales management, customer relationship management, and customer satisfaction/loyalty. He is author or co-author of more than twenty textbooks, including Multivariate Data Analysis, 8th ed. — one of the most highly referenced research textbooks ever in the social sciences (among top five all-time) — translated into various languages including Spanish, Portuguese, and Chinese editions; Personal Selling, 3rd ed.; and Sales Force Management, 2nd ed. According to Google Scholar Citations, his publications have been referenced over 200,000 times in scholarly journals and books.
Dr. Anderson's research has been widely published in the major journals in his field, including articles in the Journal of Marketing Research, Journal of Marketing, Journal of Retailing, Journal of the Academy of Marketing Science, MIT Sloan Management Review, Journal of Experimental Education, Journal of Consumer Affairs, Journal of Global Marketing, Journal of Marketing Education, European Journal of Marketing, Psychology & Marketing, Journal of Business-to-Business Marketing, International Journal of Retail and Distribution Management, Journal of Business Research, Advances in International Marketing, Business Horizons, Journal of Managerial Issues, Industrial Marketing Management, Journal of Business & Industrial Marketing, Journal of Product and Brand Management, Risk Management, Journal of Historical Research in Marketing, Journal of Marketing Channels, Journal of Marketing Theory & Practice, Journal of Personal Selling & Sales Management, and others.
His classic Journal of Marketing Research article on "Consumer Dissatisfaction: The Effect of Disconfirmed Expectations on Perceived Product Performance" was one of the pioneering articles in the study of customer satisfaction. In 1988, he won the national Mu Kappa Tau award for the best article published in the Journal of Personal Selling & Sales Management. In 1992, Dr. Anderson was selected for the second time by the Drexel College of Business students to receive the Faculty Appreciation Award. In 1995, he was recipient of the national "Excellence in Reviewing Award" from the Journal of Personal Selling & Sales Management. In 1998, he received the American Marketing Association Sales Special Interest Group inaugural "Excellence in Sales Scholarship Award." For 2000-2001, he received Drexel University's LeBow College of Business "Research Achievement" award. In 2003, he was selected a Distinguished Fellow of the LeBow College Center for Teaching Excellence, and received the LeBow College Award for Academic Leadership in Textbook Publishing.
Professor Anderson has served several professional organizations as an officer, including: President, Southeast Institute for Decision Sciences (IDS); Secretary and Board of Directors, Academy of Marketing Science; President, University of Florida Beta Gamma Sigma Chapter; Board of Directors, American Marketing Association (Philadelphia Chapter); Vice President for Programming, American Marketing Association (Philadelphia Chapter); National Council, Institute for Decision Sciences; Board of Directors, Northeast IDS; and Co-Chair, 61st International American Marketing Association Conference. He has served and currently serves on the editorial boards of several academic journals.
Prior to entering academia, Dr. Anderson worked for three Fortune 500 companies, including as New Product Development Manager for the Quaker Oats Company. After active military duty aboard the aircraft carrier U.S.S. Hornet (CVS-12), he remained in the naval reserves and retired as a U.S. Navy Supply Corps Captain (06).
Areas of Expertise
Customer Satisfaction and Loyalty
Marketing Strategy
Selling and Sales Management
Editorial Board Service
International journal of Marketing and Sales Education – Advisory Board Member (2020–Present)
Journal of Personal Selling and Sales Management – Member (2020–Present)
Journal of Managerial Issues – Member (2017–Present)
Journal of Marketing Channels – Member (2017–Present)
Review of Business Journal – Member (2017–Present)
International Journal of Marketing and Sales – Advisory Board Member (2018–2019)
International Journal of Marketing and Sales Education – Advisory Board Member (2017)
Education
BA Operations Management - Michigan State University East Lansing, MI United States 1958
MBA Marketing Management - Michigan State University East Lansing, MI USA 1964
PhD Economics and Business Administration (Marketing Management) - University of Florida Gainesville, FL 1971

Professional Experience
Corporate-Shell Oil Company Inventory Manager Detroit MI Jun 1958 - Dec 1958
Other -U.S. Navy Reserves Supply Corps Officer (Retired as U.S. Navy Captain - 06) Jan 1959 - Oct 1982
Corporate-Westinghouse Electric Corporation Contract Administrator Pittsburgh PA Jun 1962 - Jun 1963
Corporate-Quaker Oats Company New Product Development Manager Chicago IL Sep 1964 - Mar 1967
Academic-Old Dominion University Chair - Department of Marketing, Management, Finance, and Law Sep 1973 - Aug 1975
Academic-Drexel University Head of the Department of Marketing Sep 1975 - Aug 1997

Awards
2020 Over 200,000 citations in scholarly journals and books of Dr. Anderson's published research. (Google Scholar Citations)
2020 Who's Who in the World (Marquis)
2020 Who's Who in America (Marquis)
2014 Emerald Publishing Literati Journal of Historical Research in Marketing Highly Commended Award (Emerald Publishing )
2005 Distinguished Panelist for Sales Interest Group Special Session on Revolution in Selling and Sales Management Education: Market Driven Change (American Marketing Association Summer Educators Conference)
2004 Inaugural AMA Excellence in Sales Scholarship Award, 1998 (American Marketing Association - SIG)
2003-2004 Distinguished Fellow of Center for Teaching Excellence (LeBow College of Business)
2003 Award for Academic Leadership in Textbook Publishing (LeBow College of Business)
2000-2001 Excellent Award for Research Achievement (Drexel University - LeBow College of Business)
2000 Sole author of article nominated in 2000 for consideration as one of the ten most influential academic articles of the 20th century (Society for Marketing Advances (SMA))
1995 National Excellence in Reviewing, Editor's Award (Journal of Personal Selling & Sales Management)
1992 Faculty Appreciation Award for Outstanding Teaching and Service (LeBow College of Business)
1987 Best article published in the Journal of Personal Selling & Sales Management (National Mu Kappa Kau)
1976 Faculty Appreciation Award for Outstanding Teaching and Service (Drexel College of Business)