Business Gateway Courses
The following business courses are currently identified as Gateway Courses: ACCT-115, ACCT-116, BUSN-101, BUSN-102, BUSN-111, ECON-201, ECON-202, UNIV-B101, and STAT-201.
Grade Reporting Deadlines
For LeBow, grades in Gateway Courses should be posted to Blackboard by the Monday of Weeks 4, 6, and 8 of the term. Advisors will pull Gateway grades after each respective Monday. This allows at-risk students to be identified in Week 4-5 and reviewed again in Week 6-7 prior to the withdraw deadline at the end of Week 7. It is recommended that at least one assignment or assessment grade be added for computing student averages prior each of these reporting deadlines.
Grade Reporting Procedure
While all Blackboard grade columns are visible to the advising staff member who runs the Gateway report, only the column marked as the external grade (i.e. the column with the green check mark in Blackboard) will be referenced for evaluating student performance. This is because course grading plans can vary greatly – even for different sections of the same course – so using the external grade assures that the advisor report is using the column that the instructor intends.
There are two approaches for ensuring that the external grade column is accurate:
(Preferred method) Set either the Total column or the Weighted Total column as the external grade for the course. If this configuration is done correctly for the Week 4 deadline and set to also include any future assignment grade columns as they are populated, then it should reflect an accurate overall grade for each student at Weeks 6 and 8. Care should be taken, however, to manually give students a score of "0" for any assignments that they missed. Otherwise, those missed assignments may not count against them, giving an inflated current grade.
(Alternate method) Create a "snapshot grade" column in the Blackboard grade center by the Week 4, Monday deadline. The column should include the students' total scores as of Week 4, and it should be configured as the external grade for the course. Subsequent snapshots will also need to be set as the external grade. While this method meets the Gateway reporting requirement, it does not automatically update when a student's performance improves or declines and cannot be used to submit final grades at the end of the term. To set a column as the external grade, click the down arrow next to that column's heading and select the option "Set as External Grade" as shown below: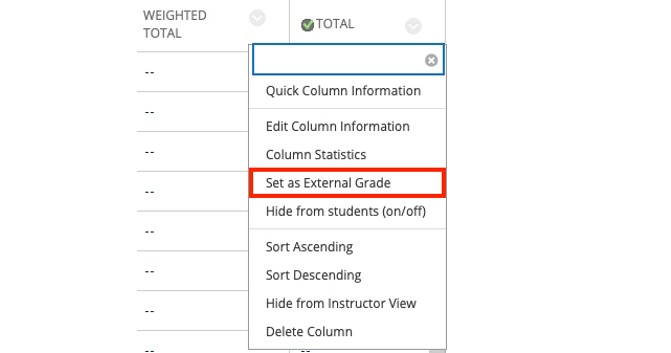 Getting Assistance for Setting up Gateway Grades
LeBow's Instructional Tech Services department is available to assist with your Gateway grade setup. Faculty can contact them via email at lebowintech@drexel.edu or by phone at 215-895-2314.
Have Questions?