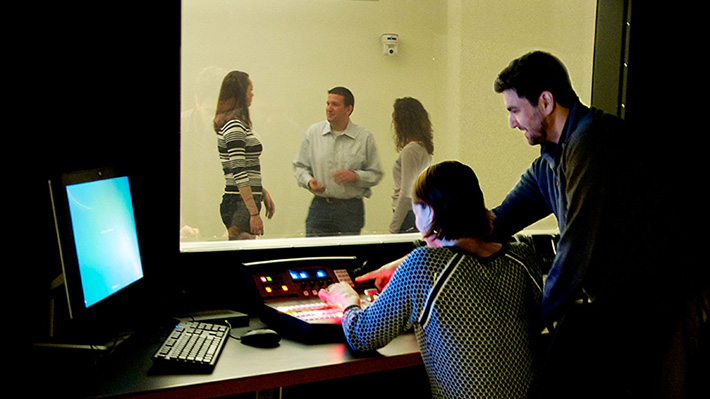 Behavioral Lab
Gerri C. LeBow Hall Lower Level
LeBow's Behavioral Lab supports data collection for behavioral research on business-related topics by providing space and equipment to administer studies both in person and online. The primary goal of this dedicated research space is to enhance research productivity of faculty that conduct such research.
The Behavioral Lab was specially designed to provide researchers with maximum flexibility, as the space can be modified and adjusted to accommodate various forms of research. The lab is wired for audio and video recording, sound playback and climate control, allowing researchers to study how people act and react.
The lab includes a reception area, an office (for administering the study), a six-person conference room, a large flexible studio and a control booth that has a one-way mirror that looks into the flexible studio. The large studio room is equipped with modular furniture to allow it to shift into private cubicles or an open space to accommodate researchers needs including focus groups and interviews. All rooms have internet access with video and audio recording throughout the laboratory.
LeBow's Behavior Lab infrastructure includes state of the art neuroimaging and eye tracking with the following hardware:
fNIR (functional Near Infrared Spectroscopy) machine
Smart Eye Trackers (Aurora; 120 Hz)
Dell Latitude E5450 Laptops with software
Galvanic Skin Response Q sensor
In addition, the lab also has the following supplies and small devices for conducting research studies:
Heating Pads
Cooling Pads
Stop watches
Head phones
Clip boards
LeBow has a relationship with John Kounios, PhD, in the department of psychology to work on joint research projects related to neurobusiness that require data collection using electrophysiological methods like the EEG.
Large Conference Room
Furnished with conference tables and chairs
Allows for audio and video recording
Offers study observation behind a two-way mirror
Focus Group and Video Room
Allows for audio and video recording
Offers study observation behind a two-way mirror
Equipped with 60" widescreen television display for playback
Interview Rooms
Equipped with widescreen TV, couch, table and chairs
Accommodates up to four participants
Allows for audio and video recording
Neuroimaging and Eyetracking Room
Equipped with Smarteye Eyetrackers
Equipped with fNIR optical brain imaging systems
Offers discrete viewing of the focus group room