Once an assignment, test, discussion, or any other gradable item has been submitted or graded, it can be found in the "Full Grade Center." To access student submissions from the Full Grade Center, follow the steps below.
Step-by-Step
Log in to your LEARN course

From the Control Panel, click on Grade Center

From the expanded menu, choose Full Grade Center

The Full Grade Center contains your course's roster, with each row representing a student in your class. The names of various assignments, quizzes, and discussions appear in the titles of the columns to the right.

Find the column that corresponds to the assignment or test you want to review

Click on the down-arrow to the right of the column header, then choose Grade Attempts:

The submission from the first student listed in your roster will display, along with tools for annotating the student's paper and space to provide a score and feedback to the learner. Instructors can change scores and add more feedback at any time by accessing this page.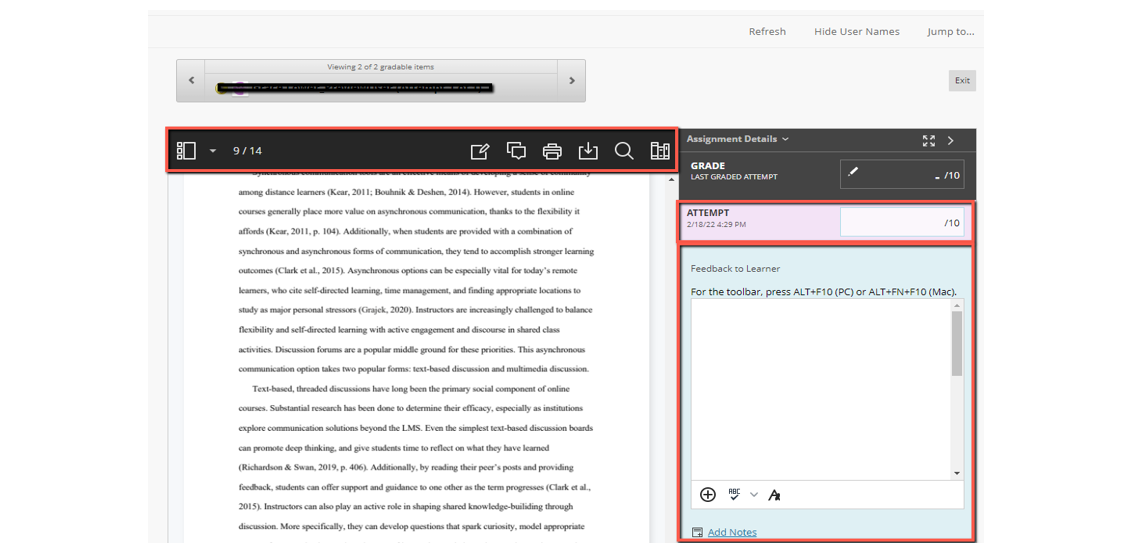 Clicking the arrows to either side of that student's name will allow you to advance to the submission of the next student in the list. Additionally, instructors can choose a specific student, assignment, or submission attempt by using the Jump To feature, which opens drop-down menus at the top of the page to narrow the search.

Accessing a Submission for a Single Student
To quickly access a submission for a specific student, open the Full Grade Center and find the cell that contains the score for that student in the assignment's column. Hover over the cell, click the drop-down arrow, and click View Grade Details from the menu. On the next page, click the View Attempts button to be taken directly to that student's assignment.
If you have any questions about viewing or grading student submissions, please contact the Instructional Technology department at 215-895-2314 or lebowintech@drexel.edu.
Have Questions?