Your professor has invited you to set up an account with Poll Everywhere: an online polling system that allows students to answer instructor-created questions in real-time. To participate in polls for your class, you will need to create a Poll Everywhere account and connect it for use in LeBow College of Business classes.
Note that if you have already participated in Poll Everywhere using a registered account for a LeBow course, you will not have to complete this process again.
You should have received a Poll Everywhere invite email to your Drexel email (firstname.middleinitial.lastname@drexel.edu). Your invite might be in your "Other" or "Spam" folder.
Even if you have a Poll Everywhere account tied to another email address, it is recommended that you create a new account tied to your long form Drexel email (firstname.middleinitial.lastname@drexel.edu) so that instructor can more easily identify your participation. If you do not know what your "longform email" address is, you can log into Drexel One, click Account in the upper right, and choose Personal Information from the list of options. On the personal information page, your longform email address will be listed in the Email section.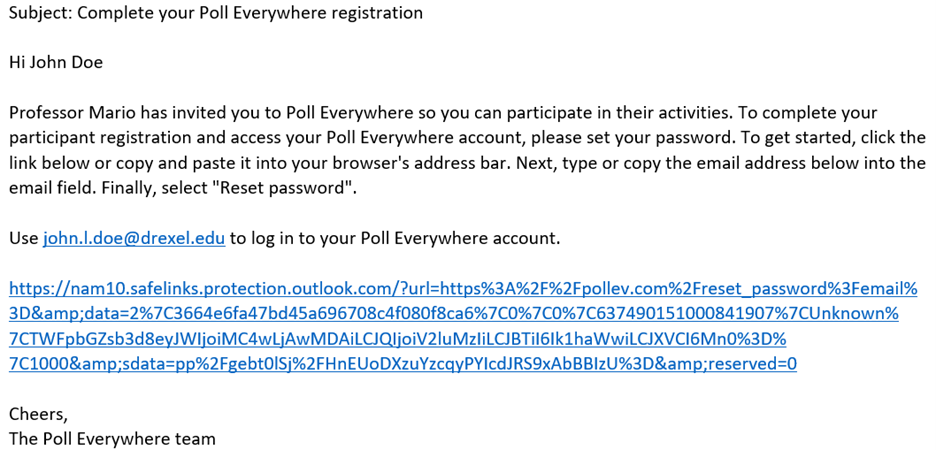 In the email from Poll Everywhere, you will receive instructions to confirm your Drexel email by clicking or copying and pasting the link provided.
After opening the link provided in your email, reset your password. This will bring you to the Poll Everywhere presenter website.
In the Email box, enter your Drexel email, as listed in the email you received, and click the Reset password button.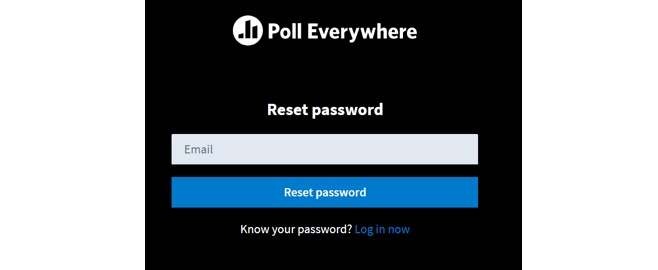 You will now receive another email from Poll Everywhere with a password reset web link. Click the web link provided in the email.
Following the web link, you can now enter your new password in the new password and confirm new password fields.
Once you have entered your password and confirmed it, click the Save Password and sign in button. Be sure to remember this password for the future.

Now you have successfully activated your Drexel Poll Everywhere account. You are ready to participate in polls for class. To answer polls for class, use the web link provided by your instructor. You can use the Poll Everywhere website (e.g. PollEv.com/yourInstructor) or you can also download a Poll Everywhere mobile app for Android or Apple devices.
Should you need assistance with activating your account, feel free to contact us at lebowintech@drexel.edu.
Have Questions?