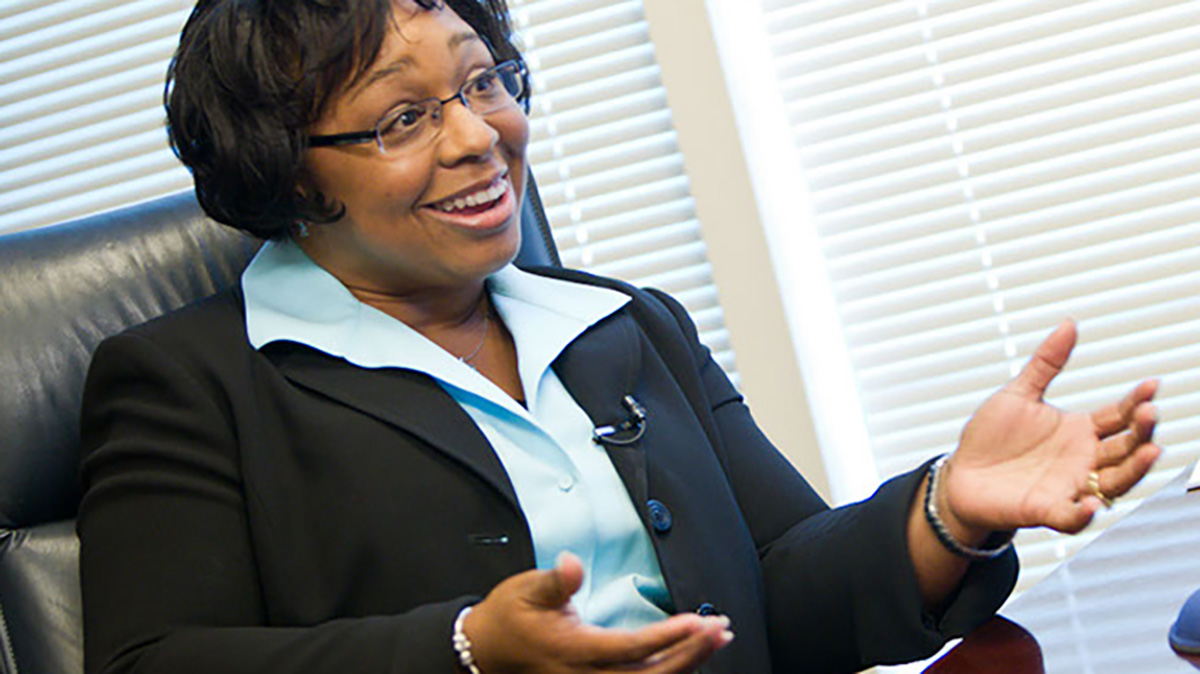 Sandra Anglin-Caldwell, '09
Executive MBA
Sandra Anglin-Caldwell has built a career fashioning first-class solutions at peak levels of finance. Highly disciplined, with a quick wit that cuts to the heart of any matter, she is soft-spoken and attentive when she speaks of her experience earning her Executive MBA at Drexel LeBow.
"For folks who want to have a pedigree that says 'my feet are on the ground, my sleeves are rolled up, I have the vision and the tools to get this done right,' LeBow is the place to go," she says. "The practical skills you get from this degree are immeasurable. I use them every day."
Beginning with stints as both divisional and regional Controller at Schlumberger Industries, Anglin-Caldwell successfully managed $500 million in utility automation project revenue, a feat that earned her an award for her exemplary project management skills. And that was just the first of many shooting embers in a meteoric rise that led her to higher summits of financial and organizational management, where pressure is high and there is nary room for error. She credits her Executive MBA for fine-tuning her leadership style and helping her achieve success as a respected financial strategist, mentor and problem-solver.
"The program definitely gave me a wealth of new knowledge [about] the economics, the human side of decision-making and how important it is to have those things aligned in order to be really successful," she says. "I saw that very clearly in the program."
A previous assistant vice-president of finance for Ace Limited and controllership manager for General Electric, Anglin-Caldwell rose through the ranks to her position as Controller for Nuclear Electric Insurance Limited (NEIL), a post that was strategy-heavy while requiring Anglin-Caldwell to develop strong relationships with internal and external auditors, peers, staff and the NEIL executive leadership team, including the company's Board of Directors, for whom she often interfaced with on behalf of the company CFO. In 2014, she left NEIL and went on to work in a contract or consultant role with the Pine Hill Group, MRO, Teleflex Incorporated and RGP. In 2017, she joined the American Modern Insurance Group as vice president and head of accounting.
Anglin-Caldwell credits her Drexel LeBow Executive MBA for helping her pinpoint that delicate balance between analytics and relationship building, strategy and teamwork.