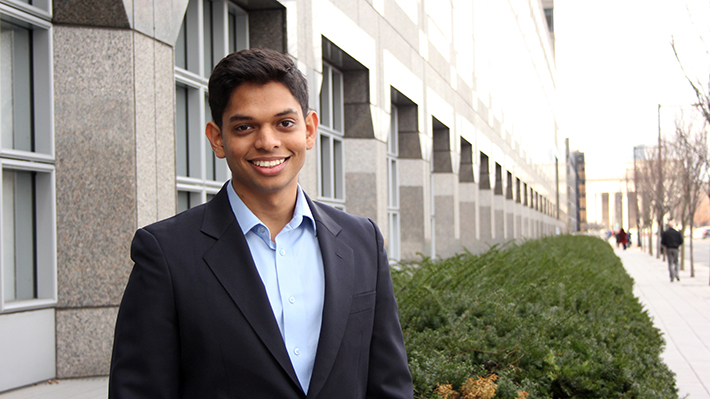 Malinka Ranasinghe, '16
BS in Economics; BS in Business Administration (Accounting)
Malinka Ranasinghe came to Drexel LeBow as an economics major because of his interest in the U.S. economic crisis at the time he was graduating from college. He wanted to explore the why and how behind it.
"Why are jobs down? How do you make new jobs? Those kinds of basic questions got me interested in economics."
He decided to add an accounting dual degree in his fourth year, a decision that prepared him well for his first role after Drexel working with the state and local tax practice at EY (formerly Ernst and Young).
The job combines his interest in both accounting and economics and includes data processing, consulting, research and writing in the area of indirect tax, which includes a focus on tax auditing, income tax and sales tax. While the job includes a variety of tasks, Ranasinghe finds most of his time is spent doing research more than anything else, an area in which he feels Drexel prepared him well.
"A lot of Drexel classes after the intro courses include a research aspect," he said. "I feel like that really prepared me or this position."
He also felt his Drexel education focused not just on theory, as many economics programs do, but on the application of that theory in looking at real world problems because economics is such a broad topic.
"You learn it in theory but then you see how different tax policies play out in real life application," he said.
"I loved that it was not just theory. It was real world. You would read a paper about some real problem that is going on and then see the theory in action."
"Economics is such a broad subject area. In class, we were not just talking about interest rates and taxes but also health standards."
He sees the real world application of theory in his work at EY, as he explores credits and incentives for companies looking to open in new locations. He gets to see first-hand what the state looks for and the possible economic impact of starting or moving a company, in addition to just the costs and benefits for the company.
Ranasinghe completed both his co-ops at Wolters Kluwer. In his first had he served as assistant to the sales director where he completed sales forecasting and budgeting for clients. His second focused more on traditional accounting tasks such as creating monthly and end of the year financial reports. He also took full advantage of the many speakers and programs outside the classroom that were made available to him during his time in LeBow.