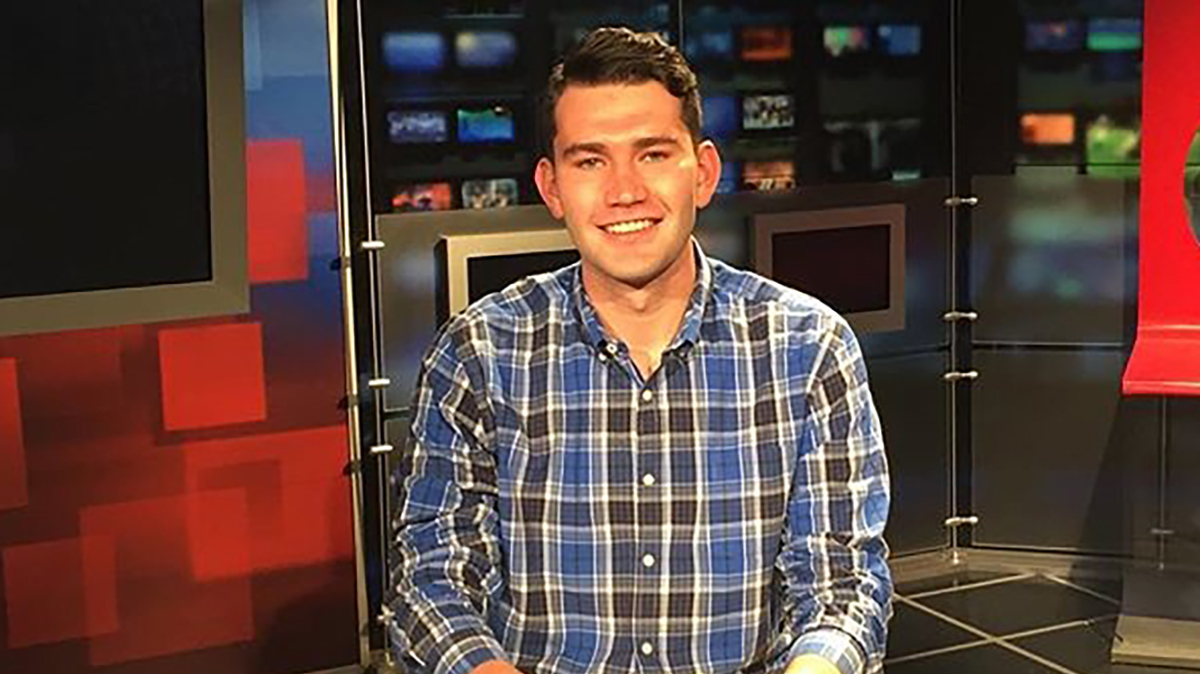 Chris Markowitz, '19
BS in Sport Management
Chris Markowitz has put in a lot of time at the Drexel Recreation Center and the Dakalaskis Athletic Center throughout his three years at Drexel. On top of his major in sport management and three minors in business administration, communications and sports and television, he has served as student manager for the Drexel women's basketball team for three seasons and been a student worker for recreational athletics.
He's trading those familiar campus spots for a more high-profile sports venue this spring: Boston's legendary Fenway Park, where he'll work as a broadcast associate producer for New England Sports Network (NESN).
Throughout his time at Drexel, Markowitz has had an eye toward a career in sports media, and he has been active both on camera and behind the scenes. He has done play-by-play commentary for men's and women's soccer and served as color commentator for women's basketball. He has worked as both an editor and an announcer for DragonsTV and served as producer for the Drexel Athletics' year-end award show, "The Blue and Gold." He was especially proud of the 2017 show, with a Dragons-themed parody of a popular Chance the Rapper song, "No Dragon Problems."
He even branched out into announcing for Major League Ultimate, the now-defunct professional ultimate frisbee league, due to his own knowledge and passion for the sport.
When opportunities like these present themselves, he says, "you have to be able to say 'yes.' I enjoy the work, and I know it'll be helpful for me in the future."
Markowitz says he owes his fast start in broadcasting to making a connection with Marc Zumoff, play-by-play announcer for the Philadelphia 76ers, through an event hosted by the Westphal College of Media and Communications. Both in terms of Zumoff's professional advice and his willingness to make connections to others in sports media, that chance meeting gave Markowitz a spark. "I was on the fence before, and that was all I needed," he says.
His sports media career figures to take a major step forward with his co-op at NESN, the broadcast home of the Red Sox, Bruins and other Boston teams. He'll split his work hours between Fenway during Red Sox home games and the company's headquarters in Waterbury. "I'll be working behind the scenes, doing research, logging video and editing highlights," he says.
Markowitz will arrive in Boston in early May having just missed the Boston Marathon, but he will use his off-hours to prepare for another race: the Philadelphia Marathon, held in November. For him, the Philadelphia race is a fundraising vehicle, with the money he raises benefiting the Concussion Legacy Foundation, also based in Boston. He has dealt with concussions sustained while playing sports, and the Foundation's research on Chronic Traumatic Encephalopathy (CTE) helped ease his mind about continuing to play. "I hope it will inspire other athletes as well," he says of the Foundation's efforts.
The spot at NESN was one of several out-of-network co-ops Markowitz applied for; he turned down several offers in hopes of landing one solid, paid opportunity, and the opportunity at NESN came just in time. "I rolled the dice and waited a few extra weeks," he says. "I'm hoping I do well enough at NESN to have other Drexel students come there in the future."