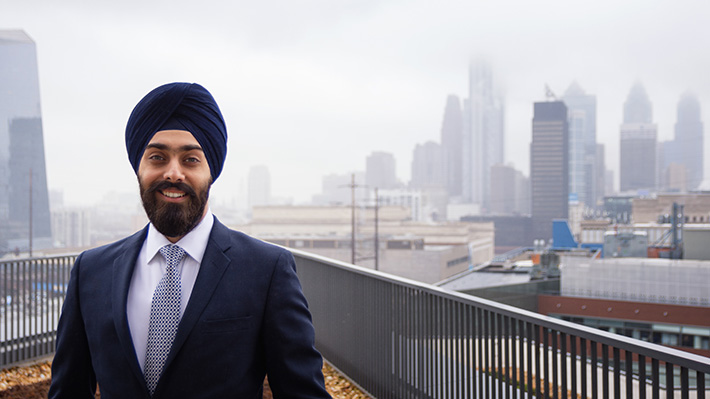 Japkeerat Bindra, '17
MBA and MS in Finance
Japkeerat Singh Bindra credits his expansive network and working with his dream company to the relationships he built during his time at Drexel.
Starting his undergraduate career at Drexel as a biomedical engineering major with a minor in business, Bindra noticed that the classes he enjoyed the most were in business and finance. After making the switch in his plan of study to Business and Engineering, Bindra landed his co-op position at a European bank, Fortis.
Bindra was so successful during his time at Fortis that the company ended up calling him back for his second and third co-ops, each with increasing responsibility. Thanks to his determination and the training he received at Drexel, the company allowed him to not only increase his responsibilities but was almost always replaced by a full-time employee at the end of the co-ops. "It was a very meaningful experience. You get to understand how what you learn in class is applied in the real world when you have different projects to deal with," says Bindra. "I had a great manager during the co-ops who was able to give me that experience not only in the real world but set up informational interviews for me with people from different areas in various roles and functions."
Bindra's connections at Fortis stayed with him long after he completed his co-ops. After landing a position as a strategy business analyst at PNC, a former connection from Fortis offered Bindra a position at a new team within Moody's Investor Service. "It was best described as a team that performed tasks similar to internal consulting for executive management. We were called 'Global Operations,' and then the 'CAO Group'."
With Moody's, Bindra worked on strategizing and executing programs for the company and what started as a team of five grew to 250 by the time Bindra left the company as Assistant Vice President in 2016. "The teams I worked for almost felt like working for a startup within this really mature, over 100-year-old, organization. I found myself really growing with the team as well."
But at the end of 2016, Bindra knew he wanted to make a change and it was yet another Drexel connection that helped him decide his next move. "I expressed to the former Dean [Dr. George Tsetsekos] a few times my interest in going back to get my MBA and he informed me what Drexel had to offer in terms of how accelerated it was — a 15-month full-time program, at the time, with the opportunity to double-up and have a Master's within the same timeframe." After consulting with Tsetsekos, Bindra returned to LeBow to pursue his Master's in Finance and MBA in August of 2016.
During his graduate studies, Bindra got an internship with Johnson & Johnson's pharmaceutical division. "The internship opportunity was invaluable. In the way that co-op added a lot of value for me in undergrad, the internship added a lot of value for me in the graduate degree."
But Bindra is sure to note that it was not only the experience that he got through his internship and co-ops that helped his career, but also the classes. "One of the classes that defined my MBA/Master's was in financial and supply chain management taught by an adjunct professor who worked for Johnson & Johnson. I got a behind-the-scenes look at the company and really understood how it works." Bindra credits this class in combination with his internship position for helping him secure an official full-time offer from Johnson & Johnson in their MBA Leadership Development Program before graduation.
For students looking to follow in Bindra's footsteps, he stresses the importance of using your network to find the perfect fit. "I was always very deliberate in my co-op and job choices. It's very important not to settle for any job, but rather find one that you are looking to make a career out of."