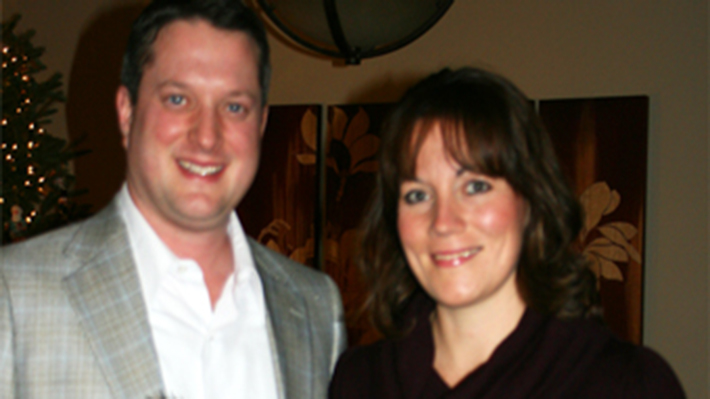 Better Know a LeBow PhD Student: Alex Cohen
It wasn't until PhD student Alex Cohen started to drive in high school that he noticed that something was seriously wrong with his eyesight. Many tests and doctor visits later, the East Falls native was diagnosed with retinitis pigmentosa, a degenerative eye disease that causes sight to diminish over time. In the 20 years since his diagnosis, Cohen has taken his impairment, which has deteriorated to the point that he relies on special accommodations for work and home, and uses it to improve society. His disability currently fuels his research, and one can say it has become his life's work.
After graduation from Philadelphia's Central High School in 1994 where he wrestled, Cohen took off to Las Vegas to pursue a degree in hospitality management. For 17 years, Alex worked in industry at senior level positions at properties such as the Golden Nugget Casino Resort, a Mirage, Inc. property, before moving back home to Philadelphia, eventually joining the Latham Hotel.
Always eager for a new opportunity, Alex decided to delve into the ultra-luxury property management market in 2007. The timing couldn't have been worse. The economy was tanking, his eyesight was worsening, and Cohen needed to head in a new direction.
"My vision has deteriorated in the last 10 years," Cohen says. "This was a terrific opportunity to do something different that could make an impact."
That opportunity was Drexel.
A New Direction
While studying for his master's degree in hospitality management at the Goodwin College, Cohen taught a few classes and wrote several research papers that were eventually published, whetting his appetite for a career in academia. After much consideration and a big win at Drexel's Research Day in 2011 where he met his eventual Ph.D. advisor, Professor Rolph Anderson, Cohen entered the doctoral program in marketing at Drexel.
Currently, the second-year PhD student is working on three research projects that will hopefully assist serving the disabled in the marketplace.
"Philadelphia is a hotbed of disability research, especially for the visually impaired. Right here we have the Scheie Eye Institute and Wills Eye. There is so much opportunity," says the dad of two boys, Charlie, 8, and Aaron, 4.
Many of his ideas are derived from his own personal experiences. Shopping for the visually impaired is obviously a different experience than for the sighted. One study will focus on the atmospherics in retailers which includes ambient music, sight, smells, sounds and taste.
"I will look at how those factors impact the visually-impaired as compared with normally-sighted shopping experiences," Cohen explains. "I hope that with this particular study, retailers will gain an understanding of the visually impaired consumer and how these atmospheric techniques can help promote their business and support the visually-impaired communities."
Another research project will focus on online accessibility for all disabilities.
"There are 30 million people who are impacted with website accessibility," Cohen explains. "What I want to determine is what occurs when a retailer with multiple channels, such as an online store, a catalog and a brick-and-mortar store, has a service failure of an accessible nature. Will it affect the other channels' businesses? What I want to see is based on these service failures, what kind of negative reactions will occur and to what extent will the consumers take their reactions, such as avoidance and negative word-of-mouth."
Cohen's final, and perhaps most exciting research project, is still being developed – he is currently searching for a grant – but will focus on developing an accessibility rating scale for businesses including restaurants, hotels, attractions, museums, theaters, arenas, casinos, convention and conference centers, and large retail (total destination marketing).
"The rating would be based upon the accessibility accommodations as dictated and ranked by the disabled population," Cohen says. "The scale could then be used in similar fashion to the LEEDS scale for environmentally sustainable businesses, where businesses could use it as a marketing tool, and the population could use it to seek businesses which are the most prepared to accommodate their special needs."
In His Spare Time
While his research schedule doesn't allow for much free time, Cohen enjoys spending time at home in Center City inventing games with his sons, taking them to the playground and visiting their schools where he sometimes plays guitar. He is partial to the Beatles, Rolling Stones and Vampire Weekend. He loves living downtown since he can get around easily by walking or taking the bus. In warmer weather, his wife, Sara, and he enjoy their home on the Delaware beach where they enjoy taking their boys to the boardwalk where Cohen loves to drive the bumper cars. "They're the only cars I'm allowed to drive."