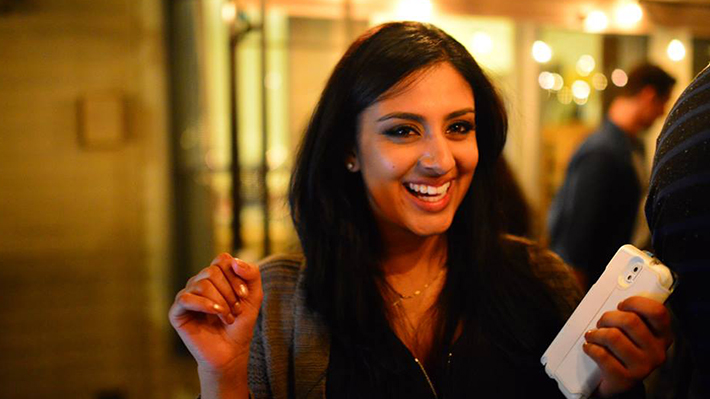 Better Know a LeBow Undergrad: Jasmine Thottungal
At Drexel LeBow, we always say, "Your career starts at freshman orientation, not graduation." Jasmine Thottungal didn't even want to wait that long.
As a precocious, adventurous high school junior in the San Francisco Bay area, Jasmine decided to pursue a resume-building opportunity in advance of her college career and came across an ad for LeBow's Camp Business, a weeklong experience created to submerge curious high schoolers into the world of business. She knew a little bit about Drexel because a cousin had studied here, and decided to apply "on a whim" despite the fact that Drexel was nearly 3,000 miles away.
She was accepted to the program and found lodging with a family friend. "My one week in Philly accounted for a lot of firsts in my life: first solo-trip, first time in Philly, and first time trying a Philly Cheesesteak!"
She fell in love with Drexel and with Philly. "Little did I know that one-week experience would set the stage for my entire college career," she says.
Always in a hurry, Jasmine arrived at Drexel with a stockpile of AP classes for which she received college credit, took more credit hours than most of her peers each quarter, and signed up for the four-year, one-co-op plan. Which, in her case, turned out to be a three-year plan.
Her one regret about graduating early is that she didn't get a chance to study abroad. She still "wistfully" ponders what studying in Turkey might have been like, but says her experience with a road-trip-happy Drexel dance troupe makes up for missing out on that experience. She was a member and, at one point, a co-captain of Drexel Jhalak, which is currently the top-rated all-girls dance team in the Bollywood-fusion circuit nationwide. The team traveled to numerous states for competitions. "Some of my best college memories were of lengthy road trips with a dying GPS," she says.
Those memories make her impending graduation a bit "bittersweet."
"On one hand, I'm extremely sad to leave behind my friends and college experiences; but on the other, I think I've gained what I need from college, and I'm excited to begin the next chapter of my life. Drexel has done an amazing job in facilitating the wild goose chase also known as the 'what I want to do with my life' search, and I couldn't have asked for a better experience as a student, team member, leader and aspiring dreamer."
Little Known Fact: The Philly treat that Jasmine will miss most: the milk-and-honey macarons and crème brûlée from the Philly Sugar Truck parked at 38th and Sansom.