Beyond Baiada
There's a place on campus where dreams get their start, inspiration flourishes and fierce determination runs rampant. Drexel's Baiada Institute for Entrepreneurship has been cultivating businesses and the motivated people who run them since 2001. Through mentorship programs, competitions, conferences and coveted incubator space (that's Baiada lingo for a free office), many entrepreneurs have taken their first steps at Baiada. But as we all know, not every business venture succeeds. Pivots, overhauls and the throwing up of hands are all part of being an entrepreneur. Smart entrepreneurs know when to call it quits, and they always know when to move forward.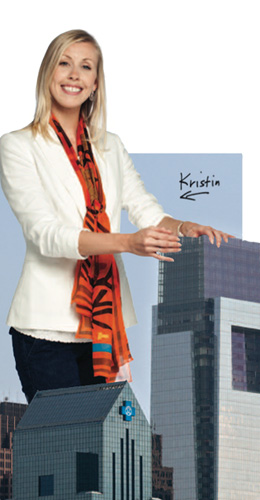 Kristin Dudley was no stranger to Baiada by the time she and her business partners entered and placed third in its Business Plan competition following her graduation in 2006. As a student at Drexel studying fashion design, she often attended Baiada's special events and conferences. "I've always had an entrepreneurial side to me; I gravitated there."
Their business idea was born out of the personal struggles of her business partners, Rachel Levin Troxel and Robin Miller, breast cancer survivors who had lymphedema, which is a common chronic condition for survivors that causes fluid retention and tissue swelling in the arm. Wearing a compression sleeve daily provided the only relief for the condition, but the only sleeves available were constructed from a hot and uncomfortable fabric in boring beige.
"I called the companies that manufactured sleeves and asked if they would offer more color options," Dudley says. "When they confirmed that beige was the only choice, we realized we have something here."
They named the business LympheDIVAs and started manufacturing the sleeves in breathable and colorful fabrics, much to the delight of their niche audience. Miller left the business early on. The business was growing quickly but when Troxel's cancer returned and metastasized LympheDIVAs relocated to Troxel's home so she could be more comfortable. She passed away nine months later. While the loss was devastating both personally and professionally, Dudley and Troxel's parents continued with the business, which is now owned and managed by Troxel's parents (her father is a medical doctor) and her brother.
Dudley has moved on but still finds it difficult to talk about the business.
"We went through so much. We tripled our business every year, and it was so exciting. But when Rachael was gone, the new partnership was an incredible challenge."
Not one to hang her head, Dudley spent the next year deliberating her next steps. She consulted for multiple women's wellness brands similar to LympheDIVAs and also illustrated a children's book, "The Princess Doctor," the first of the "Princess Albums" series where princesses find a career as their happily ever after.
"After that year, I personally needed a change. I craved to learn again and to join a large team."
Dudley took a walk one sunny day and looked up into the Philadelphia skyline and the Comcast Center. She wondered if a career there were possible.
"I've always been interested in the entertainment industry; I had a successful co-op experience at Sony Pictures Studio; and had a strong graphic arts and fine arts background."
Through a friend, she learned of a position as a creative producer; she applied and was brought in as a contractor until being hired full-time. Currently, she is the manager of user experience at Comcast, overseeing 40 designers working across multiple interactive products and platforms, such as XFINITY TV mobile apps and websites. Alongside the fulltime role, Dudley is studying for her Master's in Organizational Dynamics at Penn and illustrating "The Princess Chef."
"After completing the fashion program at Drexel and building my own business, I was confident I could do anything," Dudley says. "But I wasn't sure the corporate world would be a fit for me after being independent for so long. In fact, it helped. Because of my entrepreneurial experience I didn't start off with any fears or understanding of office politics. I asked for meetings with all levels of executives — much to the surprise of my colleagues — to learn more about the business. Comcast was a great leap of faith. That's what entrepreneurs do; we aim high."
---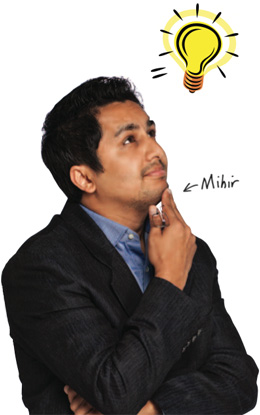 Most successful entrepreneurs never stop trying to come up with new ideas, and Mihir Shah '00 is one of them. In 2000, he earned a degree in computer engineering from Drexel. He jokingly notes that he's never worked a 9 to 5 day in his life as an engineer. Born in India to a family of self-starters, Shah always wanted to run his own enterprise. A few months past graduation, he founded his first company and built a web-based software program called OASIS or Online Appraisal Status Information System. The program helped real estate appraisers, lenders and borrowers process more loans and orders more efficiently. This concept won him third prize in Baiada Institute's Business Plan Competition, and he was one of the original tenants in the Baiada Institute's incubator space.
"In a year-and-a-half I had great sales, but I realized that OASIS wasn't going to change the world," Shah says. "The sky wasn't the limit. I wanted bigger."
While at Baiada, Shah learned about technology licensing available at the Drexel Technology Commercialization Office. The office allows entrepreneurs to bring Drexel intellectual property, such as patents and inventions, to market while eventually paying back Drexel with royalties. He gravitated toward medical devices because of the potential growth of the health care sector. He developed marketing ideas for a device to measure cardiac output and one to detect brain injury, but Shah decided that he didn't want to just work on others' technology.
"I was applying my ideas, and they were sticking. But I also learned that I was not the driver of the ship; I wasn't at the helm."
With some investors and partners, Shah founded UE LifeSciences to launch his latest venture in January 2009, to develop an infrared imaging device to detect breast cancer non-invasively. It has since taken off. The NoTouch BreastScan received highly coveted FDA approval this past spring. He developed the concept for the machine when his mother-in-law was diagnosed with the disease in India. He was looking for a better, more accessible and even more modest way of detection. Shah is trying to bring it to medical offices around the world.
"We have more than 15 centers using our products commercially; it's being used in Sri Lanka, Turkey, India, UK, USA. I am working with clinics all over the world.
"Before the FDA clearance, we have had nearly a million dollars in revenue," Shah continues. "We are thriving. And we are improving the incidences of early stage detection of breast cancer for those who may not have access otherwise. We are very proud of that."
While Shah is finally enjoying success, he has not forgotten where he started.
"I try to contribute as much as possible back to Drexel and to Baiada," Shah says. "Drexel as a machine truly works. There is a lot of support for students. I like mentoring the students at the Baiada Institute. Having been there, I understand their needs.
"I came to the United States in 1997, and had no clue that I'd be where I am in 2012," he adds. "Baiada has been the greatest stepping stone for me. There have been a lot of endeavors that didn't reach fruition. But what I've been doing in the last five years looks very sustainable."
---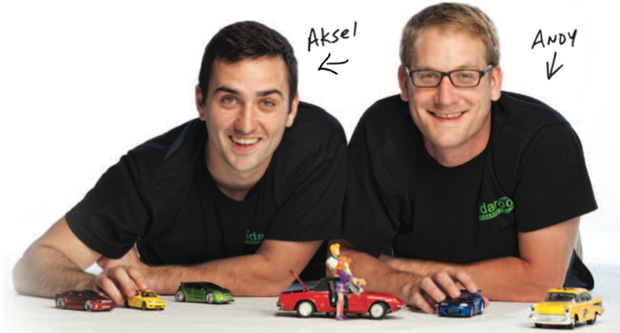 Business ideas often present themselves where they are least expected, and the concept for Ridaroo is no exception. The idea for the online ridesharing business was literally tacked on a bulletin board that Aksel Gungor saw when he was in Drexel's co-op office inquiring about carpooling to his job. "That's the ride-sharing information?" he asked, pointing to a bulletin board crowded by torn pieces of paper from kids looking for rides. "There's got to be a better way."
Gungor, a 2010 LeBow graduate in finance, shared his idea with Andy Guy, a 2007 MBA grad who was working at the Baiada Institute. The two became fast friends and then partners as they considered steps of the ride-share business. In a nutshell, Ridaroo offers a private, online tool to companies and organizations, like universities, that commuters use within that organization to set up carpools with colleagues and peers. The program allows company employees to match up with other employees based on preferences like distance, time, number of available seats, pick up location, and even smoking or non-smoking. Guy, who has a computer science undergraduate degree, developed the software, as Gungor worked on the financials and marketing.
"We had to learn a lot on the fly," Guy says. "I'm a tech guy, and he's finance, so we did a lot of learning and honing in on what gets people to buy. It took us a while to figure that out. We thought it was a great service, but the sales weren't there right away. We did a lot of number crunching to show companies the ROI and to show it was a real benefit for companies to offer this to their employees. It wasn't an easy sell. We did a lot of research to see which ones were interested in sustainability."
The first company to sign up for the service was Morgan, Lewis and Bockius, a Philadelphia law firm with limited parking spaces. Pacific College of Oriental Medicine in California and PECO followed. Currently, several companies are negotiating with Ridaroo. Guy and Gungor have known some success, but it hasn't come quickly.
"We are pivoting right now," Guy says. "We realize that it's hard to build sales so we are considering hiring seasoned sales people, even though they are expensive. We are also looking to build our customer base by offering the services free and then selling advertising."
"There is a lot of experimentation," Gungor says. "Part of being an entrepreneur is trying out different ideas to see what will work. We didn't give ourselves a timeframe for the business to succeed. We are both working part-time to support ourselves as the business grows."