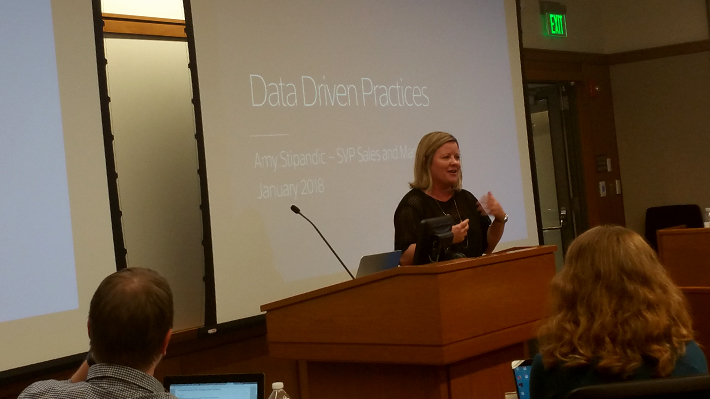 Comcast Exec and LeBow Alumna Looks to the Future of Consumer Technology
A senior-level executive at Comcast faces a room of Comcast users. Her message: We hear you, and we're working on it.
It's not quite as daunting as it sounds. Those customers were all students in Drexel LeBow's Doctorate of Business Administration program, and Amy Stipandic, Senior Vice President in the Sales and Marketing organization of Comcast, wasn't handling complaints. Customer service was just one area of business she touched on in her talk on January 12, part of Comcast's role as LeBow's Corporate Partner of the Month for January. She gave the DBA students an overview of all kinds of business challenges—not only at Comcast, but across all industries confronting technological changes—as well as strategies for facing them and her predictions for the future of consumer-facing technology.
Stipandic, a 1995 LeBow graduate who majored in finance and accounting, has worked at Comcast for seventeen years, noting, "I never thought I'd be anywhere for more than 3." She combined a high-level view of technology and product development, informed by serving in multiple roles within Comcast and by prior experience in consulting with telecom and media companies, with up-close details of user experience and customer service.
The industry brief is designed to fill in DBA students on current trends in industry as they seek high-level topics to address in their doctoral research. Of particular interest to the current DBA cohort, with their diverse range of experience and industries, were Stipandic's approaches to problems that cut across industries and across the often-siloed structures of individual companies.
In particular, she looked at the challenge of getting pre-existing systems that customers don't see, up to the same level as the consumer-facing technology. "We're working on bridging the technology side and the consumer side," she said. She further illustrated important differences between the perspectives of technology consumers and those of engineers, product developers and other company insiders.
Stipandic balanced humorous asides, including using her remote for advancing her presentation like the voice-controlled remote for Comcast's Xfinity cable service, with sincere advice on delivering better customer service—something she says her company is committed to improving.
"You need to have high self-esteem to serve others, in order to ask the questions 'what do you need?' and 'what can I do to serve you better?,'" she said. "Don't be afraid of it."
Tina Evans, a DBA student who works in banking, said she valued the background Stipandic provided on the varying systems and processes behind Comcast's product offerings.
"I really enjoyed the talk," she said. "My company is a bunch of banks that came together into one big bank, and it was surprising to see that Comcast came about in the same way."