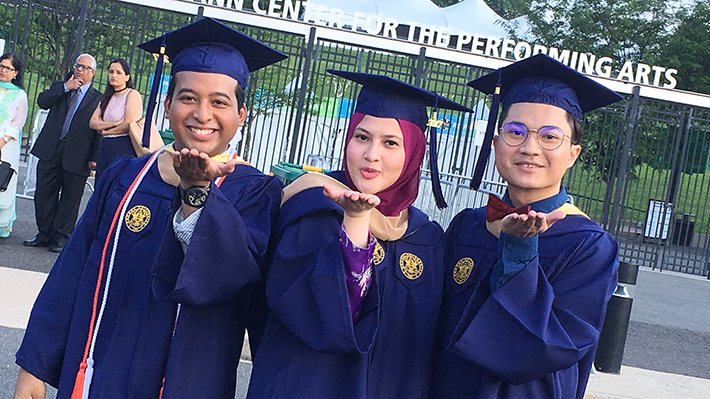 Commencement 2017: Celebrating the LeBow Graduating Class
Approximately 800 LeBow 2017 graduates were sent off in style with two ceremonies on Tuesday, June 13. The day began with a combined ceremony hosted by LeBow and the School of Economics at the Mann Center in West Philadelphia. President John Fry and Dean Frank Linnehan congratulated the graduates and welcomed families and friends.
"This is a day of great promise. You, our graduates, are on the threshold of what I am sure will be remarkable and rewarding careers," said President Fry. "The world is a richer place today for your efforts with more capacity for knowledge, for innovation and for service to others. That's what we celebrate at Commencement."
"The world needs you. Our long-term health and prosperity as a society depend on how you use the education you have worked so hard to acquire. If I would offer a piece of advice to you, it is to think of your future not just in terms of career decisions, but in terms of the problems you can solve and the challenges you can help meet."
Mary Caraccioli, MBA '06, chief communication officer at Lincoln Center for the Performing Arts and an award-winning journalist, delivered the keynote address following greetings from the class of 2017. She encouraged the graduates to define what success looks like for them and layout clear goals for themselves. She also warned that it may not be simple to reach their goals, but they should continue toward them.
"It will not always be easy, or fair, and your path will take some unexpected turns," she said. "But don't give in to distractions. Persist through the pain. And know that the people who make you the most uncomfortable often have the most to offer."
MBA graduate Kiri Nhong shared remarks on behalf of the graduate student class. She spoke of the inspiration she gained from her parents, who overcame civil war and violence in Cambodia and eventually emigrated to the U.S. when she was a child, and their steadfast focus on the importance of education.
"I stand here today to impress upon you the importance of education," she said. "Education is a privilege and is not to be squandered. Take heart to all that you have learned to make the most for yourself and for your own families that you already have or will hopefully have one day."
"We are LeBow's Drexel Dragons! Don't let the untamed jungles and the unforeseen land mines stop you from taking your risks and realizing your fullest potential."
Dominic Arp represented LeBow undergraduate students. He received his bachelor of science in business administration with a major in marketing and spoke of his decision to get involved on campus and the joy of being busy. He urged his fellow graduates to make time for the things that matter to them.
"Drexel is not an institution one can simply attend but rather a place that by its virtue compels us to be and do more," he said. "I have learned more from this than I can ever put into words."
The event also included a video of students recalling their favorite LeBow memories and individual recognition of each graduate. Additional recognition was given to graduates Phillip Nabedrik and Andrew Randisi for graduating with a 4.0 GPA. Nabedrik joined LeBow in thanking his former high school teacher Jason Pfeil of Methacton High School in Eagleville, Penn. as the recipient of this year's Harold W. Pote Behind Every Graduate Award.
---
The university-wide Commencement ceremony took place at Citizens Bank Park later in the evening. It is the second year Drexel held the ceremony at the home of the Philadelphia Phillies. As the sun set over Philadelphia, graduates entered the stadium, where they walked the field and waved to friends and family on the jumbotron. The ceremony featured an address from John Maeda, tech-design pioneer and artist best known for his inspiring TED Talks and challenging the diversity gap in technology and STEAM fields. He received an honorary doctorate during the ceremony.
LeBow graduate Brittany Tucciarone (BS in Business Administration with a major in marketing, entrepreneurship and organizational management) spoke on behalf of the undergraduate class as the outgoing president of the Undergraduate Student Government Association (USGA).
The ceremony ended with fireworks over Citizens Bank Park with the skyline of Philadelphia glowing proud in the background.