Malcolm Gladwell wrote an article for The New Yorker a few years back about a burly ex-Marine named Murray Barr who lived on the streets of Reno, Nev. Struggling with alcoholism, Barr was repeatedly picked up by police and taken to jail or, often times, to the emergency room because he was too inebriated to head to prison. His presence was such a constant and his personality (aside from his drunken rants) so warm and funny, that over time, the police really took a liking to him. They begged him to quit drinking.
A couple of times, Barr wound up in a treatment program that placed him under strict rules similar to house arrest. Under this program, he thrived. He quit drinking, got a job and worked hard. But one of the police officers who knew Barr well, Patrick O'Bryan, reported that once Barr graduated from the program, "They said, 'Congratulations,' and put him back out on the streets." O'Bryan suspects that as a result of his military background, Barr needed someone to hold him accountable in order to succeed.
It's too bad that Barr happened to be homeless in Reno and not in Philadelphia. Here, thanks to the vision of Drexel LeBow alumna Joan Dawson McConnon '89 and Sister Mary Scullion HD '93, co-founders of Project HOME, there are long-term programs tailored to people just like him.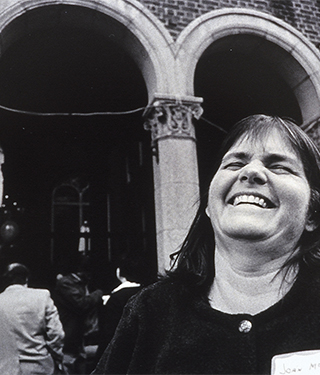 McConnon grew up one of six children in a devout Catholic family in Springfield, Delaware County, that viewed volunteer service as an expression of their faith. Her parents clearly modeled and instilled in their children the expression of St. Francis of Assisi. "Preach the Gospel always. If necessary use words."
After earning a bachelor's from Pennsylvania State University, she began a brief career in accounting before coming to Drexel LeBow on a graduate assistantship. She assumed that upon finishing her M.S. in taxation she would pursue a career in the tax accounting department in one of the city's large public accounting firms.
During her years studying at LeBow, she was compelled to continue practicing her faith through acts of service. After completing her classes and teaching responsibilities on any given day, she would head out into the night, to the cold, hard streets of Philadelphia, to perform outreach and volunteer with Mercy Hospice and Committee for the Homeless.
Through the people she met in the shelters, and a budding friendship with a nun named Sister Mary Scullion, a higher calling was revealed to her.
Scullion had joined Sisters of Mercy in 1976 and has been advocating for homeless and mentally ill men and women since 1978. She and McConnon were not content knowing that certain individuals were not given shelter options. Specifically, the city of Philadelphia's shelter system refused to house individuals who had been drinking. Many of those living on the streets struggled with addiction, McConnon says, and many were veterans who were afflicted with mental illness.
"Sister Mary and I shared the common vision that every person has dignity and deserves a safe, welcoming place to live," McConnon says. So in the winter of 1989, they worked with the city to open an alternative emergency shelter at the Marian Anderson Recreation Center that would welcome those who were not able to enter the city's shelter system. They set up 50 cots in the locker rooms and named it the Mother Katherine Drexel Residence in tribute to a deceased nun who had recently been beatified by Pope John Paul II. Mother Drexel, the niece of Anthony J. Drexel, has since been canonized.
At the same time McConnon was helping to run this shelter, sleeping in shifts, she was writing her master's thesis on low-income housing tax credits. The government's intent with the LIHTC program was to increase the number of affordable rental housing units across the country. While the program provides critically needed resources to build affordable housing, it must be coupled with long-term rental subsidies and support service funding in order to permanently break the cycle of chronic street homelessness.
While much has been accomplished since the first winter shelter 25 years ago, the main problem that existed then, remains today: There aren't sufficient units of affordable housing.
"I had this question in my mind: 'What if we built affordable housing where instead of the profits earned through that endeavor benefiting a few partners, we reinvested those profits into funding the next building and the next building?'"
McConnon started thinking about combining her passion for solving homelessness with the knowledge she acquired in her research. It occurred to her that the theory of social enterprise – using commercial strategies to maximize improvements in human and environmental well-being rather than maximizing profits for external shareholders – might be a viable solution to creating more affordable housing. "I had this question in my mind: 'What if we built affordable housing where instead of the profits earned through that endeavor benefiting a few partners, we reinvested those profits into funding the next building and the next building?'"
With support from the men who lived in the first winter shelter, the staff of Bethesda Project, the Connelly Foundation and the Sisters of Mercy, Project HOME (acronym for Housing, Opportunities for Employment, Medical Care, and Education) was born. Over the past 25 years, Project HOME has evolved into a major developer of housing and a provider of comprehensive services for homeless men, women and children and those at risk of becoming homeless.
Today, Project HOME provides a range of services from street outreach (teams work around the clock seven days a week) to long-term housing and job training. It is widely acclaimed for its multifaceted support system that's designed to help people stay off the streets long term. Project HOME services include community-based health care and treatment for mental health and addiction issues, adult education and after-school programs, an employment program that provides residents with jobs at a resale boutique and cafe run by Project HOME, even an alumni program to ensure that people have a caring community when they move out of supportive housing and into more independent living situations.
Education is an important part of Project HOME's strategy to end homelessness. In 2004, it opened the Honickman Learning Center and Comcast Technology Labs, an education and technology center with programs that focus on the integration of technology with art, education and enterprise. Last year, Drexel's Westphal College of Media Arts & Design began a partnership with Project HOME's Art Program, which invited Westphal students and the resident artists to share their talents. An exhibition of Project HOME artists' works was held at Westphal's URBN Center.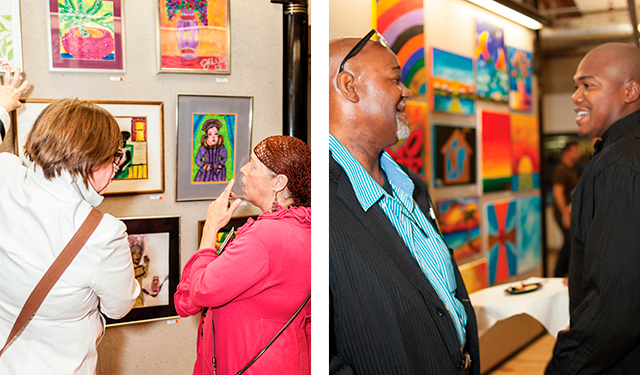 Drexel photography student Charles Cerrone, who also photographs for Market Street magazine, participates in this partnership. He spends two hours each Monday with the Project HOME artists, helping out "any way I can." Some days he helps the residents with their photography or mixed media art; other days they just talk.
He's done videography to help the artists market their art, and says some of the Project HOME artists have been successful in supplementing their incomes through the sale of their works. At the Drexel exhibition, artist Doug Sanders sold 13 pieces, and James Webster landed a commissioned project from an attendee.
Scullion says one of the great things about art is that it can help to break down social boundaries. "I think it's remarkable what the Drexel artists and the Project HOME artists have achieved in their collaboration. Art has a unique ability to unite us on more of a level playing field."
Cerrone says the residents really benefit as a result of the art program. "I've heard a lot of stories. After their lives fall apart, they start to rethink their creative energy, and they get to create something, express themselves and get in touch with their creativity that doesn't really cost them money. It helps them to get their lives back on track."
These artists are residents of Project HOME's long-term supportive housing. Perhaps the most visible results of the organization's success are the newly constructed and renovated residences that house formerly homeless and low-income individuals and families all over the city; they are a direct result of the vision of the Project HOME community to solve the shortage of low-income housing. The residents pay 30 percent of their income for rent. Project HOME keeps its overhead as low as possible, takes no profits, and reinvests any money left over into developing more housing and services.
All told, about 700 individuals who require low-income housing now have a safe place to call home. Through successful partnerships with community and government organizations, and with the help of generous gifts and grants, 535 of these units were constructed from the ground up by Project HOME.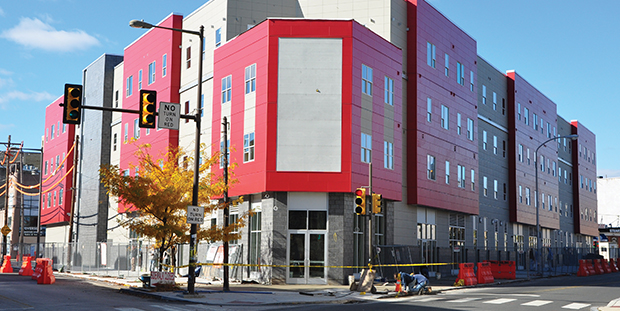 Project HOME's most recent development is the four-story JBJ Soul Homes (one of its major funders is Jon Bon Jovi). Located at 15th and Fairmount streets, its 55 apartments now house formerly homeless individuals.
Project HOME is working with another nonprofit, the Philadelphia Chinatown Development Corp., to develop a nine-story, 94-unit apartment building on a formerly vacant lot at Ninth and Arch streets. A Philadelphia Inquirer article about the partnership reflects how the organization's success has changed attitudes: "Twenty years ago, news of a residence for formerly homeless people was typically met with neighborhood resistance. Today, the group is welcomed as a partner."
A study by Drexel LeBow adjunct instructor Stephen Mullin's consulting company, Econsult Solutions, found city neighborhoods that have Project HOME developments see home prices rise significantly faster than homes in other neighborhoods. "In addition to their well-deserved accolades in providing housing for those in need, their investments are also effective economic development drivers, making neighborhoods more attractive and hence more valuable," Mullin says.
Long-term housing solutions also save significant dollars. A recent Project HOME study titled Saving Lives, Saving Money concluded that permanent supportive housing can yield cost savings averaging more than $7,700 per person annually. In fact, the top 20 percent of the chronically homeless who also struggle with substance abuse cost the city of Philadelphia approximately $22,000 per year, per person, in behavioral health services, homeless services and incarceration.
Mayor Michael Nutter is quick to credit McConnon for her service to Philadelphia. "I am very proud of Joan's contributions to the city and know that she will continue to work hard until, as Project HOME's motto says, 'all of us are home.'"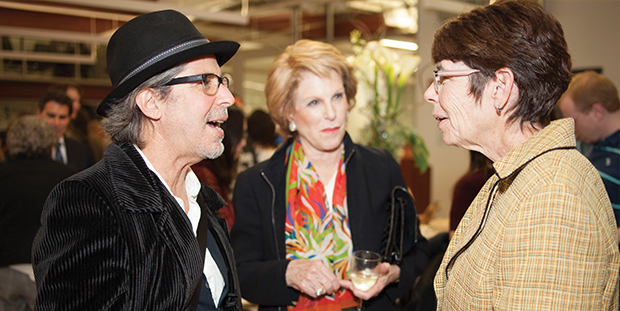 Scullion says McConnon's vision has made their organization's growth, development and mission possible. "She is phenomenal. I've worked with her for 25 years, and every year my love, admiration and gratitude for her grow stronger."
Recalling the decision to devote her career to Project HOME instead of the big accounting firm, McConnon says, "There were a lot of people who wanted to work for the public accounting firms, but there were not a lot of people willing to work with the chronically homeless men and women I had gotten to know. I was single at the time, and I lived simply, so it wasn't a big sacrifice."
McConnon now resides with her husband, Mark, and three children, James, 16, Annie, 14, and Sarah, 12, in Springfield, where she grew up. She says the ability to take her skillset and apply it to solving a tragic injustice in our society is one of the blessings of her life. "To spend my day working with the passionate, brilliant and creative members of the Project HOME community has transformed my life and has allowed me to instill in my children the legacy of my parents: that our faith is a call to action on behalf of women, men and children who are marginalized in our society.
Since its inception, Project HOME has helped thousands of people who were formerly living on the streets or at risk of winding up there. And while public perception is not generally that people are able to break the cycle and succeed, Project HOME has proven otherwise: The organization's permanent supportive housing facilities have a one-year retention rate of about 95 percent.
Advocates estimate that Project HOME has reduced Philadelphia's homeless population by half. The city has the lowest estimated rate of homelessness among major U.S. cities at about 1 in 3,095; New York City's rate is about 1 in 2,555, Chicago's is 1 in 1,661; and Los Angeles' is 1 in 378.
In 2011, McConnon and Scullion were jointly awarded the University of Notre Dame's Laetare Medal, the oldest and most prestigious honor given to American Catholics, in recognition of their good works.
But instead of focusing on her successes, McConnon prefers to keep the focus on the work left to do. She points out that thousands of people are currently on waiting lists for subsidized housing in the region – and the wait is usually longer than three years. She says the effects of the economic downturn have been crippling: It has increased the number of people living on the streets and reduced the government funding devoted to helping them. Project HOME has been increasingly challenged due to cuts at the state and federal levels.
---
In his New Yorker article, Gladwell reported that those familiar with Murray Barr's stints in the back of a police car, in prison, in rehab, at the emergency room and during hospital stays, surmise that the cost of managing his illness over the 10 years he spent homeless in Reno would have easily added up to $1 million. "It probably would have been cheaper to give him a full-time nurse and his own apartment," Gladwell wrote. But despite all the resources devoted to Barr, he died on the streets in 2005.
"Still, today, it's just unconscionable to me that we allow homelessness to happen, simply because of the way we allocate resources," McConnon says.