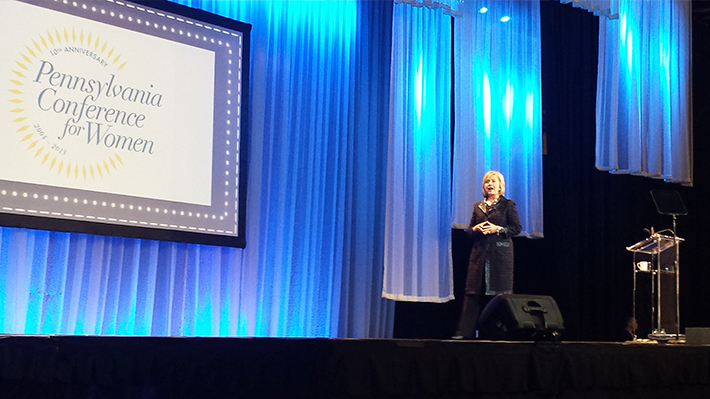 Clinton Announces No Ceilings Initiative at Conference Sponsored by Drexel LeBow
At the 10th annual Pennsylvania Conference for Women held Nov. 1, former Secretary of State Hillary Clinton took the stage to announce a new initiative for the Clinton Foundation called No Ceilings: The Full Participation Project.
She called women the world's most valuable untapped resource and said she hopes this initiative can help to break down barriers that keep women from educational and leadership opportunities in the United States and around the world.
Many other prestigious women spoke at this event, sponsored by Drexel LeBow, including another former secretary of state, Madeleine Albright. Albright spoke about being the first female to fill this role and shared some details about her new book, "Prague Winter: A Personal Story of Remembrance and War, 1937-1948."
Drexel LeBow alumna Beth Hanssens, CEO of Sprout, sat on a panel that addressed the importance of taking risks in your career. She recalled her own experience of leaving her corporate job at Comcast in 2005, where she had 16 employees working under her, to run a startup television network that only had three employees total. She says taking this risk was the "best decision I ever made"; Sprout is now a successful 24-hour preschooler's programming network with 59 employees.
Wall Street's most famous female, Sallie Krawcheck, spoke about finding your passion and the importance of good ethics. She recalled pressing her Citigroup boss on the issue of sharing losses with clients during the economic downturn. Even though Citi eventually did partially reimburse some clients, her insistence in the face of her boss' opposition created such a rift that she was eventually fired. "If it comes down to ethics, versus keeping your job," she told attendees, "you can always find another job."
Drexel LeBow Offers Career Advice for Attendees
Speaking of jobs, Drexel LeBow also ran a career pavilion where conference attendees could seek career advice. Dozens of women were able to receive personalized feedback on their resumes from Drexel LeBow Career Services professionals. MBA Career Services Senior Director Kay Ford reminded attendees during a break out session that when you go on an interview, the company is not just interviewing you – you are interviewing them as well.
"If you leave an interview knowing you don't want the job, pat yourself on the back. You dodged a bullet."
Susan McGann '06, president of Pivotal Healthcare Solutions and a part-time instructor of leadership courses at Drexel LeBow, also provided career advice. "Don't work on your weaknesses. Find a mentor to help you work on your strengths." Or better yet, she said, "you don't have to use the word mentor. Ask for 'coaching.'"
This was the 10th anniversary of the event, which was called the Pennsylvania Governor's Conference for Women prior to 2011. It also celebrated the largest attendance of its decade-long run, with more than 7,000 people participating in this event, which sold out weeks in advance.