EV Batteries and the Environment
Mathy Stanislaus, Esq., the Executive Director/Vice Provost of The Environmental Collaboratory (TEC) at Drexel University, shares his thoughts on how the EV and battery industries can address the concerns of those who worry that fixing one problem will cause yet another, and the narrative that addresses it starts with recognizing that a problem exists.
Electric vehicles (EVs), powered by lithium-ion batteries, have emerged as a transformative force in the automotive industry, offering the promise of reduced carbon emissions and a cleaner, more sustainable future. Even so, a large segment of the U.S. population is hesitant to make the switch to lower their carbon footprint due to the high cost of these EVs and the raised questions of recyclability and reusability of the batteries.
"The greenhouse gas problem is not an individual problem, it's a collective problem," Stanislaus said. He believes that incentives will help more people make the leap, along with the necessary regulatory foundation. Dealing with legacy combustion engines is of the highest priority. While he sees a future of full electrification, he recognizes that most EVs, and even some hybrids, are simply out of the price range of many Americans. Stanislaus predicts that in two to three years, Chinese models of low cost EVs will flood the U.S. automobile market. In the meantime, he asks us to do the math.
He explains, "If you look at the lifecycle cost of buying the EV or hybrid, and the reduced cost of not purchasing gas, you'll see the answer at that bottom line." He encourages us to consider the cost of fuel, the miles we travel, and to compare that with the monetizing investments in EVs. All of those things considered, he thinks making the switch just makes sense.
Direct Data Will Improve Environmental Effectiveness
Tabling the investment that is purchasing an EV or hybrid leaves concern about the long-term effects of battery disposal. Stanislaus's affiliations with the World Economic Forum, Global Battery Alliance (GBA) and Responsible Battery Coalition as well as his experience in the EPA's Office of Land & Emergency Management for the Obama administration show his commitment to creating a circular system that all battery manufacturers must follow. And that system starts with data.
"We're in a historic moment of direct data that is secure and immutable — it won't change over time. We have this opportunity through direct data to unambiguously verify greenhouse gas emission and other environmental and social issues," Stanislaus said.
In an ideal world, he says, data collection will occur at every point of battery creation: from the moment a miner puts a rock into a bag, to the rock entering a truck, to the truck's transport to a smelter, all the way down to the construction of the battery itself. "It's all data that can be uploaded at the point of creation to a secure data system," he said.
Following a battery from cradle to grave is a process riddled with holes. How a battery is built is different from manufacturer to manufacturer. How they're used is different from consumer to consumer. And how they're recycled or repurposed depends on recyclers and repurposers figuring out how the battery was built in the first place.
"I would say historically it was just kind of passing the responsibility down the value chain. You had procurement rules that were set forth, some level of independent auditing, and it relied heavily on secondary data — data that changes over time. It relied basically on spot checks," he said.
Battery Passport
To keep history from repeating itself, Stanislaus and the GBA developed a solution they call the Battery Passport, a program that will establish governance rules around things like greenhouse gases and child labor.
"It will also serve as a direct data instrument to set forth against certain targeted goals: greenhouse gas, checking sourcing of minerals and then broadening into other areas such as water impacts," Stanislaus said. "It is intended to establish a set of standards among a diversity of players and translate those standards to a mechanism through which immutable data can be used to verify. The ultimate ambition is to create an indexing system that compares the best performing batteries with the batteries that are moderate to batteries that cannot make this demonstration so that that index would have a market power."
Naturally, this raises concerns around proprietary information that battery manufacturers want to keep close to the vest. Stanislaus says he's challenging these manufacturers to raise the bar. "You cannot go into the marketplace and say we're the best thing since sliced bread and not have a verified mechanism demonstrating that. The world is not going to work that way anymore — consumers, financiers, shareholders, and governments are demanding data-based verification not marketing claims," Stanislaus said. He also noted that the nondisclosure of certain information will have a negative impact on the best performers in the battery industry. After all, manufacturers can't be recognized for their investment and market share if they choose not to share that information in the first place.
The Battery Passport will also directly address the battery end of life concerns that many Americans have. Building in circularity throughout the value chain, from the design stage onward will directly and positively affect the process of disassembly. During his time at the GBA, Stanislaus recalls an international consultation with recyclers and repurposers. "What they concluded was that if they had things like disassembly instructions, they could increase the repurposing work by over 50%, in some situations by 70%. And recyclers said if they had basic chemistry information, it could reduce the cost of recycling up to 30%," he said. While he acknowledges that these numbers are estimates and have not been true tested, he points out that these sentiments give a sense that those who are on the back end feel that the lack of information is inhibiting their market.
Recycling and Repurposing Standardization
Though adoption of the Battery Passport is still a few years out, the work to get battery recycling/repurposing standardized across the board is well under way, and Americans can look forward to its major impacts. Stanislaus gives a peek behind that curtain, sharing that batteries coming off of EVs still have 73% capacity left.
"There have been a number of test cases around the globe for using those batteries for storage in other circumstances, like backup energy," he continues. "China actually uses these batteries to backup energy at telecommunications facilities areas. And there have been other experiments by Audi and a few others on using them as backup storage at commercial facilities."
Unambiguously, there's a huge opportunity for a massive return on investment. But before that can happen, Stanislaus reiterates the need for and mission of the GBA's Battery Passport which will standardize disassembly, critical issues, safety assessments, and assessments of remaining capacity. "These are all things that cloud investment and remanufacturing and recycling."
He also points to a report that came out of the 2021 Climate Conference of the Parties that was co-hosted with the German Ministry of Energy and Economy. They brought in NGO's from around the globe, specifically those working on data security and data balancing, from India, the U.S. and Europe, along with companies such as Tesla and VW. "We discussed the difficult issues around how we to establish a data governance framework that everyone trusts. Ultimately, if you don't establish trust around data, all of these things all the claims regarding GHG and ESG cannot be authenticated," Stanislaus said.
Reducing Carbon Footprint
Appreciating the anxieties and, in some cases, incapacities Americans face when examining how to lower their carbon footprint, Stanislaus asks us to consider three things. First on the list is scaling up the battery value chain. Without that, "we will not achieve the Paris goals, period," Stanislaus said, referring back to a study he did that showed an optimized battery value chain to result in 30% reduction of greenhouse gases in direct manufacturing, and 50% in the battery value chain.
Second is the recognition of the value of batteries as an instrumental lever of GHG mitigation, through EV adoption and maximizing renewable energy use through the grid. "We need to invest in the responsible scale up and invest in that up front, not as a side issue."
Lastly, Stanislaus notes the critical importance of establishing a trusted data governance system, which will ultimately reveal his first two points.
Conclusively, thinking critically about EVs and their batteries is the first step towards embracing them. Stanislaus confidently believes the data will continue to show, embracing EVs and their batteries is a vital step toward reducing our carbon footprints, mitigating the effects of climate change, and securing a sustainable future for generations to come.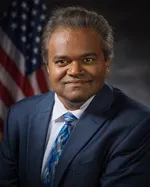 Mathy Stanislaus, Esq. is the Executive Director/Vice Provost of The Environmental Collaboratory (TEC) at Drexel University and has national and international experience working with and for government and community leaders to bring equitable solutions to political environments that will, ultimately, effect change in the environmental sector. He shares his thoughts on how the EV and battery industries can address the concerns of those who worry that fixing one problem will cause yet another, and the narrative that addresses it starts with recognizing that a problem exists.