Excelling on the Job in a Fashion Industry Co-op
At the Steinbright Career Development Center's annual Cooperative Education Awards, Kirstin Newell, BSBA marketing and business analytics '23, was recognized for her work at fashion brand Diane von Furstenberg (DVF) during spring and summer 2022.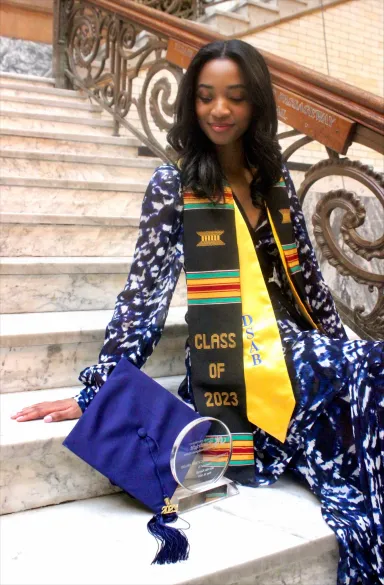 Newell was nominated for the award by Kristin Gardener, InCharge event director and luxury retail leader at DVF, who noted that "within her first week on co-op… Kirstin crafted an effective communication strategy tying [DVF's] in-person events to their LinkedIn social media presence."
The path to landing this prestigious co-op position started with Newell reaching out directly to DVF's CEO, Gabby Hirata, after viewing a livestream on LinkedIn on The Business of Fashion. This bold move led to an in-person meet-up at DVF's headquarters in New York City, a lengthy discussion on the brand, Gen Z and post-pandemic fashion, and an invitation to apply.
"I couldn't have imagined a better start to my career in my wildest dreams," Newell says.
As a retail and marketing intern — two areas she explored in a pitch deck that secured her spot — Newell attended photoshoots, worked with the company's founder, CEO and directors — and even modeled during events. She later took on the role of project manager for DVF's InCharge initiative, coordinating events and selecting marketing and web development partners for a series on actionable women's empowerment held at DVF's flagship store in Manhattan's Meatpacking District.
Newell said her co-op experience helped her "understand the fashion business from a legacy brand perspective in a 360-degree scope."
"Having an interdisciplinary approach toward business solutions helped me shine during my internship, and the results helped me cultivate a zealous and rigorous work ethic. I developed resilience and trust in my perspective, all while being supported by my incredible co-workers, whose hard work continues to inspire me."