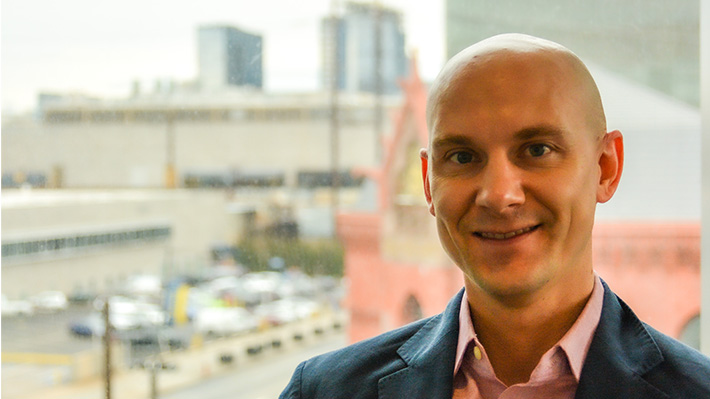 Get to Know Brandon Jacob, Career Development Leader for LeBow's Undergraduates
As commencement season approaches and spring-summer co-op assignments take shape, LeBow undergraduates have a new source of career guidance as they plan their futures. Brandon Jacob comes to LeBow from San Francisco State University, where he served as lead career counselor for a student population of over 30,000; he previously worked in both career and residential advisor roles at Calvin University in Grand Rapids, Michigan.
After relocating to the Philadelphia area in 2020, Jacob joined LeBow in December 2021 and stepped into supporting students' career goals, both on their co-op assignments and in roles after graduating. He shared with us his first impressions of the Drexel LeBow community, his plans for Undergraduate Career Services and the question he's heard most from students so far.
Name: Brandon Jacob Title: Assistant Director, Undergraduate Career Services Education: BS, Education and MS, Higher Education and Student Development, Taylor University Hometown: Westampton, NJ
Drexel LeBow: What has been your first impression of LeBow? Brandon Jacob: Since starting in December, I've gotten a really warm welcome. Everyone is very nice and open to collaborating. Coming from a larger institution, where it could be hard to make an entrée with other offices and departments, I feel everyone here is starting from a place of "here are all the ways I can help." That's been a great professional environment to be in. The undergraduate student services office just feels like a family, and that really comes from leadership who set the tone.
DL: What appealed to you most about joining LeBow? BJ: I was excited to be part of a community that took career development seriously. That's in the water here, through co-op and the experiential learning component that really puts emphasis on your education building toward a career. Just the fact of having separate career offices for undergrads and grads within LeBow shows that there's great institutional support for the nature of this work, and I felt this was a place I could continue to challenge myself to do more specialization within a business context and make connections with lots of different employers.
DL: What's on students' minds these days about career development? BJ: Most of the students I've met with so far have expressed questions like, "Am I making the right decision?" It's interesting, because there are different decision points along someone's career development process. Deciding on a major is a big one — something that puts you on a certain track and gives you a way of knowing what direction you're going. When I hear someone say, "I've got these five or six opportunities that I can pursue, how do I know I'm making the right decision?" it sounds to me like fear of missing out — the same kind of worries you might have elsewhere in life about how there's always something else out there. Based on current trends, most of these students will probably be in these jobs for one to three years before they make a transition to something else, but they do really worry about the first one!
DL: What piece of advice have you received that's been most helpful to you in your career? BJ: Every person you meet, no matter their level or their experience, is a valuable asset in your network. Viewing people that way is going to really unlock opportunities, experiences and knowledge that you might not have had otherwise. With almost every position I've had, they've come about through some sort of connection or relationship, and some of the best learning and professional-development opportunities have come about that way as well. I really recommend starting out with that framework and valuing the people around you as being important.
DL: What kinds of events or programs are you hoping to introduce? BJ: As a start, I'm planning on relaunching and rebranding one-on-one career advising appointments, developing a career-readiness workshop series and developing online career resources.
DL: What do you like to do in your free time? BJ: I love being active outside, particularly running, cycling, snowboarding, tennis and golf. I also enjoy traveling internationally, trying new foods and restaurants and curating playlists on Spotify for my friends and family.