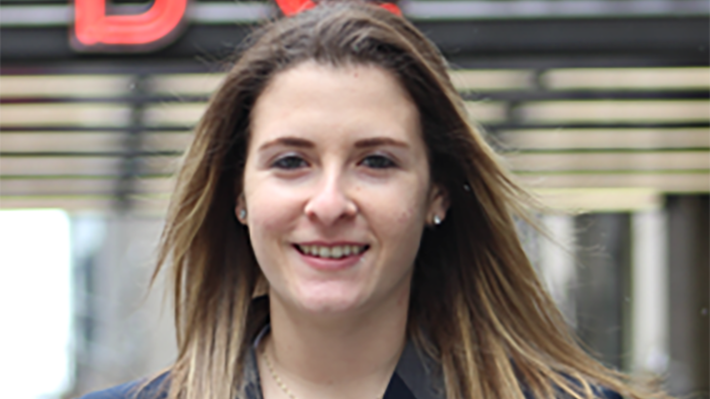 Lara Horwitz Navigates The NBCUniversal Page Program
Lara Horwitz was in an enviable position in December 2016: ready to graduate – two quarters early, in fact, with a degree in sport management – and with an offer for a full-time job in hand.
The Chicago native and former women's softball player weighed that offer against another exciting possibility: a spot in the NBC Universal East Coast Page Program, started in 1933 and made famous by the character Kenneth Parcell on the TV show 30 Rock.
"Knowing how competitive the program is, I applied, but never thought I'd get an interview," she says.
Nevertheless, the opportunity for an interview came and now, less than a year since graduating from Drexel, she's on her third assignment as an NBC page: working on the NBC News Digital & Editorial team, doing research for breaking news stories and assisting with video editing.
The program is intended to provide pages with exposure to all areas of the company, with new rotations to different areas of the company every three months; her first two rotations were both at NBC Sports headquarters in Stamford, Connecticut: one in communications, and the second in production. This format allows the opportunity to learn, in Horwitz's words, "something new that you never thought you'd be interested in."
Among the 80 pages in each year of the program, there is a high degree of competition for the program's most popular rotation spots: news, late night and sports. Horwitz knew she wanted to land at least one rotation at NBC Sports. "Coming from a sports background, I thought I had a pretty good shot of getting it," she says.
Her rotation in production coincided with the lead-up to the 2018 Winter Olympics, which entailed getting familiar with figure skating and ski jumping, among other seasonal sports. She also spent time as a production assistant on Thursday Night Football, which had her looking for material ranging from a decades-old Hall of Fame Game – a preseason game played annually at the Football Hall of Fame in Canton, Ohio – to Seattle Seahawks quarterback Russell Wilson psyching up his team with a pregame speech. "Now I know all the footage that goes into producing just one hour of TV," she says.
Horwitz sought her co-op experience outside of sports, including co-ops in internal communications and marketing with law firm Ballard Spahr and in customer marketing and communications with Comcast Business. In fact, she thought Comcast would be her landing spot following graduation.
"I would have continued with the same product I had worked on," she says, noting that her experience at Comcast showed her "everything that goes into putting together a really big project."
In the end, the prestige of the NBC Page Program and the potential to end up working in sports media was too strong to pass up. She started her year with a three-month-long "Ambassadorship Period," giving tours and assisting audience members during The Tonight Show Starring Jimmy Fallon and Late Night with Seth Meyers. She will return to those duties, with Saturday Night Live added into the mix, during her "grad rotation," an additional three months following the year-long program. That's also the interview period for full-time positions, and Horwitz hopes to land one.
"They really do build your skills here," she says. "They want to see you progress."