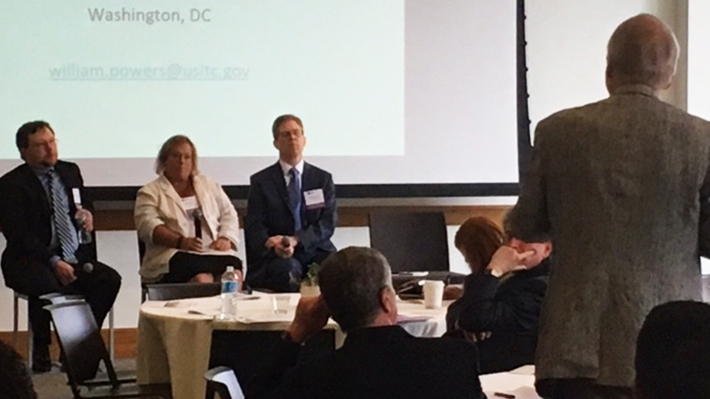 LeBow Hosts De-Globalization Conference With GIC
On April 21, Drexel LeBow's School of Economics partnered with the Global Interdependence Center to present the 35th Annual Monetary and Trade Conference titled "De-Globalization – Is It Real?"
The conference brought together leading experts from industry and the policy arena who discussed the impact of anti-globalization undercurrents on financial markets and international trade.
Many influential speakers participated in this event, including:
Mark Zandi, Chief Economist, Moody's Analytics; Joseph H. Davis, Global Chief Economist and Global Head, Investment Strategy Group, Vanguard; and Bill Stone, EVP and Global Chief Investment Strategist, PNC Asset Management Group, who spoke on the topic of global investment behavior in an increasingly uncertain environment.

Michael Papaioannou, Deputy Division Chief, International Monetary Fund; and Marcos Poplawski-Ribeiro, Economist, World Economic Studies Division, Research Department, International Monetary Fund, who spoke about vulnerabilities and risks for the global financial system.

Camille M. Miller, Co-Chair, Intellectual Property Department, Cozen O'Connor; Mykyta Vesselovsky, Senior Research Coordinator, Office of the Chief Economist, Global Affairs Canada; and William M. Powers, Chief Economist and Director, Office of Economics, U.S. International Trade Commission, who addressed the challenges and opportunities in safeguarding free trade.
"The gains from globalization have clearly been unequally distributed and there have been some adjustment costs," says Vibhas Madan, PhD, director of the School of Economics. "However, reversing the process is not an option as the costs of doing that would be enormous. Isolationism is not an option."
Madan says that while trade agreements have slowed down, those which exist have become deeper. "Harmonization of domestic policies is going to be at the core of trade agreements going forward."
Madan adds that the outsourcing phenomenon has peaked. "What we are seeing now is really just churn. This is backed by the fact that international trade in intermediate goods as a proportion of total trade is not rising anymore. This does not mean that global supply chains are becoming less important. It's just that the increases now are on the margin."
Madan adds that: "Providing a forum for discussion and exchange of ideas on issues of global importance such as these is key to the School of Economics' educational mission." The School collaborates with GIC to present a conference on economic policy annually.