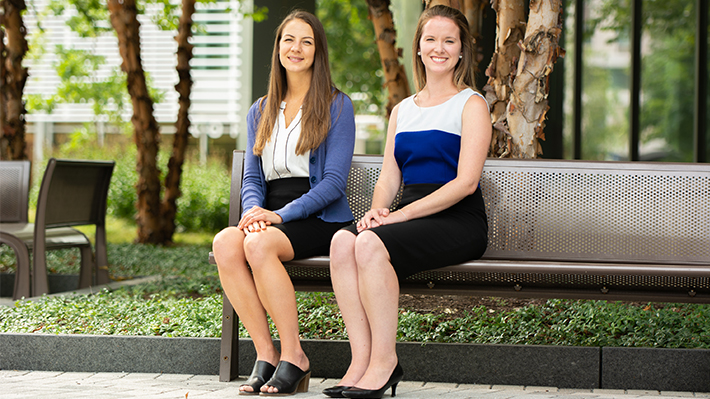 LeBow Staff Win University Advising Awards
Members of LeBow's advising staff took home both of the 2018-2019 Awards for Academic Advising, presented by Drexel's Division of Enrollment Management and Student Success.
At a ceremony in August, Assistant Director of Undergraduate Advising Teal Golden and Academic Advisor Shawna Morse were recognized for their work serving LeBow undergraduate students. Golden was named Outstanding Professional Advisor, and Morse was named Outstanding New Advisor. Recommendations by Director of Undergraduate Student Services Jackie McCurdy and testimonials by their student advisees helped to strengthen their case for the awards' judges.
Q: How did it feel to receive this award?
Shawna Morse: I can say it was a surprise. I thought it was such a wonderful opportunity when Janet Golon, in the Office of Inter-College Advising in Enrollment Management & Student Success] sent it to all the advisors. The other advisors here at LeBow and the ones I've gotten to know across campus are all so exceptional and so student-focused. Putting my name in there was just a 'let's see what happens.'
Teal Golden: I was really surprised! When Shawna got hers first, I was just happy for her, and I thought, they're not going to give it to two LeBow people. I feel very honored because there's so many people who deserve it as well. Jackie encouraged me to apply — I don't think I would have done it if she didn't tell me I should.
Q: What's it like to be on LeBow's undergraduate advising team?
SM: There are a lot of new perspectives and exciting ideas being circulated, both from the new advisors and the rest of the team. There's a lot to know about Drexel, about every single major and situation that students bring in. Everyone here is so warm and friendly and really has an open-door policy. I can't tell you how many times I knock on the doors of advisors who've been here longer and ask them, 'What would you do? What do you think about this?' Everyone's so good about supporting one another.
TG: That's how I felt when I started three years ago, about open door policy and everyone being supportive. What I really appreciated was that I felt l didn't have to filter myself. We can talk about something non-work related and go right into something work related. It makes you feel comfortable going in to talk to someone and ask a question; you don't feel like you're bothering them. As an advisor, things constantly change — policies and processes — so we're always bouncing ideas off each other, asking each other questions and problem-solving together.
Q: What has been your favorite or best moment on the job?
TG: it was seeing one of my advisees walk across the stage: Kinzey Lynch, who's visually impaired. I just happened to have him in my caseload but we really developed a relationship. He's gone through a lot of challenges and has had to work with professors to accommodate him and his needs. We met more on a mentor basis than just as an advisor saying, 'Here are the classes you need to take.'
SM: For me, it's the first time a student came to tell me about getting co-op offers or study abroad assignments. That was when I started to know them by name and when they really got to know my name and tell me things. One student, who's about to study abroad, comes by once every few weeks and tells me about her plans and how she's getting ready. That makes me feel like this matters — like our relationship is growing.
Q: What's it like teaching UNIV 101, and how has the curriculum changed?
TG: It's a collaboration with different campus partners, and so everyone has a different teaching style and each class has a different dynamic. I tried to make it a little more organized so instructors can take the information and adapt it as they wish. I wanted to streamline it as much as possible and to prioritize the most important topics students need to know, because we only have 10 weeks. We incorporate small group advising in the class, talking about things like time management, stress management or creating a LinkedIn profile.
On top of our advising caseloads, we're teaching a class to 40 students, plus we're mentoring two peer leaders who are sophomores and are TA's for the class. So, we're managing all the students, trying to develop them and meet them where they are.
SM: When Teal and I and our colleagues worked on the curriculum review, we surveyed the students about what they thought was the best course where they learned the most, or what session they wish had more information. That led to us restructuring some things. For example, we had them do a peer-to-peer interview near the end of the class. Now, that review happens in the beginning. We're really encouraging peer-to-peer connections so they're learning more about each other apart from where they're from and what their major is.
Q: Shawna, what's the most important thing you've learned in your first year at Drexel LeBow?
SM: I've learned there's never going to be a point where I'm not learning! I feel there's still so much for me to do in order to learn and grow as an advisor. Everyone who meets with me has as much of an impact on me as I hope to have on them, so there's always room to continue growing and getting better.