Changing Gears
The colorful jumble of bikes filling, and sometimes overflowing, the racks throughout campus tell a story. From road bikes to fixies to hybrids and beach cruisers, they speak individually to the unique tastes of their riders, but collectively they're a testament to just how hot cycling is right now. Cycling may not exactly qualify as a trend; given its long-term functionality and global appeal, it's a cultural mainstay, but a mainstay that's certainly experiencing a trendy moment. Commuters choose bicycles over cars with increasing frequency, Lycra-clad enthusiasts register for charity rides and races in record numbers, and forward-thinking city planners can't paint bike lanes or open new trails fast enough. In Philadelphia, the number of cyclists on Center City streets has more than doubled since 2002 – an increase that is replicated in urban downtowns across the country.
Businesses have reacted to the added demand for cycling by increasing spending on everything from bike-friendly infrastructure to bike-sharing programs. Timothy Ericson, LeBow graduate and founder of private bike-share provider Zagster, says bike-sharing and other cyclist-friendly amenities are "becoming a key driver of employee recruitment and retention, giving companies a competitive advantage in the marketplace. They also help contribute to a healthier workforce, which is usually a more productive workforce, which also contributes to a competitive edge."
Outside the office, cycling is establishing a reputation as the emergent social and professional connector of a new generation. If the headlines are to be believed, 2014 is the year that cycling reached critical popularity and conquered the golf course as the deal-making venue of choice. A CNN headline made the bold declaration, "For entrepreneurs, cycling is the new golf."
And other publications have joined the chorus, declaring that the bag of clubs is being replaced by a carbon fiber road bike for corporate executives and startup entrepreneurs alike.
In a side-by-side comparison, there may be no less likely substitute for a pastoral golf course than the pavement-bound, traffic dodging reality of riding a bicycle in the city.
But where cycling wins is its ability to fit so seamlessly into a multitude of lifestyles: rabid, athletic road bikers gather to collectively push their physical limits; commuters save time, money and the environment as they pedal to work; and recreational bikers prove that enjoyment only requires a little motivation, a borrowed bike and a desire to get outside.
Where golf is exclusive, cycling requires no membership. That inclusiveness creates the perfect environment to form bonds and connect with new people over a shared passion. It's not so much replacing golf as reinventing how and where people connect in their business and social lives.
LeBow alumni and students are players in cycling's social surge. Mirroring the inclusiveness of the activity, their relationships to cycling are diverse and varied. They include a civic hacker, an athlete, a philanthropic fundraiser and a team of entrepreneurs. In short, those profiled here are the embodiment of cycling's surprisingly broad social web – a picture of what cycling is and what it can become.
The Civic Hacker
Corey Acri is an impatient man. He hates waiting for buses, loathes traffic, and searching for parking is absolutely out of the question. He's tried other forms of transport, but commuting via bicycle is easily the most wait-free way from his home in Northern Liberties to Drexel, where he works in the School of Law and is pursuing his MBA at LeBow. With the added bonuses of fresh air and exercise, Corey considers his daily ritual to be almost perfect.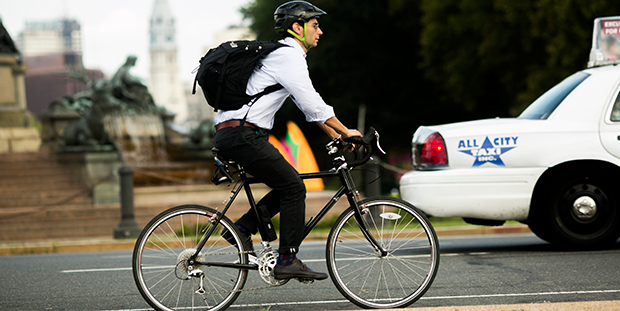 Corey Acri navigates Eakins Oval on his commute from Northern Liberties to Drexel's campus.But as he rides the route from home to work and back, he can't ignore that Philly's cycling infrastructure isn't as logical or safe as it could be.
The opportunity to do something proactive about improving the city's bike routes arose at a Code for Philly meetup. Corey had joined the civic hacking group in an effort to learn some coding skills without a specific goal of using those skills for cycling. When he bumped into Philadelphia's former chief data officer, Mark Headd, Corey expressed his feeling that data needed to be collected to help make Philly's bike routes less "wacky." Without pause, Mark asked, "Why don't you get it?"
Corey hesitantly took the challenge. He convinced fellow Code for Philly hackers Lloyd Emelle and Kathryn Killebrew to contribute their programming prowess to create a lean GPS-tracking app that would make it simple for bikers to add their ride to the growing map of data. The riders' information would then be analyzed and utilized by transportation planners at the Delaware Valley Regional Planning Commission (DVRPC).
The app went live for iOS and Android phones in May 2014, and the response has been promising, with bicyclists throughout the region contributing their ride information. The collected data has significant potential for the city; according to DVRPC's Greg Krykewycz, it will "help our region make smarter investment decisions about the sorts of bike projects they care about." With more than 10,000 rides already recorded, Corey is hopeful that Philly's biking infrastructure will be getting a little more logical very soon.
The Triathlete
Eugenia Chalbaud-Santeliz is a born competitor. Her earliest athletic passion was swimming, and to build the strength and endurance she needed in the pool, she became an avid runner. When a friend pointed out that she was already two-thirds of the way to being a triathlete, she jumped on a borrowed road bike and started training.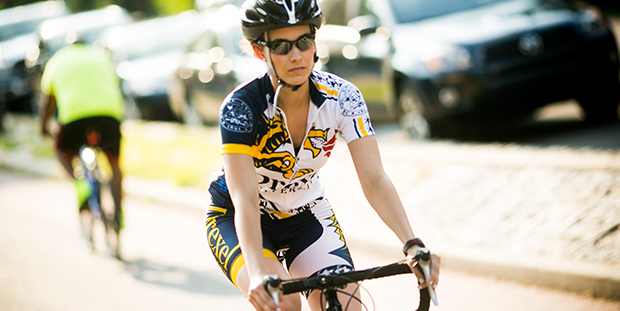 When Eugenia left home in Caracas, Venezuela, to attend Drexel LeBow as a marketing and international business dual major, she had to leave her bike behind. Uneasy without a competitive outlet, she bought a bike at the first local shop she found and signed up for the triathlon and cycling club teams.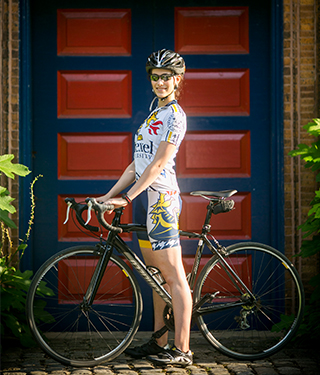 Not one to rest, Eugenia added yet another sport and began rowing for Drexel Crew, her racing bike being repurposed for pre-dawn commutes to the boathouse. The dangers of commuting (she's been "doored" twice) and last winter's icy roads tested her dedication more than any endurance race. "People in Philly are the worst drivers. Especially for such a bike-friendly city," she says, but despite the unforgiving weather and oblivious drivers, she persevered.
To stay in touch with the campus cycling community during crew season, she followed the listservs that coordinate several group rides that meet around campus. It's on these rides, alongside students from several universities and local professionals with diverse careers, that Eugenia has noticed cycling's power as a social connector. "Instead of going golfing, which is what my dad used to do, we are going biking," she explains.
The hardships inflicted by Philly's often-harsh conditions might even be part of what makes biking and networking such a natural combination. "Eighty-five percent of the time you're talking to the person next to you," she says. "There's always something to talk about because you're suffering together."
The Fundraiser
Al DeRitis '85 is uncomfortable being labeled a cyclist. Despite having made an 82-mile trek from Philadelphia to Ocean City, N.J., each year since 2007, he's quick to disavow the term. Most days, if you find him on a bike at all, he's puffing on a cigar and cruising to no particular destination. For Al, riding in the annual Bike MS: City to Shore Ride is a physical struggle from the outset, and he likens his pace to that of a slug. It's when he starts talking about the cause and the money he's raised that the pride in his voice is evident.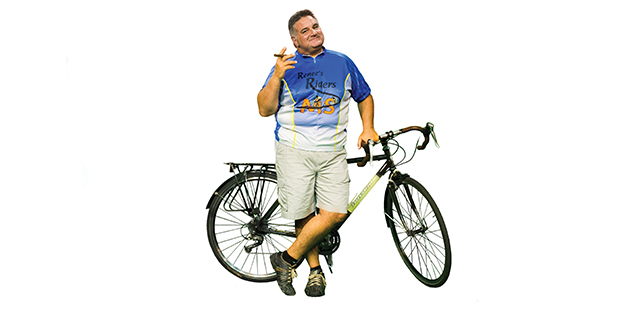 Al's wife, Renee, was diagnosed with multiple sclerosis in 2006. Faced with her troubling diagnosis, Al channeled his energy into the fight to eradicate the disease. He went for his first City to Shore ride in 2007 and the next year formed his own team of passionate fundraisers — Renee's Riders.
Now the ride's top fundraiser, Al gets the honor of wearing the number "1" on his race day jersey. It's an honor he takes seriously, but he laughs when spectators ask if the jersey means he finished with the fastest time. He actually finished dead last in the 2013 ride after a fall that resulted in several broken metatarsal bones in his foot. Only three miles from the finish line, Al credits adrenaline with getting him back up on the bike.
The pain of the fall has him a little nervous for the 2014 ride, but the people he meets and the good that's done with the money he raises drives him to return. "Seeing people along the route with signs that say 'thank you for riding' and talking with them at rest stops is what propels me for 80-plus miles," he says. "Otherwise it's pure pain, literally, pain."
The Entrepreneurs
The launch of Paris' pioneering Vélib' bicycle sharing system in 2007 made an impression on two visiting LeBow students. Timothy Ericson '07 and Jason Meinzer '09 were studying abroad as part of the Drexel in London program and witnessed the rollout of Europe's biggest bike-sharing system on a serendipitous weekend trip to France. Seeing bikes as such mainstream, ubiquitous elements in the urban landscape sparked a vision they'd bring back to Philadelphia.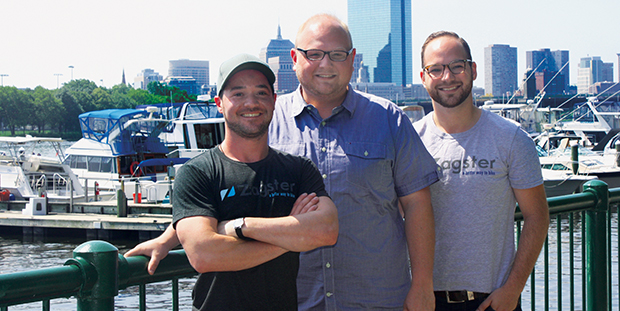 Upon returning to campus, the friends studied bike sharing, debated business models and eventually formed Zagster, a startup consulting service for cities and corporations looking to establish their own systems. Within a year Tim and Jason signed one of their first clients in the most fitting of ways - on a "business ride." The lifelong cyclists had never conducted a meeting on bikes, but they weren't surprised that it worked. "Biking is inherently a social activity, you can talk at lights," explains Tim.
After doing consulting work for several years, the Zagster partners noticed a recurring complaint: Clients couldn't find affordable, small-scale bike-sharing systems. What they needed was a system as convenient as Vélib', but on a scale that fit at a hotel or campus. In 2011, using connections formed while working out of Drexel's Baiada Institute, Zagster formed a partnership with Philadelphia-based Advanced Sports International to supply their Breezer brand of bikes as a part of a private bike-share system.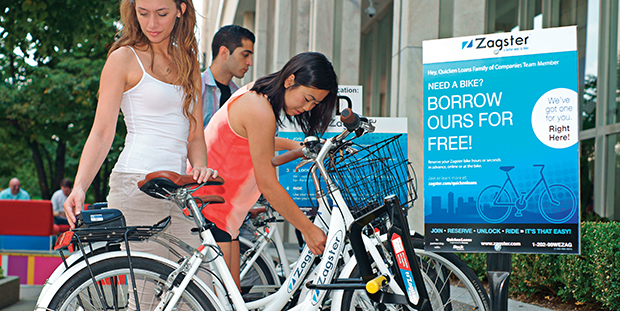 The change in business model paid off; Zagster gained Yale University, Quicken Loans and Hyatt hotels as clients, hired new employees and moved headquarters to join the startup community in Cambridge, Mass. As avid cyclists, they're particularly interested in how their growth can benefit the greater biking community. "The visibility of bike-sharing stations and bikes coupled with tremendously easy access gives cyclists a voice in their city and makes a strong argument for infrastructure improvements that make the experience safer and more enjoyable for everyone," explains Bradley Ericson '13, Tim's brother and Zagster's sales consultant.
With more and more cities and campuses adding bike-share amenities, the Zagster team is optimistic. "There's always going to be a fit for sharing bikes somewhere," says Jason. "It's an ageless form of transportation."
Photography by Shea Roggio. Zagster images supplied.