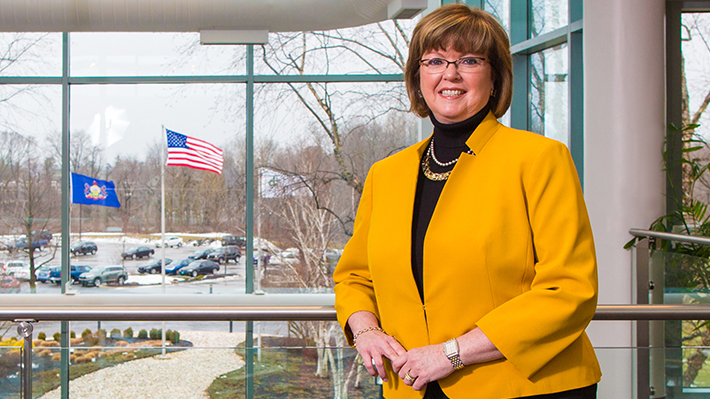 Eileen McDonnell, LeBow's 2016 Business Leader of the Year
Six months after Eileen McDonnell joined Penn Mutual as its chief marketing officer in 2008, she declared to its associates: "We are not going to participate in the recession."
Instead, she led the formation of Penn Mutual's "decade of opportunity" – a strategy that would set the company apart from its competitors by the year 2020.
The company focused on going "back to the basics with folks," she says. "We educated individuals and small business owners about the value that permanent life insurance brings to any financial plan. You do need to have investments and other things as part of your overall financial plan. And if you have permanent life insurance at the center of your financial plan, it makes everything from disability insurance to retirement planning work better."
She says, "It's like, the stars, sun and moon aligned really well" for that strategy. Post-economic crisis, people didn't want to take as many risks. Instead, they wanted guarantees – one of the features of permanent life insurance.
McDonnell says her company is still following that back-to-basics 10-year strategy, and has met or exceeded every metric they set out to meet. "We have altered some of our tactics, but strategically, we have not deviated." In fact, 2015 was the company's sixth straight year of record earnings.
In the business world, one thing McDonnell is known for is her belief that a glass ceiling for women does not really exist. "All I saw was my possibilities; I had a dream for myself and a sense of urgency," she says. Which is why it was probably not a huge surprise to her when, in 2013, the company's board appointed her CEO.
In 2015, Forbes wrote an article about McDonnell's career successes and her thoughts on gender and leadership. "I'm a firm believer that if any person empowers themselves — women in particular — you take control of your own destiny," she told Forbes.
Since being named CEO, McDonnell also made modernization a priority. Penn Mutual, which was founded in 1847, is the second oldest life insurance company in the nation. She leads with a progressive mindset on work/life balance and expanded flex work arrangements for the company's employees.
"Millennials expect these things," she says, adding that Penn Mutual is now better aligned to attract the best young talent.
And there are certain traits she looks for in new talent. "I learned early in my career that great people make a great company – specifically, dedicated people who have a willingness to take on new challenges, and who want to see each other and the company succeed. It's all about collective success."
Another facet of her plan again focuses on millennials – attracting them not only as employees, but also as customers.
"Millennials came of age during the crisis, and they learned a lot of things. The downturn has left an impression on them. I think they are wise consumers – they are cautious, and they are willing to sacrifice today for tomorrow."
She says millennials should not wait to invest in their futures. "Starting early is important, including the purchase of life insurance. You're probably at the best health you'll ever be. And the better your health, the younger you are, the lower your premium for your lifetime.
"People think of life insurance as only a death benefit, but it can be an important savings vehicle. Starting with early savings habits, such as investing in permanent life insurance, at a young age is an important step to secure your future," she says.
When she's not working, McDonnell loves to travel, and spends weekends in the barn with her daughter Claire, 11. "Claire is an equestrian. She loves to ride. I'm a city girl," says the Long Island, N.Y., native. "She has taken me to new places with that. So my weekends are spent in the barn. I have learned to do everything, including grooming a horse."
Claire has an off-beat nickname for her eternal-optimist mom: "chick flick. Because everything has a happy ending."