Honest Tom's Revolution
Something extraordinary is happening in West Philadelphia. From the Porch at 30th Street Station to the corner of 33rd and Arch and hotbeds scattered from Lancaster to Locust, it's no longer Philly cheesesteaks and deep fryers; it's an eruption of fine cuisine as diverse as the scholastic clientele.
The revolution grew modestly with the passage of each season. It lulled during ruthless Philadelphia winters and revived anew each spring. It all started in 2009 when Tom McCusker opened a food truck with his brother, Matt, called Honest Tom's Taco Shop.
McCusker is known as the Philly street food godfather. The press made him famous long before he pocketed a dime. He cooked tacos for Chef Gordon Ramsay — a victory for any young business owner. Yet while the accolades stacked up, he was teetering on the lip of failure. He'll blush if you ask him about it. He'll kick at the pavement with his Red Wings and say something about how the media attention kept him going when he doubted himself. A lot has changed these past five years, he'll say. It was no revolution when he started. It was a couple of guys in a truck hawking tacos at Drexel.
The tale of Honest Tom isn't a success story. It's a coming-of-age story. McCusker found his fortune in spring, he says. But only after a couple of long — legendarily long — winters of discontent.
McCusker came to Drexel as a general business major and stuck it out for two years even though the inspiration just wasn't there. He was — is — capricious. At the time, if you had asked him what he wanted to do with his life, he would have given you a different answer for each day of the week.
He was a sophomore when he made the switch to hotel restaurant management, a major that taught him to make the guacamole and salsa that would become the trademark of his tacos. He also learned that he didn't want to tread down a conventional career path. When he graduated in 2005, he had a steady job delivering beer for $600 a week. Cash. And a dream of buying a motorcycle and riding cross-country.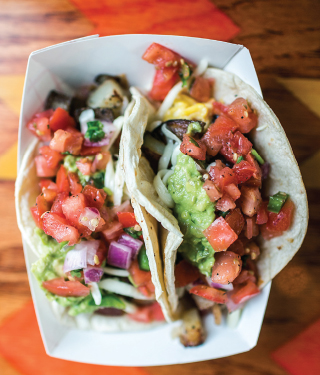 Next came a gig working for his father's demolition business handling payroll and bookkeeping. He used QuickBooks and charted cash flow — quiescent skills he'd learned in school that he'd set aside without a second thought.
There were many false starts. He got his real estate license. He became a certified dog trainer. He got a gig cooking brick oven pizzas. He purchased a $250,000 home with his brother for no money down in Powelton Village at the height of the mortgage bubble. They rented out six of the seven bedrooms and lived for free. By then, McCusker was 24, eyeing his next move.
When he bought his first Harley, the world got smaller. He began riding the empty Philadelphia streets at night to clear his head. He was now 25 and painfully aware that he hadn't found his place. He recalls conversations when his father would ask, "What are you going to do with yourself?" He had no answer.
So he went west on his Harley — to Austin to visit an uncle. Along the way, he raced by some of the most awe-inspiring sights in America: the Blue Ridge Parkway; Skyline Drive; Natchez Trace. Perhaps it was the scenery — or maybe it was serendipity — because he woke up on his first morning in Austin to a tray of breakfast tacos. They came from a roadside cart.
"I had those tacos every day for two weeks," he says. "And then the gears started turning. In West Philadelphia there were no breakfast spots at the time. So I decided to make one."
McCusker's initial plan was ambitious, but he readily confesses its naiveté. He'd get a tow-behind cart and open on weekdays from 7 to 11:30 a.m. at Drexel and work Saturdays at Clark Park in Spruce Hill. When Drexel students went on break, he'd go on break, too. Ten weeks on, make a pile of money, and then two weeks on the Harley.
McCusker called his credit card company and extended his line of credit to $25,000. He bought his truck in January 2009 for $9,000, paid off some debts and used the rest for startup money. The truck, christened Honest Tom's Taco Shop, hit the streets on April Fool's Day. Tacos were priced two for $6 (they still are). The crew was lean — just Tom, his brother and an old buddy. Overhead was low. It was a leap of faith, and he took it head first.
"From day one, it was a whole other concept than what I thought it was going to be," McCusker says.
To start, he had grossly miscalculated the time commitment. Even though he'd close at noon, there were trips to Philadelphia's Licenses and Inspections Office, the food distributor and the farmers' market. He wouldn't get home until 7. And then he'd be up the next day at 5 a.m. prepping.
There was also the problem of penetrating a previously nonexistent market — namely, selling breakfast tacos out of a truck in West Philadelphia.
"People had no clue what to make of us. Kids were like 'can I sell back my books here?' We were up against soft pretzels and bagels. It was different."
Meanwhile, business at Clark Park took off on day one.
"It was like in Forrest Gump when they start pulling in the shrimp. We'd have to close the window, make 25 tacos at a time, open the window, sell 25 tacos — then start again. It was insane."
Tom's breakfast tacos were delicious and unaffected: just a tortilla topped with farm-fresh egg, home fries, salsa, guacamole and Monterrey Jack cheese — with or without bacon.
One Yelper decreed: "Honest Tom's tacos are honestly the best, it's becoming a problem — I'm totally obsessed!"
Soon, 33rd and Arch caught on. Chicken tacos were added to the menu after a few weeks. Honest Tom's was selling out every day by noon, bringing in $200 in sales. McCusker thought he was rich. Even more — he had staked a claim and stuck with it. There was no turning back now.
But when summer hit, business lagged. Then came the monumental winter of 2009 with a record 78 inches of snow — and another 44 inches the next winter. Business died.
During these first two winters of operation, McCusker fell behind on his bills. His cell phone was shut off. His motorcycle was repossessed. This became the model — big spring, smaller summer, non-existent winter — for two-and-a-half years.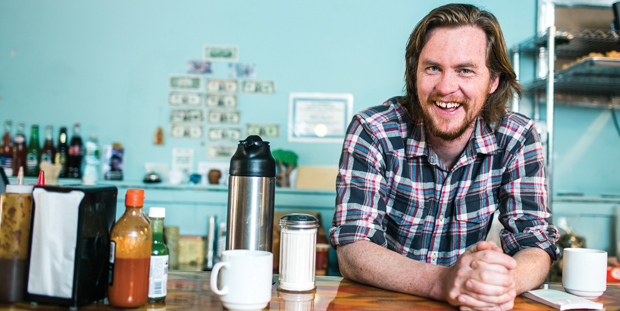 "I was 27 and for the first time in my life I had no money. The business technically failed," McCusker says. "But because we kept getting press, I knew it wasn't hopeless."
By spring 2010, the truck had received a psychedelic makeover courtesy of the city's Mural Arts Program. McCusker hired more employees and business boomed again. By spring 2011, the menu had expanded to include chicken, pork, sweet potato and even fish tacos for lunch. All were fresh; all were praised — especially the original breakfast taco. There were TV segments and gastroblog fandom. Honest Tom's was a bona fide hotspot.
McCusker began parking in front of the Franklin Institute in Aviator Park. He used Facebook and Twitter to share his location each day. Reporters wanted to know all about this Honest Tom fella.
But as summer waned and McCusker looked down the barrel of another barren winter running a business powered by the sun, he knew he couldn't quit. He had to move the operation indoors.
McCusker closed the truck during the winter of 2011 and settled on a stone structure on 44th Street, between Spruce and Locust. He signed a six-year lease — "That's when the gray hairs started sprouting up," he says — and spent six months renovating the shop. The official opening announcement came via the @HonestToms Twitter handle on Dec. 19, 2011: "Open for business. 261 s 44th."
Today Honest Tom's brick-and-mortar location brings in more than 10 times the daily revenue the truck took in — an average of $2,000 on weekdays and $3,000 daily on weekends. It took him more than four years, but he finally turned a profit. He tried to keep the truck running, but when business took off at the shop, it was time to let his old friend go.
So read the declaration on Facebook: "As good as the truck has been to us we've decided it cannot be burdened with a monetary value. We will be gifting it to a noble up-and-comer looking to dive into the dark scary world of food trucking."
"I couldn't have opened the shop without the truck experience," McCusker says. "When people tell me they want to open a truck, I tell them it's not glamorous. You have to be prepared to work 15 hour days, seven days a week."
McCusker is 30 now. His hair is longer — ash-gray in spots. Now his father no longer asks, "What are you going to do with yourself?" It's: "Good job, son." And when he jumps on the new Harley for those night rides, his head is a little clearer. He's a man who found his place.
While McCusker is known throughout Philadelphia as Honest Tom, it's his modesty that stands out most in conversation. If you tell him that he started a legitimate food movement, he'll shrug it off. It seems like a past life; he was a different person then. He might have been unprepared, but his was the first foot through the door. Despite all the press heralding his success, he took a beating so others wouldn't have to.
Today, Philly food trucks are multiplying at record rates. The Philadelphia Inquirer dubbed the corner of 33rd and Arch "Philly's Food Truck Mecca." Just last year, there were 34 founding members of the Philadelphia Mobile Food Association — a valuable resource for local food truck operators. Today, there are 104. When McCusker hit the streets, the idea of an association for street vendors would have seemed ridiculous.
The press hasn't been as keen to cover Honest Tom's since he moved indoors and became profitable — but why would they? We don't want success stories. We want struggle. We want Honest Tom in barren winter, working in the wrathful, nipping cold. But seasons change.
Honest Tom trudged through the depths of winter and found his invincible summer. And he certainly isn't going anywhere. Not yet, anyway.