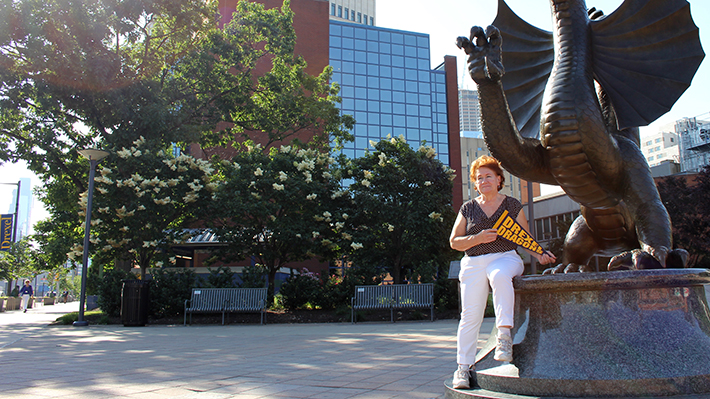 Student for Life: LeBow Grad Meets Goal Decades in the Making
"At 5 years old, I decided that I wanted to go to college."
With just one course left to complete this summer, Bernardine "Bernie" Rzucidlo ended her decades-long journey towards this goal when she walked across the stage at the Pennsylvania Convention Center on Friday, June 10. She will receive her bachelors of science degree in Business Administration with a major in accounting after studying part-time at Drexel since the fall of 1997.
No matter how much "life got in the way," Bernie kept focused on this goal.
"I have always liked a challenge," she says.
Bernie grew up on a farm in Landenberg, Pa., a one-stop sign village in southern Chester County. She attended Catholic school for eight years where she was encouraged to explore vocations within the church, but in her words, she "was not nun material."
She finished school at the local public high school and enlisted in the Women's Army Corps in 1964, during the Vietnam War.
"When I was graduating high school, I still wanted to go to college but didn't have the money to do it. My parents were blue collar so there was no money there. I recognized that if I joined the Women's Army Corps, I could go to school under the GI Bill."
After completing basic training in Alabama, she went to Ft. Benjamin Harrison in Indiana where she was trained in payroll accounting. She spent the end of her three-year military career at the Ft. McPherson 3rd Army Headquarters in Atlanta, Georgia, and was honorably discharged.
After the military she moved to Philadelphia and worked in trust accounting at Provident National Bank and tax auditing for the Internal Revenue Service.
"Then I had four children and was a stay-at-home mom, but I never lost my desire to go to college."
As her children grew older, Bernie secured a job in Drexel's Engineering Management Department working for Stephen Smith, who is still a part of the program. He offered some very important advice that stuck with her over the years: "Always have a back up plan. Plan beyond just your present job."
The advice came in handy when Drexel went through a period of downsizing in 1995 and after two years at the University, Bernie was let go. She quickly secured a job at the University of Pennsylvania and has worked there for over 20 years.
"I knew that I was going to have to support myself and never forgot what Steve said about having a plan B. I also thought that I would be coming back to work at Drexel. While working at Penn, on the last day of Drexel's fall registration, I walked from Penn to Drexel and signed up for a tax accounting course."
Because of her past military and work experience, when it came time for her to choose a major, she says, "It was a natural transition to go into accounting."
She spent the next 19 years taking courses part-time at Drexel, with breaks here and there when life got in the way. A family situation required her to take a significant amount of time off. Bernie came back this fall committed to complete the last five courses and finalize her degree.
"She began her college career many, many years ago when we were just in grade school and though her major may have changed over the years, her determination to finish never did," says her daughter Jennifer Silvan-Solot, a 2000 LeBow graduate who went on to complete a masters degree in taxation at Drexel in 2004. "She has worked for the University of Pennsylvania for over 20 years, and even though she could have gone there for free she chose to attend Drexel because of her love of the school and its education."
Bernie has seen a lot of change at Drexel since she first began working here in 1993, but she believes some things will never change.
"The students have always been the same. They have always been the kind of people who want to learn. "
For her, and others, the journey to a college degree may not be simple or linear but Bernie is never one to shy away from a challenge.
"You have to be self-disciplined, driven and goal oriented. You will be dead in the water if you don't have those. There are so many things that can distract you. You have to have the discipline to stay on track."
After completing her final online course this summer, Bernie plans to continue her role at Penn's Department of Biochemistry and Biophysics, where she supports budgeting, contracting and event planning for the head of the department, but notes, "I now have this piece of paper that says I can go out and do so much more than what I have been doing."
"But who knows what tomorrow brings."