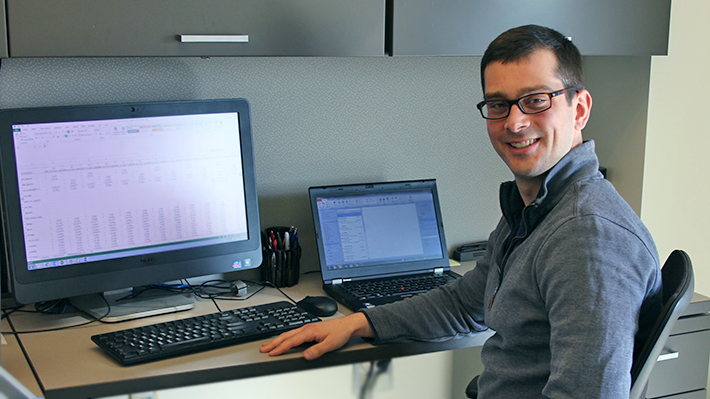 PhD Candidate Invited to Prestigious Paris Symposium
LeBow PhD candidate Jared Wilson's spring is quickly filling with new opportunities. In March, he'll travel to Paris to present his research at the prestigious European Center for Corporate Control Studies PhD Symposium. In addition to that honor, he has recently accepted a position as an assistant professor of finance at the Kelley School of Business at Indiana University.
The seed for the research that Jared will present in Paris was planted early in his PhD candidacy at Drexel LeBow. He was intrigued by a news article about a wave of CEOs being fired in the oil and gas industry. According to the article, the executive turnover was a part of a trend that was reshaping industries and even forcing CEOs with secure jobs to adapt and change policies.
Jared's curiosity led him to look deeper at the dynamics involved in the firing of CEOs in a given industry. What he found by evaluating data from S&P 1500 firms is that CEO dismissals within an industry arrive in clusters. The firing of one CEO influences competitors to reevaluate their own executive's performance. This observation led to another question for Jared: "How do these trends affect CEO behavior?"
Jared compiled his findings in his job market paper, "CEO Turnover Waves: Spillovers to Monitoring and Managerial Incentives." In short, he discovered that during industry turnover waves, CEOs are less likely to engage in value destroying behavior and more likely to act in the best interests of shareholders. As a result, he observed higher stock returns in response to acquisitions during these periods of increased scrutiny.
The paper was chosen to be presented at the Symposium on Corporate Control and Governance at the SKEMA Business School in Paris on March 7. Drexel LeBow will be one of only two American universities represented.
"His choice for this highly selective program is a tribute to his years of hard work and the support of the faculty who strive for excellence in our PhD program," says finance professor Ralph Walkling, who advised Jared on the paper. "Jared is an outstanding doctoral student. He combines a passion for excellence in research with a strong intellectual curiosity about the world of finance."