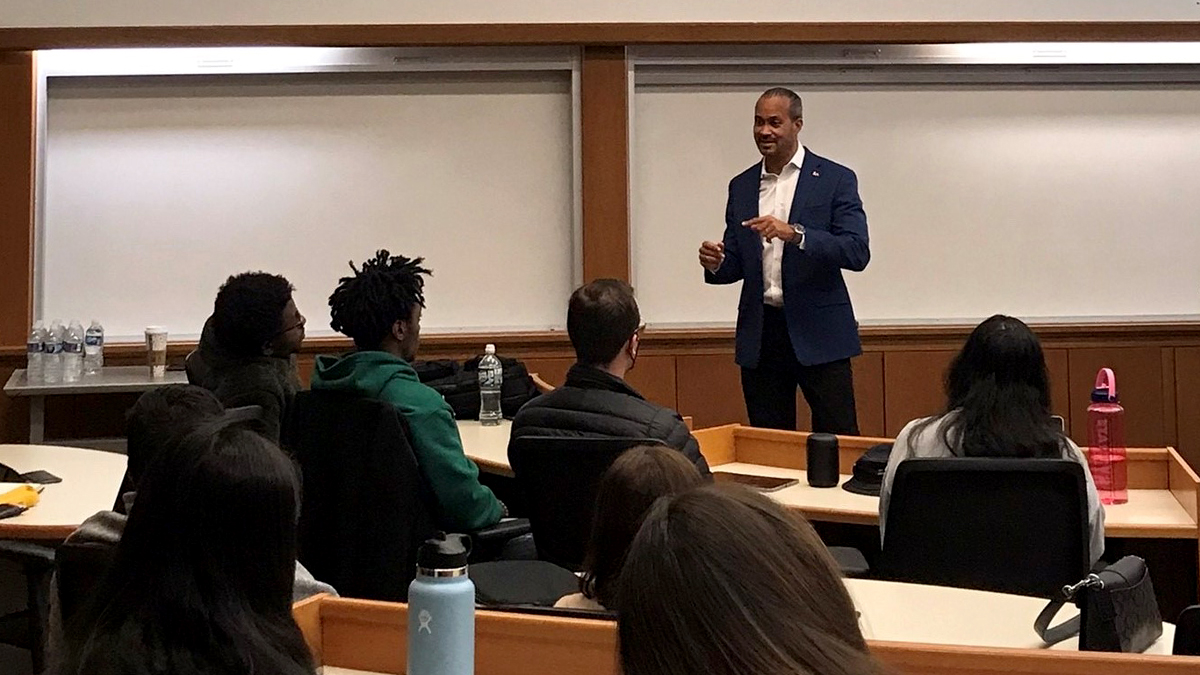 The Ripple Effect of Serving as an Alumni Mentor
Derreck Robinson, BS Finance '93, has three goals in life: "Love my family unconditionally, do the best I can with what I have and help people I do not know." These three goals not only defined his experience as a student at Drexel LeBow but also continue to guide his dedication to current LeBow students.
Raised in a "multiethnic, multinational household," Robinson learned early to empathize with those different from him. His father, a Black U.S. Military Police officer, met his mother while stationed in Germany, and the two moved to Germantown, Philadelphia, where Robinson was born. But after the death of his father when he was four years old, it was up to his immigrant mother to do the best with what she had.
Those were difficult times, Robinson reflected, but his life was forever changed when a scholarship to Germantown Friends School "opened up [his] eyes to the art of the possible."
"Education is the greatest equalizer to social injustice or social inequality," he emphasized. "You can't unlearn something — once you know it, you know it forever, and you want it."
College became possible for Robinson through his tenacity and desire to learn, and he enrolled at Drexel to become an engineer, a dream he soon realized was his mother's and not his own. When he switched to studying finance with a concentration in economics, everything clicked.
Even as a student, Robinson notes that he had quite a passion for welcoming others to the University and discussing the power of education. He served as a student ambassador and worked as a speaker for the admissions department, advocating for Drexel to prospective students. When he wasn't doing this outreach, he was building community back on campus as a resident assistant and campus DJ. In fact, he met his wife, Melanie Blackwell — who holds two undergraduate and two graduate degrees from Drexel herself — when they were resident assistants together.
The most powerful LeBow experience Robinson had though, was his co-op at Arthur Andersen.
"When you lean into the co-op experience at LeBow, you separate yourself from the masses by bringing 18 months of practical work experience into a new job," Robinson said. "Because of my co-op, I was able to articulate to potential employers what it was like to work 40 hours a week and have real-world responsibilities beyond the theory learned in class."
That co-op helped him land a job at JPMorgan Chase after graduation, and his professional career took off from there. Robinson transitioned to Siemens, then moved to Chicago for consulting work at a small regional firm, then PricewaterhouseCoopers and IBM before he landed at Deloitte in 2007 where he's been ever since.
Robinson is currently the national managing director and U.S. sales leader for Deloitte Consulting, responsible for driving over $5 billion in sales while remaining deeply committed to diversity, equity, inclusion, collaboration and community. Still, he finds time, even from Chicago, to give back to LeBow students.
"Once you achieve something in life and you had a lot of adversity to get there, I feel you owe it to society and others to pay it forward," he said.
For Robinson, that looks like serving on the LeBow Dean's Advisory Board and directly engaging with students in groups and individually. Last fall, an impressive eighty students attended a career mentoring presentation Robinson gave, and he continued conversations with around a quarter of them after the event. Taking the time to dive into the unique needs of those eager students in one-on-one discussions was a rewarding experience for Robinson.
"I think that's my superpower, to make emotive connections with people to make them want to be better than they think they can be," he said. "I know I can make a difference and change one life at a time if I just lean in a little bit." Robinson likes to imagine his superpower as a ripple effect, changing the trajectory of generations of lives the way his was changed: from the guidance of his Big Brother in the Philadelphia Big Brothers Big Sisters program to Germantown Friends, to LeBow, and further to his own children's college educations and the career advancement of students he doesn't well know.
"I try to relay the things to students that I needed to hear when I was their age, like what does your brand mean, how are you going to focus your career journey, what are your values?
"When students evaluate these questions of meaning and are proactively leaning into the opportunities provided here, they have a phenomenal start to their careers," he concluded.
The ripple effect is sure to continue strongly with dedicated alumni mentors like Robinson.