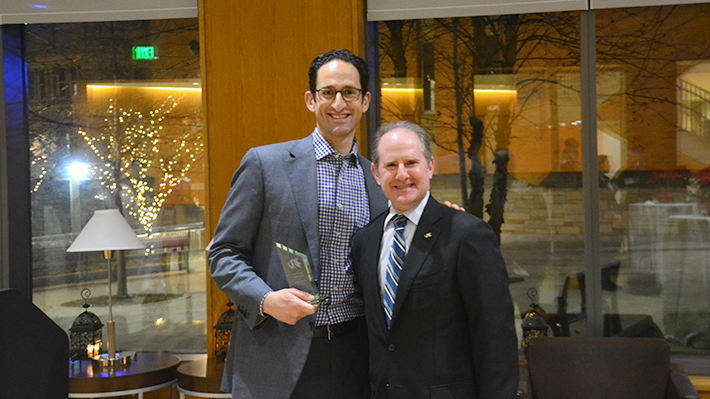 From Startup to Powerhouse: Asset Map Receives 2017 EMBA Alumni Award for Entrepreneurship
At the 2017 EMBA Alumni Awards, among a group of former peers and an ever-growing network, H. Adam Holt was presented the Entrepreneurship Award by EMBA Alumni Board President Justin Ettelson ('01) for his company Asset Map.
"Adam understands and is a strong believer in the value of the Drexel community," said Ettelson in a statement. "Adam is a real life example of the values of the EMBA program of which past, current and future EMBAs can all be proud."
A former president of the EMBA Advisory Board himself, Holt received the award roughly nine years after his service to the organization concluded. And for Holt, this award was recognition not only for himself, but for the organization, "It's a humbling experience to be a part of something that so many people have contributed selflessly to and to get recognition that is shared with everyone who has done this same thing," said Holt.
Holt started the EMBA program in 2002 when his mentors tapped him to potentially be their successor at the established financial advising company Rubin Goldman and Associates. But managing a company wasn't the only project that Holt worked on during his time at the EMBA program.
While focusing on taking a leadership role at Rubin Goldman And Associates, Holt was working on building Asset Map into the $3 million company it is today. As a passion project, Asset Map allowed Holt to return to his background in the arts.
"The idea was to visually map what's going on in people's lives so they could understand the decisions that they were making and all the important pieces but on one piece of paper," said Holt. "Not 80 pieces of paper and not just so that people with a master's degree in finance could read it."
Asset Map's easy interface and visual layout helped Holt's financial planning business grow 300 percent. From prototype to present, what started as a company that served 20 financial planning professionals now serves roughly 3,200 across the country.
And while the Entrepreneurship Award is only one of the five recent awards Holt has won for the company, the win means more coming from the organization Holt helped grow so many years ago.
"I don't think you realize how much time and energy you put into something," said Holt. "But when you go away from it, and then you come back and see how it's evolved, it's very much like parenthood."
And for Holt, the organization has grown to something he could not have imagined, "I think the fact that it still exists today is a testament because most projects and events like this kind of fall apart," said Holt. "It requires that people stay passionate even through the years."