Too Cool for School
Sean Hoots, front man for [Hoots and Hellmouth][1], looks cool. He's got a backwoods beard and paint-specked hiking boots that make you wonder where he's been. In a few minutes he'll take a stool in the corner of Drexel's [MAD Dragon Records][2] office to play a set for students in [Westphal's Music Industry program][3]. Students prepare the makeshift concert venue with the precision of veteran roadies. They rig an overhead light and sound check the mics.
"Is my hair and makeup OK?" Hoots quips. The laughter from the group isn't so much the sort you get from strangers as the familiar nods you get from old friends. Hoots begins to sing. Video rolls. Cameras click. A student uploads a pic to Instagram.
"Dry bones need your attention," he sings. "_Dry bones need your love and affection."_
Hoots has the kind of voice your ears follow up and down. He's hitting his falsetto; digging deep like John Lee Hooker. Goose bump material. But there is no time for wonder here. These students are working. They have already given Sean Hoots their attention, love and affection. They've done it on record, on tour and today on video for the world to see. It's all part of the biz, they say. Because this music industry thing, well, they're living it.
MAD Dragon Records, Drexel's student-run label, began in a MacAlister Hall storage closet with a $250,000 investment in a recording studio and a conviction that if you're not doing what you love, you're wasting your time.
In just a decade, the label has evolved into a world-class incubator for developing artists and launching business-minded students into a seismically shifting music industry. From CDs to mp3s, streaming media and now back to vinyl — MAD Dragon has more than hung on; they have pushed every boundary.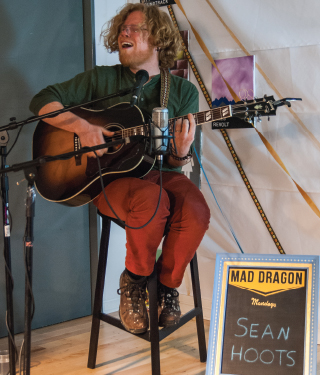 The label was formed in 2003 with the release of Unleashed, a compilation record. At the time, compilations were customary for college labels. But MAD Dragon had a trump card: a Music Industry program (launched in 2000) founded on Drexel's principles of co-operative education and real-world experience. Other colleges offered similar programs, but they weren't churning out artist-centric releases or incorporating the management of their labels into curricula.
Over the past decade, MAD Dragon Records has managed to incorporate all of the music industry's revenue streams — touring, merchandising, publishing and recording — into the program's plan of study. It didn't hurt that CMJ magazine, a bible for indie audiophiles, put them on its cover or that The New York Times took notice early on. Some might call it luck. But it was more like splendid toil.
MAD Dragon began as a DIY operation. Compilations were recorded in the basement, and students solicited consignment deals from record shops. Eventually, they ditched the supply closet for a real workspace. Soon, there was a phone line and a website.
Everything changed in 2005 when the label secured a national distribution agreement with Ryko Distribution Inc. (later acquired by the Warner Music Group and called ADA), the world's largest independent music distributor. The deal lent the fledgling label the street cred to sign and develop original acts. That same year, MAD Dragon established its DraKo Booking Agency, as well as MADko concert promotions. MAD Dragon Publishing and MADFire Music Video Productions followed in 2006. By then, MAD Dragon had already released its first artist-centric record, XYX. Students booked and promoted an East Coast tour. There was press. Radio spins. Artist submissions started rolling in.
In 2005 Matt Duke, a singer-songwriter with coffeehouse charm, became MAD Dragon's first exclusive recording artist. Eventually, the label signed a joint venture with Ryko's record label, Rykodisc, to fund and distribute Duke's next record. The industry calls this "upstreaming." It worked. Rykodisc released two of Duke's records and guided him to acclaim. For MAD Dragon, the partnership proved that the label could not only sign and promote artists; it could push them to the next level.
Terry Tompkins, who joined Westphal's faculty and began overseeing the label in 2005, remembers the Ryko deal as a sea change for the label.
"Our big qualification for signing an artist is: Does the artist want to work with students? Do they feel like they're too cool for school? Because if they do, it's not going to work." --Terry Tompkins
"After that, we could be everywhere. We weren't just a student-run record label. We could compete with any independent label in the marketplace and sign established artists."
Hoots and Hellmouth signed in 2006. Their self-titled 2007 debut won the Independent Music Award for best college record label album. At the time, the band didn't even know they were nominated. Students handled the submission.
Typically, an indie label will promote an emerging artist's record for up to 18 months if you're lucky — more like two or three in most cases. MAD Dragon promoted the first Hoots and Hellmouth record for 2.5 years — their second for another two. Students booked their tours, got them press, radio spins and footing on the charts. The band headlined the Philadelphia Folk Festival and sold out the TLA. Most importantly, they were able to quit their day jobs.
"To see an artist grow is wonderful," Tompkins says. "To see Hoots, who was a supporting act, sell out 1,000 tickets in their hometown is a beautiful thing."
As Sean Hoots recalls, there was some anxiety when he signed on the dotted line.
"For me, going into a school situation, we were a little apprehensive," he says. "I remember what I was like in college, staying up late. But the thing is, these kids are staying up late working on their actual degree. That's the beauty of combining your education with something you're passionate about. They mold their lives with respect to their careers.
"I hesitate to call them kids," Hoots says. "They're young professionals. We came to the table ready to go on the road and make records. They made it so we could live that life."
In 2007, MAD Dragon signed its first world-renowned artist, The Redwalls, an American band with Britpop appeal who had already charted with Capital Records and toured with Oasis. The band had recorded a self-titled follow-up, but was dropped from its label. MAD Dragon got word, arranged a meeting and leveraged its distribution clout to release the record. In 2008, The Redwalls performed on Letterman and Leno. The next year, they took home the Independent Music Award for best college record label album of the year. The students bled for that record. It was, as Tompkins recalls, a "real love fest."
Last year, MAD Dragon Records pulled in 15 Independent Music Awards nominations. They are no longer the DIY-label-that-could; they're the artist incubator that emerged from a basement to make some serious noise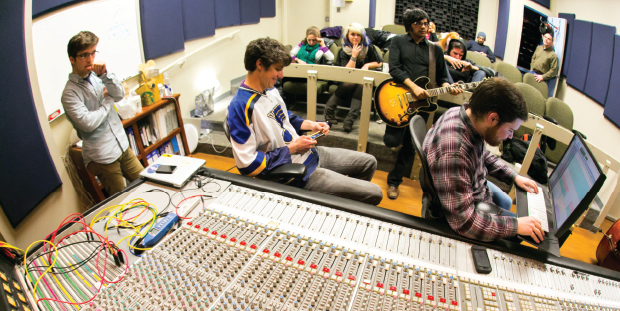 Each year, the label works with two or three emerging artists, while focusing on established acts. Like every business, there are budgets and bottom lines, but the target has always been to get artists from point A to point B. Musicians want to work with MAD Dragon because they know that the sweat equity they get from the students is currency that won't depreciate.
Terry Tompkins wears jeans to class. He uses words like fiduciary and dude in the same sentence. He's cool. You'd never know that he was a talent buyer for a major venue; that he co-founded a music conference; worked as a manager and as an artist and repertoire (A&R) man for Columbia Records; or that he discovered John Legend long before Kanye. His stacked resume provides him a platform to teach all areas of the music business with authority.
"We're in the trenches, dealing with artists, managers, agents and attorneys, because their careers are in our hands," he says. "So, critical thinking is the most important component. We spend a lot of time in the classroom strategically planning our next move and then looking back and seeing what we could have done differently."
While Tompkins is the resident sage — the broker of the deal that delivered The Redwalls, Hoots and others — he's not just developing artists for the label; he's developing artists in the classroom.
"Our big qualification for signing an artist is: does the artist want to work with students? Do they feel like they're too cool for school? Because if they do, it's not going to work," Tompkins says.
The highly selective, 189-credit music industry program, which was designed with input from LeBow faculty, features a built-in general business minor, with the opportunity for students to concentrate on either the business or technological aspects of the music industry. During their freshman year, students take accounting and copyright law in lockstep with music theory courses. There is also an accelerated option for students to earn their B.S./MBA in five years. Of 167 admitted students last year, 37 pre-applied as freshmen to earn their MBA.
Michael Rodino, a junior who acts as the outfit's current label manager, is another cool guy. He's a connoisseur of recorded music and digs the business side too, so it's no wonder he's currently enrolled in the accelerated B.S./MBA program. After school, he runs a music review website, books shows, consults and manages bands. He has helped records chart on radio. He is 20.
"If you ever talk to any of our parents, none of them will ever go 'oh, my son or daughter is doing music,'" Rodino says. They don't even go there.
"We're not just creating music. We're creating culture. If you make a hit song, you're going to hear it on the radio today and the next day. That's a really intense thing to be involved with. It's not just our job. We're always looking to improve the program. We're looking for the best way to help ourselves and the artists we work with."
The label's latest release, Making Moves, a curated series of five, seven-inch polychrome vinyl singles, is perhaps the definitive example of MAD Dragon's ability take on inventive projects that serve both the bands and students. Each single features an emerging artist, produced by a member of power-pop five-piece Motion City Soundtrack. Five bands were selected specifically for the series through the cooperation of members of Motion City Soundtrack, their management and a student-run A&R committee. Each band recorded three songs with a member of Motion City Soundtrack at the helm, while Drexel students worked the boards — a rare example of musical mentorship that coupled a band that has sold over 500,000 records with a gifted pool of relative newcomers.
The entire series is now available as a box set, including a USB drive with a documentary of the making of the project. An old friend named Rob Berliner designed the artwork. He plays guitar for Hoots and Hellmouth.
Next up for MAD Dragon is a 10th anniversary showcase on May 17 at the Trocadero featuring 10 acts — including Hoots and Hellmouth — who cut their teeth with the label. To commemorate the milestone, MAD Dragon invited all 10 artists back into the studio to record a track for a compilation record. It's fitting that the label will only go full-circle to celebrate a decade of going vertical. Students are working nights and weekends to complete the record in time for the concert. It's going to be cool.
Sean Hoots will be there, handing out goose bumps. Terry Tompkins will be there, too. So will Mike Rodino and his colleagues. You'll know them when you see them. They'll be the ones running the show.